When energy psychologist Alexia Traverse-Healy started her cycle one night, a flood of emotions came with it. She soon discovered what her period blood was actually trying to tell her …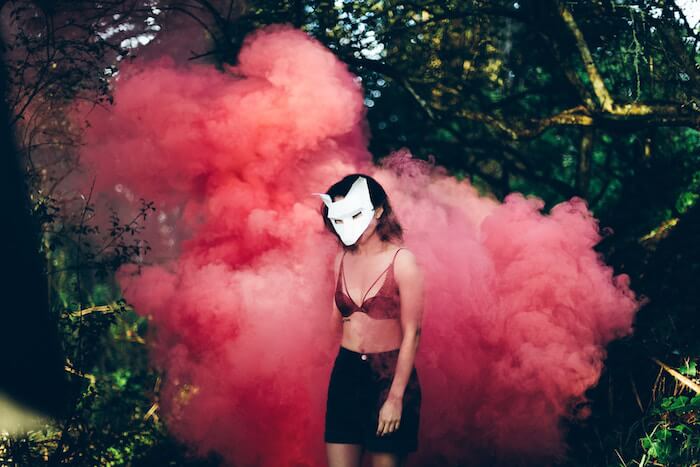 Feeling a movement, a shift of tides, I tense a little and then spring up from the bed. My partner looks bewildered. Mid gallop to the bathroom I shout over my shoulder: "I'm bleeding." He relaxes. Her period.
I run to the bathroom but we are out of loo paper upstairs. I turn back on my self to head to the downstairs bathroom, covering the light switch in menstrual blood as I flick it on, having tried to hold the blood in with my hand. I won't make it down and back.
"I'll get it,"says my boyfriend, coming from the bedroom. Gratefully, I sit on the loo upstairs, door open. And just as I am pulling my Mooncup out of my vagina, full of not just free-flowing red blood, but also strings of mucous and matter, he bounds back up and freezes for a moment. Hand outstretched but face away, he mutters something about "mystery" and walks off.
I recognise the wounded feeling straight away. Mystery? I know what he means. He means how I ask him not to poop with the door open or fart in our bed. "I know it's not the same,"he has already muttered as he heads off back down the corridor, in preparation no doubt for what happens next. He knows me well.
>>>
Because it IS my mystery … 
Then comes my Leonine anger. The years of hearing "Are you having your period?" when I am fired up and passionate. I want him to understand what rages through me when my blood is denied or demands to be hidden, to be cleaner, to be prettier.
Because, to me, it IS my mystery. It is my essence and my strength, my sexiness, my womanhood, my core. The smell. The blood. The mess. It is me. And to be turned off by it, turned away from it, is painful and personal.
I didn't always feel this way. After growing up learning to conceal and apologize for it, it has taken me until 38 years old to be proud of it. The Mooncup has been a big part of the transition. Now I handle my blood. There's no hiding with a Mooncup.
I cut back to this moment and tune into the love I feel for this man.
His reaction is to the sight of the blood all over my hands, down the inside of my thighs, dripping from my vagina into the loo, pouring from the full Mooncup into the sink. It is slightly shocking, if it's not yours. If it's not beloved to you.
>>>
When your daughter wants to paint with it … 
But I want him to be fascinated by it. I want him to come over with wonder and be interested and slightly awed. Like my five-year-old daughter is: "Mummy can you not take your Mooncup out until I get back from school? I want to see."
At first, her deep, deep interest freaked me out. What? Really? Is that even appropriate parenting? But she was insistent and so purely intrigued. It was her right, as a woman in the making. I've been raising her to question, to take interest, to be fearless – so why not here too? With minimal fuss or pomp, I showed her this everyday occurrence infused with a little wonderment. And she was joyful. Fascinated.
I wanted to give her the choice of always being easy with her body. A wild, artistic child, she'd ask if she could paint with it. Even I have my limits, but god I love her for wanting to.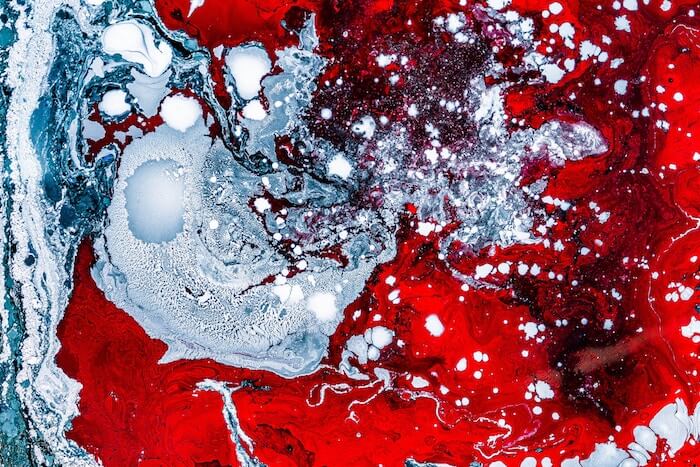 >>>
I will continue to worship my blood … 
My boyfriend is in the kitchen making us Sunday breakfast. And as I come down off my adrenaline high, I see what he means when he compares seeing me in full flow to farting in bed. Though to me, it's not the same. With the blood of my monthly moon comes the possibilities of life and death, the magic of future and past, and I doubt anyone can say that about a fart.
But what he means is that, to him, it is a bodily function, and he sees them all the same. In a way, it may be his version of equality.
As I drop down from my orbit of emotions, I remember him falling asleep last night, with his cool hand on my too-hot belly, holding the pain for me and with me, asking me if I wanted an ice pack from the kitchen. And I feel grateful. I breathe. I'm here
If he holds me through the pain of my bleeding, then maybe for now I am happy to leave the blood paintings, the roars of grace and gut, the dancing and the revelry, to my sisters, my daughters, and to the mothers.
Every time we are triggered, it is an invitation to learn and to go deeper. To peel off an onion layer. I love that this morning's little wounding helped me to deepen my trust for my partner, helped me to articulate silent shadow feelings that I'd never even thought to express.
I will continue to worship my blood, to feel proud and stand strong in my SHEness – but I won't blame my man for running from it. It is powerful after all.
He asks me, before I send this in, to change "he bolts" to "he heads off down the corridor." "I know it doesn't sound as good," he says, "but it's more like what happened."
I concede, erase, replace, and eat my delicious breakfast, bleeding quietly.
Alexia Traverse-Healy is a London-based energy psychologist who works with clients on anxiety, stress, phobias, sexual issues, relationship crisis, family, fertility, finances, patterns of stuck behavior, and existential questions. To book a free 20 minute phone consultation go to www.sheworkswellness.com, where you can also find a free SHEness Audio visualisation.