A cosmic radio tower for broadcasting your wishes to the Universe, manifestation expert Emily Tepper shares how to design an altar that's perfect for YOU…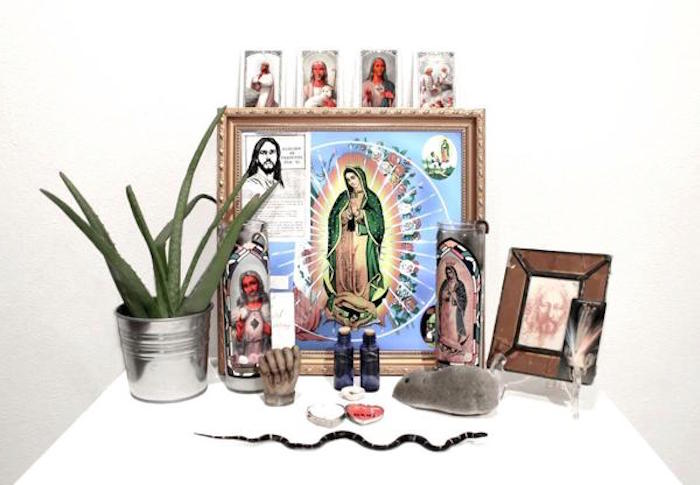 GO WITH WHAT'S RIGHT FOR YOU
We live in a time with unprecedented access to information and advice – including this article! And while it's amazing to be able to approach altar design by tapping into different covens and styles and belief systems, the point is to put YOU and your desires at the center of the altar. After all, it is there to act as a radio tower for the divine as experienced through YOU.
WORK WITH SYMBOLS
When choosing artefacts for your altar, think less less about the object itself and more about what it symbolizes for you. Yes, crystals, candles and other sacred objects all look beautiful and bring their own super-powers, but to truly personalise your altar include a few items that are completely unique to you and your situation. For example, if you want more dates and your ideal date is a day on the beach, you could place some sunscreen on your altar. Or if you want to call in more financial abundance, write yourself a check from your dream client.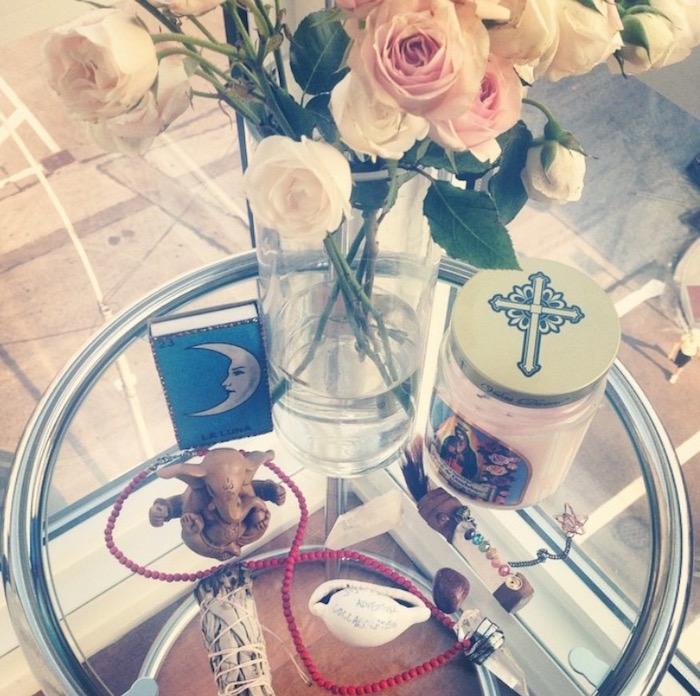 FEEL INTO IT
Having trouble finding a symbol for what you want? When you're manifesting something, the trick is to focus on creating the physical feelings of having that thing in your life before it actually materializes – that way, the Universe will pick up on the signal (feeling) you're putting out, and send the corresponding object / event your way. So choosing your symbols, what image / object comes to mind first when you're getting into the emotional essence of your hot beach date? Or having unlimited funds in the bank? But remember, the symbol can be anything – there are no rules!
PAY ATTENTION TO PLACEMENT
As a rule, you can work with the energy flow of your altar by placing objects and symbols relating to the things you want to call in to the right – and things that symbolise the all the things you want to  clear / move away from to the left.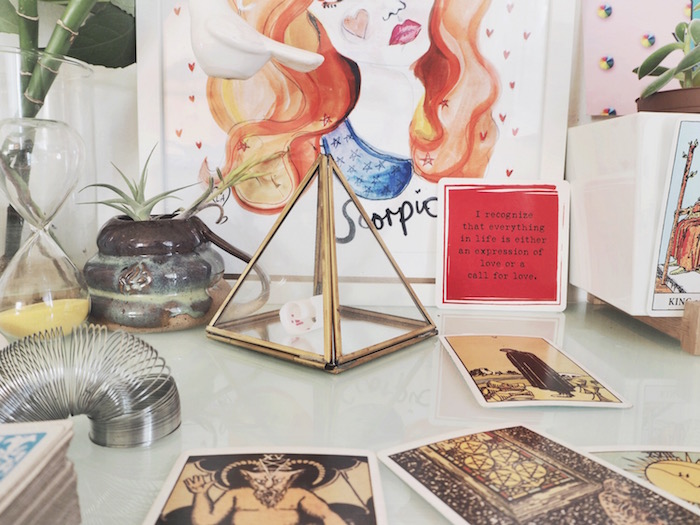 HAVE FUN!
Seriously – even the witchiest witch experiences work better when they vibrate with joy. And while often ritual work is about accepting things as they are and then shifting them to a better place, improvement and ascension happen in a gradient from bad, to not as bad, to pretty good, to awesome! Make creating your altar about enjoying this ride.
TAKE A MINERAL BATH AFTER YOU INTERACT WITH YOUR ALTAR
Altar and ritual work can be a bit of an out there experience, and minerals calm the spirit and bring us delicate souls "back into the body." My personal favorite is a mineral rich blend of dead sea salt and kelp powder (also good for growing my mermaid tail back). But seriously, it's important to honor the process of re-grounding after communing with the spirit world and that's important. It's what being a material girl in a mystical world is all about, after all.
What's on your altar, and why? Share your altar pics with us on Instagram and Facebook, tag #NuminousAltars, and we'll include them on our altar Pinterest board to inspire the Numinous community!