From a regular yoga or meditation practise to the way you like your morning latte, we all have our daily rituals. But what happens when design one that's just for you? You become a vacuum to receive, that's what. Ruby Warrington shares her experience of creating the custom ritual that helped call in The Numinous. Video: Shine Creative.
Last month, the Numinous hosted a guided meditation to meet your Spirit Animal, with the Modern Shamanic Practitioner Marika Messager. The event took place on a balmy early summer evening in London, at spiritual concept store Celestine Eleven, and attracted an elegant crowd – including jeweller Gina Melosi, illustrator Erin Petson, a talent booker, some girls from Elle magazine, and the fashion designer Henry Holland. The atmosphere was one hundred percent high vibe, and after the meditation, when people shared about their experience meeting their animals, they were like five-year-olds on a sugar high. In short, they were amped to have participated in this ancient Shamanic ritual.
And how funny, it took place almost six months to the day after I enacted a custom ritual, designed, in part, to ensure that when people experienced the Numinous they'd feel; "a sense of discovery, more joy and happiness and a way to connect to their true life purpose." These were my exact words to "receptivity expert" Emily Tepper, the woman who helped me design my ritual, which eventually took place as a day-long series of events. The manifestation of which I could expect to see, yes, six months down the line.
Let me back track a little. I met Emily at one of Gabrielle Bernstein's lectures in New York City, towards the tail end of last summer. The Numinous had only recently launched, and when she told me she designed custom rituals for people, to assist in calling in their deepest desires, I was obviously intrigued. The Numinous was a new born at the time, with so much potential ahead of it, and like a proud mamma I wondered if a ritualistic or ceremonial baptism would help set my project on the right path from the get-go. But actually, working with Emily turned out to be so much more than that.
We met on a grey day a month or so later at the Ruben Museum in Chelsea, where sombre gong music in the deserted cafeteria created a fitting backdrop for the initial ritual design session. With a background in dance, Emily, an empathetic and mystical yet earthy Piscean, described "a yearning for other people to experience their body as an agent for change, like I had from a very early age" as one of things that led her to this line of work. Studying for a degree in Experiential Design then helped her create a modality in which "everything we touch becomes the props we use to facilitate relationships, exchanges, transitions and personal growth." And so her company, Receive Everything, was born.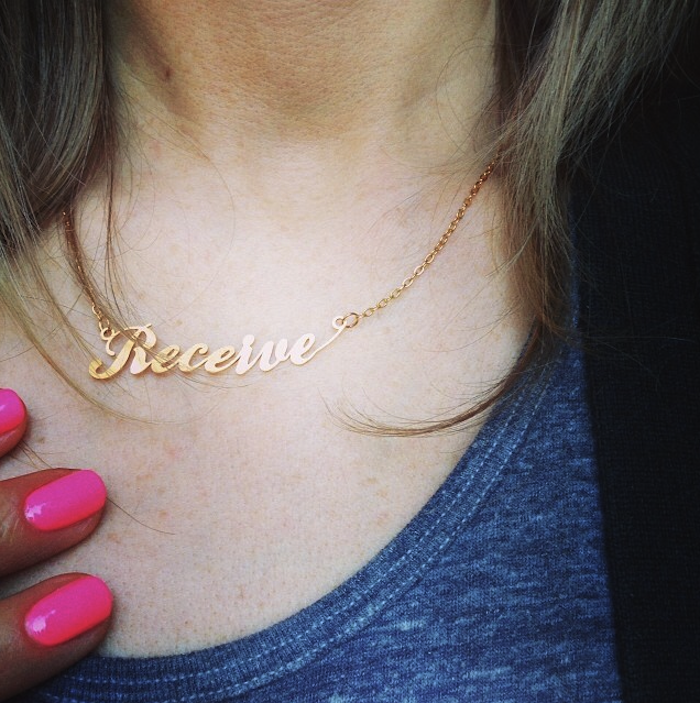 Because we're pretty well versed in the concept of manifesting these days (like attracts like, act "as if," yada yada) – but what happens if the conditions in our body, and our life, aren't set up to receive? What if there are "energetic cysts", as Emily put it, stored in our tissues that need to be removed before it's safe for our manifestations to land? This is where ritual, physical acts designed to empower our intentions, weed out doubt and link us directly to our creative, or feminine, energy comes in. It could be described as literally "going through the motions" to hardwire your body to receive. If, "your nervous system is like a riverbed, and the water is used to flowing one way," Emily's ritual – "a piece of performance art for your life" – would be about "taking the flow slightly outside the well-worn groove. It's a quantum physics service!" she joked. Kind of.
Emily's ritual process is divided into three parts – Design, Do and Download – with the design part acting like an opportunity to really get clear on what you're calling in, as well as any impediments (negative beliefs and crazy talk) in its way. In this sense, it also rapidly becomes a bit of a therapy session. "Why is it so important to you that people feel a sense of self-ownership and freedom to choose their own life when they connect with the Numinous?" asked Emily when these emerged as key words and phrases around crystalizing the essence of my project.
Of course, it came back to a time in my life, between ages 16 and 22, when I'd been a very controlling relationship with an older guy, who imposed his tyrannical worldview to the extent that I lost all my self-confidence and developed an eating disorder. It was like I'd been brainwashed by a cult made for two. If I'd had access to the kind of tools I've discovered through the Numinous then – tools designed to empower us to trust our intuition and truly know ourselves and our life purpose – who knows how differently things might have gone.
From there, it was a question of coming up with visual symbols to represent the different elements of my manifestation – which would then be transformed into the elements of my actual ritual. "When you think of the Numinous, what do you see, feel and taste?" asked Emily. If the Numinous was about "enlightenment and beauty, a playful experimentation with ideas – fashionable, stylish, the zeitgeist," what were the visual metaphors for this? In my mind's eye, these words immediately conjured an image of white sails billowing in the breeze against a clear blue sky at high noon. Emily jotted that down.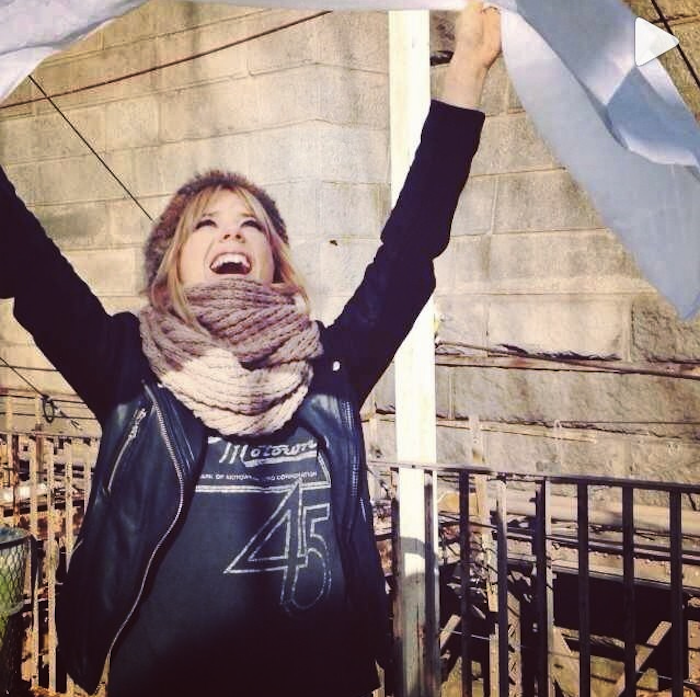 Thinking about my former relationship, my nostrils filled with the cloying scent of skunkweed. My ex was a dedicated smoker, and I believe being stoned myself for the majority of our relationship was one of the key reasons I felt so powerless to leave him. And when Emily asked; "what would it look like if the Numinous could really change the world?" I saw a tribe of Numis taking to the streets for a party/ protest to celebrate our connection to the Universe and the freedom to chose our own belief systems. And on and on her questions went, until we had the bones of what would become my custom ritual.
In the end, we devised a day of interconnected events, beginning with me using some of my Numinous tools (smudging my space with sage, meditating with my chakra totem), before taking in a trip to the center of the Brooklyn bridge to fly a white flag at noon (see above). Then we'd travel to Emily's studio in Bushwick, where I would bestow Numinous gifts on my friends, and stage the ceremonial burning of a time capsule representing my ex (would anybody notice the burning joint inside, I wondered?) Finally, we'd all take to the streets in celebration of our collective freedom and empowerment. My friends at Shine Creative would capture the whole thing on film, as Emily highly recommends creating a visual record of the ritual. And I now had two weeks to produce it.
The day itself, November 22, was cold and bright and went by in a happy, emotional blur. I felt like the star of my own reality show, or a bride on her big day. I was happy I'd involved my friends, as so much of creating the Numinous was about wanting to collaborate creatively with my soul tribe, and being followed by a film crew made the whole thing feel somehow more real.
And if that was "Do," then the final part of the ritual process was to "Download," which meant a bodywork session with Emily, who is also a certified Pilates instructor and craniosacral therapist, to ground the teachings and intention of the ritual into my tissues two weeks later. When I arrived at her studio, she asked me to write down some key phrases that summed up how I'd been feeling since. I came up with; "No more apologies," "Trusting myself," "Stepping up to the next level," "Who cares what people think?" A process she described as "crystalizing my new energetic signature."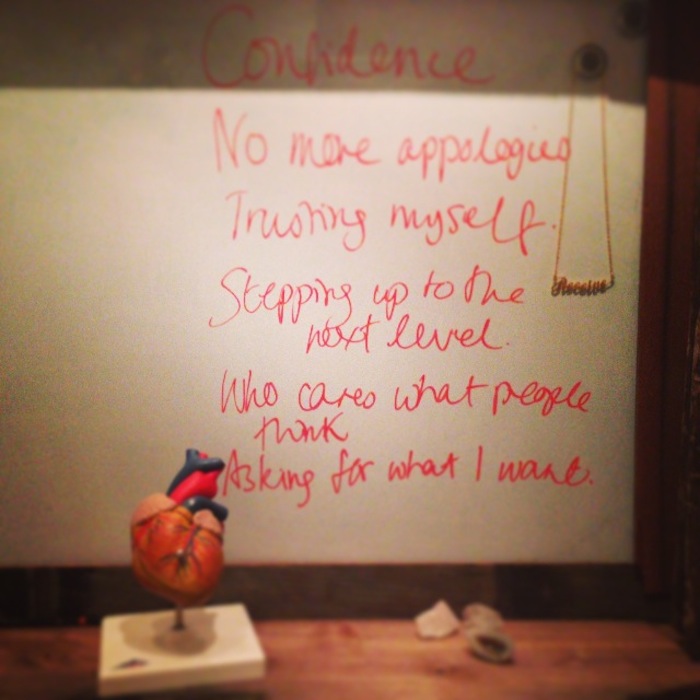 And a little over six months later, I can feel myself stepping into all of this as I prepare to host two Numinous Live talks for Lululemon at this weekend's Wanderlust yoga festival. The first? I've invited Emily to join me in introducing The Art of Ritual, what she calls a "lost social technology." And something that, for me, has been a powerful tool in showing the Universe that I'm ready to receive the gifts I know it's sending my way.
Numinous Live will present two talks at the Wanderlust yoga festival in Vermont. Both talks are fully booked, but clink the links below to be added to the wait lists.
June 21: The Art of Ritual with Emily Tepper
June 22: Your Yoga, Your Intuition with Betsy Cohen