The 2018 Leo New Moon marks the grand finale of Eclipse Season, and asks us to reignite the passionate fire that has never left us, says Sandy Sitron …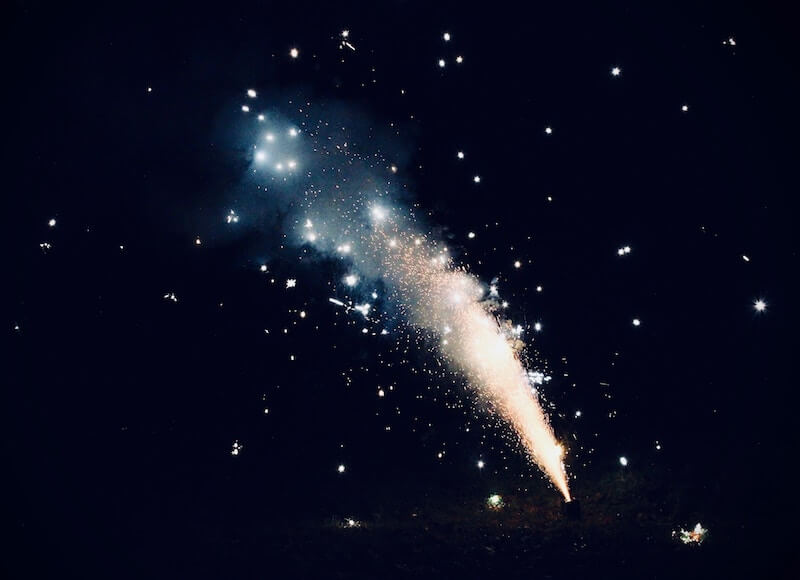 New Moon Solar Eclipse // August 11 2018 // 5:59 am ET // 18 degrees Leo
Orange light streams through a narrow opening in a cave wall. If you're a brave spelunker, you can squeeze through and retreat into deeper chambers. You reach the core. The temperature rises. Here in the recesses of your subconscious mind, a central hearth fire burns.
It's a magical fire that burns continuously without emission.
A cleansing fire. The fire of spirit. At this New Moon, you must connect with your spirit fire.
Leo is the sign that encourages you to share your true self with the world. Now is the time to set intentions about creativity, spontaneity, recognition, playfulness, sovereignty, and generosity. All of these themes have something to do with your fire offering. Your connection with your fire will help you make better decisions. It will help you supersede ego and be playful instead.
Before you can share your fire, you have to locate it in the recesses of your inner world. You have to journey deep within and simply trust that it's there. Believe wholeheartedly in your uniqueness.
Because the 2018 Leo New Moon Eclipse is a time to begin anew, this is a powerful opportunity to reboot. Leo rules the sun. At the eclipse, the light of the sun is partially extinguished.
This is why the fire must be reignited.
Fan the flames of your hidden spirit fire by reconnecting with what makes you feel alive. Reignite your pleasure, passion, and self-expression. Without these themes as priorities, the season loses its glitter and sparkle. Boredom sets in.
Save yourself from monotony. Cure your apathy with creativity. Share your enduring sense of personal worth through creative expression. Kids are connected to the hearth fire within them. It's what pushes them to continuously look for the next fun thing. They make and play, they're impulsive and wild.
Journeying through the caves is like wandering through your memory to re-groove a path that already exists. How would your inner child like to express itself? Make changes in your environment and schedule so that there's room for fun and play.
Burning bright is an ongoing practice. Do it because it's fun to have fun! And because sharing your fire light with the world is the most generous thing you can do.
///
New Moon conjunct Mercury
Popcorn flies out of the pan.
There's a flurry of mental activity. Some of the popcorn kernels are memories, some are ideas, some are worries, and some just moving thoughts. Which ones will you eat? Putting a lid on the pan and containing some of these thoughts might feel nice. If the heat and pressure are unchecked, you might mentally burn out—which would also cause an emotional flare. So turn down the heat when it's time. Be gentle with yourself about what comes up. Remember, you are the chef. You're in control of the whole process.
///
New Moon square Jupiter
Eating watermelon. 
Juice running down your face. Revel in the sweetness. There's more where that came from. This aspect can help you expand. If you are going to exaggerate anything this weekend, let it be your perception of sweetness and connection.
///
Sun and Moon are the focal planets of a yod with Neptune and Pluto
The starship dematerializes to travel at warp speed through time and space.
The intention is to reach your destination with your enthusiasm intact. A real transformation is available. Transcendence of some kind is beckoning. Imagine that you're in that dematerialized spaceship. The only way you can guarantee that you'll re-materialize is by holding a steady intention to live a full and creative light. The pressure is on. Show up and shine.
///
Use the below journal prompts to help you journey deeper at the 2018 Leo New Moon Eclipse, and use what you write to inform your New Moon intentions. Look for the house containing 18 degrees Leo in your chart for the most accurate insights. Don't know your chart? You can enter your birth details HERE to calculate it for free.
Aries // Aries Rising // New Moon Eclipse in the 5th house
Write about yourself as if you were a character in a movie.
Taurus // Taurus Rising // New Moon Eclipse in the 4th house 
Describe all the things that make you feel safe and warm.
Gemini // Gemini Rising // New Moon Eclipse in the 3rd house 
Write down 10 things you are curious about and the people you could ask about them.
Cancer // Cancer Rising // New Moon Eclipse in the 2nd house
List the reasons you undersell yourself and why they are not true.
Leo // Leo Rising // New Moon Eclipse in the 1st house
"I feel like I am living my soul purpose when I …"
Virgo // Virgo Rising // New Moon Eclipse in the 12th house
Ask your subconscious a question before you go to sleep, and journal about your dream in the morning.
Libra // Libra Rising // New Moon Eclipse in the 11th house
Create a vision board for the next six months.
Scorpio // Scorpio Rising // New Moon Eclipse in the 10th house
Write about the most recent time you felt a sense of achievement.
Sagittarius // Sagittarius Rising // New Moon Eclipse in the 9th house
Travel to somewhere exotic in your mind and describe what you see.
Capricorn // Capricorn Rising // New Moon Eclipse in the 8th house
List all the qualities that make you a "good investment"—financially, sexually, energetically.
Aquarius // Aquarius Rising // New Moon Eclipse in the 7th house
Write down 5 ways you can have more fun in your closest relationships.
Pisces // Pisces Rising // New Moon Eclipse in the 6th house
"A healthy routine for me means …"