Here comes spring! And it's a time to practice the art of receiving, says Bess Matassa, who also has a personal audio Tarot reading for April 2019 for each sign …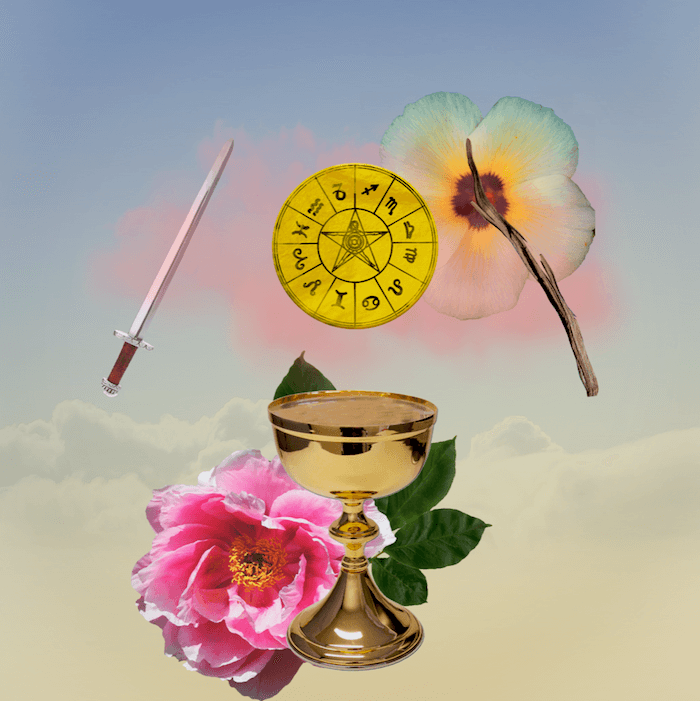 April 2019 card for the collective: The Empress
As we transition from Aries to Taurus energy in April 2019, The Empress asks us to move beyond our scarcity mentality. Ruled by Venus, The Empress presides over the holy heaven-on-earth trinity of sex, beauty, and money. She is the QUEEN OF RECEIVING, and this month she is asking us to smoke out any old stories about our lack of worth, so we can reap all the juicy fruits that are ripe for the plucking.
In the weeks to come, let The Empress remind you that pursuing what you love is the fastest way to magnetize more of this into your life. What if it didn't have to be any harder than that? Once there, try not to get caught up in the self-sabotaging cycle of immediately wondering how long it will last. Imagine if, by simply saying "yes" to only what feels good, this opulence continued to propagate organically in your world.
Read on for the card, mantra, and cosmic audio reading for your sign …
///
ARIES or ARIES RISING: 4 of Cups
"My feelings are a force that create my foundations."
///
TAURUS or TAURUS RISING: The Wheel of Fortune
"Letting myself grow wider is the way towards wisdom."
///
GEMINI or GEMINI RISING: Page of Wands
"Getting back to basics makes me feel bedazzled."
///
CANCER or CANCER RISING: 2 of Pentacles
"Liberation comes from not carrying it all."
///
LEO or LEO RISING: 10 of Pentacles
"I pledge allegiance to the light that never goes out."
///
VIRGO or VIRGO RISING: 8 of Cups
"I am loosening my hold on what's already leaving."
///
LIBRA or LIBRA RISING:The Star Rx
"Returning to my whole self is the homecoming I've awaited."
///
SCORPIO or SCORPIO RISING: Ace of Pentacles
"Paying attention to the tiniest glimmers makes my life glow."
///
SAGITTARIUS or SAGITTARIUS RISING: The Hanged Man
"Stillness is the superpower that soothes my soul."
///
CAPRICORN or CAPRICORN RISING: Queen of Pentacles
"I am willing to wait for what's worthy of my presence."
///
AQUARIUS or AQUARIUS RISING: 5 of Swords Rx
"My flesh and blood is more than good enough."
///
PISCES or PISCES RISING: 8 of Wands Rx
"Raising the stakes brings me closer to the creative flame."
///
Learn more about Bess and her work and check out all her personalized Astro + Tarot offerings HERE.