Want to map out a magical month? Swap your iCal for a tarot deck. Melinda Lee Holm helps us navigate the wild ride ahead with the key tarot cards for April 2017…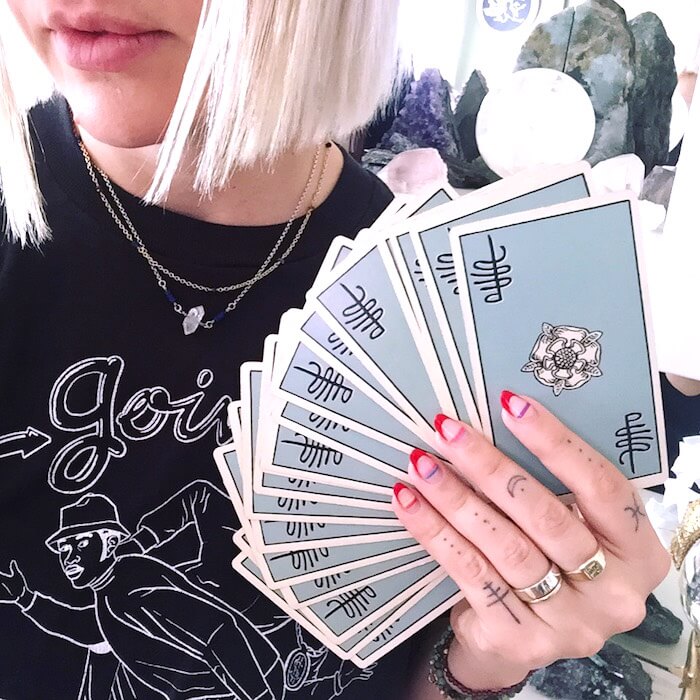 This April, it's all about letting go of control and riding the emotional waves to abundant new shores. With Mercury going retro just before Venus stations direct, April has some wildly shifting energies in store for us. Fortunately, the Tarot is here to help us navigate the vibes!
Meet this month's guides for cultivating presence, serenity, self-love, and nurturing …
>>> 
:: 04/01  April Fool's Day – The Fool :: 
As adults, we're expected to be experts in our work and pragmatic in our personal lives. The lack of control that comes with April Fool's day tricks is not something we're always comfortable experiencing. Yet embracing this carefree energy can be exactly what we need to reinvigorate our beings.
The Fool is the zero point of the Major Arcana. Having no experience, he moves freely through life with a pure and open heart until he builds enough wisdom to know that wandering through life with a pure and open heart is the soul's highest aspiration! With all of the turmoil in the world, we can allow him to guide us to moments of grace and love that are suspended in the present moment—and to learn to laugh at ourselves!
Calling in The Fool: 
Take a class where you're a complete beginner.
Practice conscious breathing to stay in the present moment.
Drink Earl Grey tea—the bergamot in it promotes joy and soothes stress.
Wear that wild dress you got for a special occasion that hasn't yet come.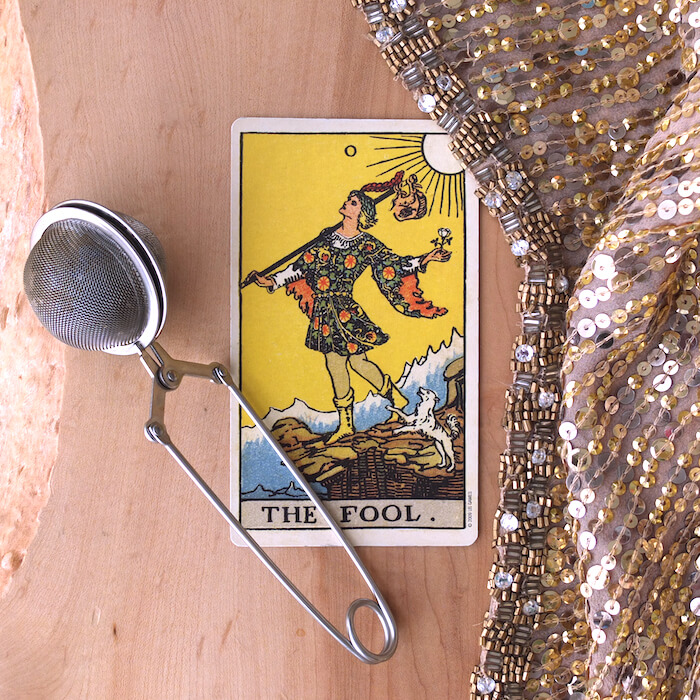 >>>
:: 04/09  Mercury Retrograde – The King of Cups :: 
Mercury retrograde periods have a bad reputation for causing trouble with communication and travel. But there is another level to thi energy that can allow us to sink deeply into emotional and intellectual reflection, and the King of Cups is a great ally in both cases.
In the Smith-Waite deck, the King of Cups is seen seated on a throne made of stone, floating on the waves of the sea. The King is undisturbed by the waves of emotion passing beneath him. He remains calm and alert, gazing out over the open sea. During Mercury Retrograde, call on the King of Cups to help you to stay calm, flexible, and aware.
Calling in the King of Cups: 
Practice loving communication in all interactions.
Maintain a sharp awareness of the external world, even when internal reflection gets deep.
Wear lavender oil—the smell can calm and soothe you and those around you.
Carry a relic of the sea with you—a small shell, a pebble—to remind you of your ability to ride the waves with grace.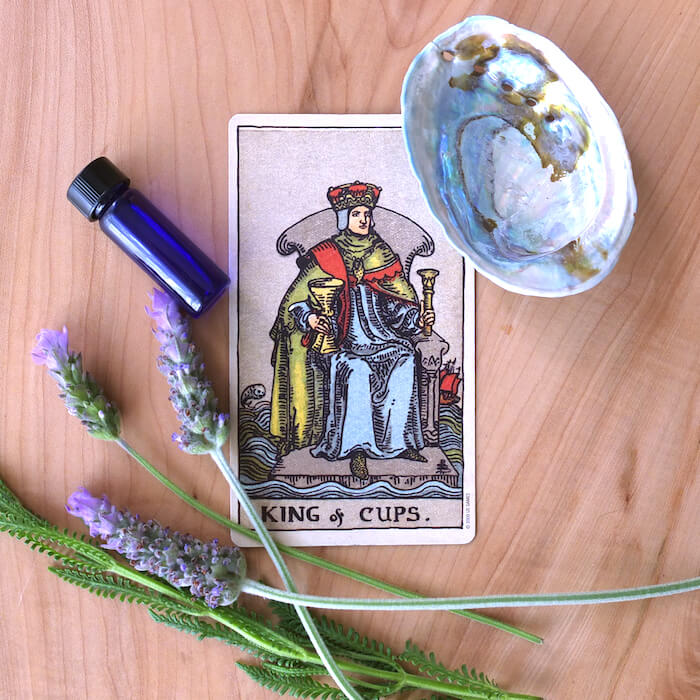 >>>
:: 04/15  Venus Direct in Pisces – 8 of Cups :: 
The past 6 weeks of Venus retrograde have been ripe for insights into our old romantic patterns. Now with Venus resuming direct motion in her exalted sign, we're pushed to realign with our hearts and dream big for the future. The 8 of Cups is the perfect guide for us as we review info gathered during the retro period, get clear about our passions, and adjust our emotional patterns.
The card shows a figure dressed in red walking into the wilderness away from a set of carefully stacked cups. This movement away from an established, known emotional pattern into the wild unknown—by a figure clad in the color of passion—is a wonderful inspiration for our realignment. Let go of attachments based on habit and forge a new path forward.
Calling in the 8 of Cups: 
Wear comfortable clothing made of soft fabrics like silk or bamboo—in red whenever possible!
Take a walk alone in the wilderness to reflect on your true passion.
Carry Rhodochrosite for self-love and Black Obsidian for letting go.
Eat foods made with basil—the heart shaped leaves will emit gentle love energy from within.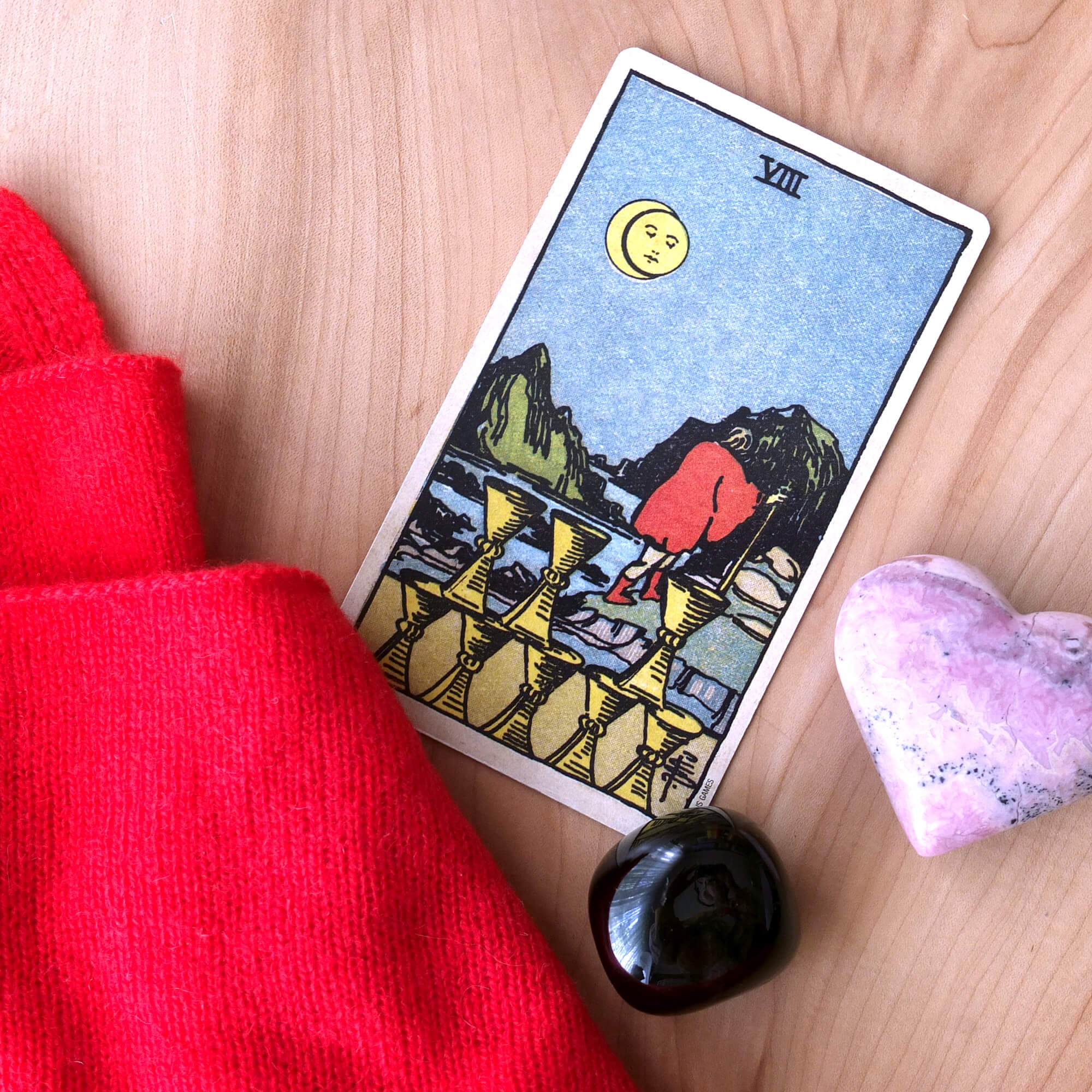 >>>
:: 04/22  Earth Day – The Empress :: 
With the EPA and our environment under great threat from the current administration, celebrating this day is more important than ever. The Empress is the perfect patron saint to keep you sane and tapped into the earth's power.
The Empress corresponds to the Goddess Demeter, the Great Mother of the Greek pantheon. She is loving and nurturing, creating abundance all around her through the force of her glorious heart. And like most mothers, she is also fiercely protective. Even if you can't attend a march or other Earth Day event, you can call on The Empress to empower you to care for our planet with love, and to protect her with a ferocious heart.
Calling in The Empress: 
Plant a tree.
Bring a trash bag on a walk through nature, cleaning up what others have left behind.
Carry Rose Quartz or Aventurine, stones of love and abundance.
Wear bright floral print or jewel tones to celebrate the glory of the natural world.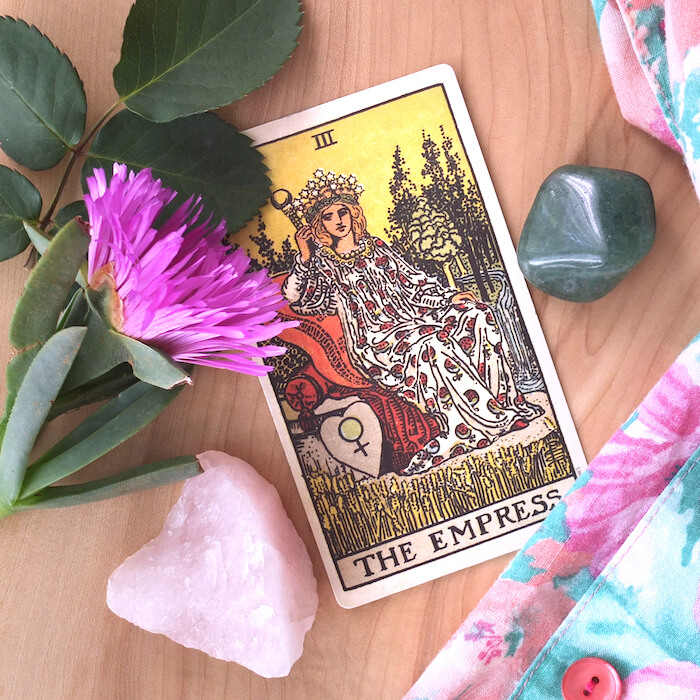 >>
Want more tarot magic? Book a session with Melinda here, and make sure to follow her on Instagram and Facebook.