On May 9th, the Moon's nodal axis moved from Virgo/Pisces into Leo/Aquarius, where it will hang out for the next 1.5 years. What's the cosmic message? The 2017 Nodal Axis Shift signals serious heart work and a major soul upgrade, say Numi astro babes Jennifer Racioppi, Danielle Paige, The AstroTwins, and Bess Matassa …  Main Image: Hotel Saint Cecilia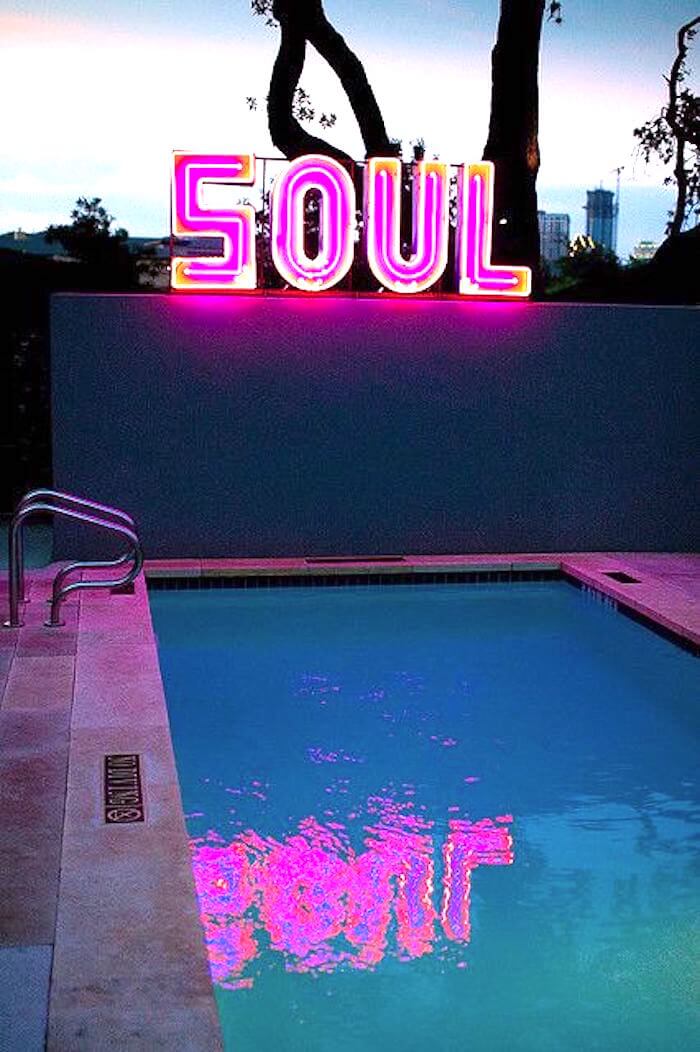 May 9th, 2017 :: North Node Enters Leo/South Node Enters Aquarius 
Danielle Paige 
It's time to rise up … you have big work to do in your heart! 
Every year and a half the North and South Nodes of the Moon change signs, ushering in new collective growth that's connected to our deeper purpose and energy evolution. The Nodes in our personal birth charts are significant to our soul's purpose. However, we are also influenced by the collective energy of the current nodal axis shift.
In the days surrounding this shift, it's not uncommon to feel the changing of the tides so to speak. You may feel like you're sifting through deep emotions that are rising to the surface again. This is a final cleanse for the old behaviors to make their way out. Ride the waves of the Virgo/Pisces energy and you will soon find yourself in brighter light with Leo/Aquarius territory.
With the North Node moving into Leo, you are being asked to move away from sitting on the sidelines. You are being asked to shift away from continuously searching in your mind because you have big work to do in your heart! It's time to rise up in your creativity, rise up in your leadership, and rise up in doing what you love because in doing so you inspire others to live fully, boldly, and enthusiastically from their heart as well. It's time to be fully present in your heart. It's time for you to shine!
To find out more about Danielle Paige and how she can help you find your soul's purpose, click here.
>>>
Jennifer Racioppi 
Wake up your inner strength. 
With the nodes of fate moving off the Virgo-Pisces axis, and into the Leo-Aquarius axis, we are shifting our focus from service (Virgo) and spirituality (Pisces), into leadership (Leo) and innovation (Aquarius).
The north node represents our highest destiny, and now that it moves into Leo, bold, self-assured courage leads us forward (hopefully) in progressive directions.
With the upcoming Pan-America total solar eclipse happening in Leo on
August 21st,
we will also see how this plays out on a global scale. In our individual lives though,
it's essential to wake up our inner strength and align with the highest version of Leo/Aquarius– heart centered, joyous and community-driven ideals.
Here's to the Now Age!
For more Moon wisdom or to book a coaching session with from Jennifer visit Jenniferracioppi.com
>>>
Bess Matassa
The delicious challenge of simplicity.
Oh, little glitter kittens and sparkly disco biscuits … Leo's energy often conjures images of endless summer and all-night tropical dance parties fueled only by our own bronzed legs and infinite capacity to shake a tail feather and raise our cups to the stars …
And yet inside of Leo's luxurious leisure suit lies the deceptively simple call to become more of what we already are, while letting the world respond on its own terms. How do we trust so deeply in our own glowbug status that we can give it away and turn it loose without losing one ounce of our own firepower? How can we let every single other being's own temperature and rhythm shine on and on without it threatening our own heat source one bit?
This nodal shift asks us to stand so directly and fully inside our own light that we can let the ego slip and slide and shift and explore. It's a ghostwriting kind of cosmic event, where we give ourselves so fully to the expression of our creative, singular message that we don't even need to sign our name.
Nodal axis mantra: I warm myself by a bonfire that never goes out.
Theme song: Eternal Flame
Style: 80s high school dance- tender pink lip gloss, fluffy touchable locks, shoulder ruffles, ankle length skirts, and kitten heels.
Flavors: Classic snack sets and sun-kissed palette cleansers with nothing to prove: vanilla/chocolate swirl, peanut butter & jelly, chips and dips, mango lassis, and Caprese salad.
Want more juicy cosmic insights and sensory explorations? Arrange an astrology reading or private event with Bess here or follow her on Instagram. 
>>>
The AstroTwins 
The United States has North Node in Leo in the country's chart, so this will be a nodal return for the nation! And the last time the North Node was in Leo, Bill Clinton was on trial for impeachment (1998). We're interested to see if this is a trend that repeats …
Get more wisdom from The AstroTwins at Astrostyle.com and follow them on Instagram and Twitter.