After a lifetime of food issues, Jillian Murphy discovered that living fully in her own skin was the key to her magic. She shares how body positivity can unlock your intuition …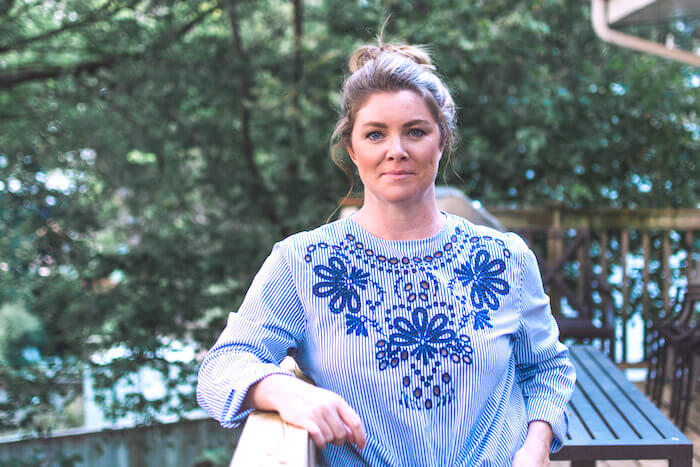 "Before you can hear, much less follow, the voice of your soul, you have to win back your body." – Meggan Watterson
I remember the day I first abandoned my body. 
I was 8 years old and visiting the mysterious temple my mother escaped to every evening when my dad got home from work—she called this evasive place of worship "the gym." It was a Saturday open house and I was an immediate convert. The place was magical – dusty rose carpet, slick chrome and mirrors, George Michael pumping through the speakers, and LYCRA. So much lycra! (It was the 80s, k?)
I could tell right away that this was the place for me—a space of transformation, potential, and movie-worthy —this was a place where life happened. I grabbed a pop and a hotdog and then I naively hopped up on the scale where they were weighing everyone. And that's where "It" got me.
As I scarfed my lunch, the two staff members in charge of weighing me began sniggering. Whispering about something clearly "adding 5 pounds" while looking at my body.
I wasn't exactly sure what was going on but I knew the joke was on me. And I knew it was bad. Bad enough to remember but never ever talk about, until 25 years later, when I finally started to heal my relationship with food and with my own shape and size.
>>>
Coming face to face with "it" … 
"It" is not that creepy clown from the Stephen King movie you're picturing. No, no, the "It" I speak of is much worse—its name is diet culture and it spews a thin-is-best, fatphobic, classist, able-ist, racist, gender-biased rhetoric where the gold standard of beauty, body, and more recently "wellness," is blatantly clear, objectively unhealthy, and unavailable to most.
Beyond the gym, there were many other moments when "It" got me, some that obvious, highlighted in Technicolor and frozen in time—a mental photo album created to prove my lack—while others were so subtle I internalized them without realizing, recognizing the damage only in hindsight.
From health messaging at school and dieting advice from teen magazines, to negative looks from boys and the admiration of "beautiful" girls in front of me, the signs were everywhere.  
Once, I remember hearing an older male cousin condescendingly laugh about the shape of a specific woman – stating that "to be attractive to men your shoulders needed to be at least "X"cm wider than your waist. Though I thought it harsh, I internalized the comment as though it were about me. In a diet culture with rigid beauty ideals, no woman is left unscathed.
Everywhere, the message I absorbed was: you are not good enough. More specifically: your body is not good enough.  
Even more specifically: your body is not good enough and, as a female, it's your personal responsibility to take charge of your weight and beauty and behavior and do what it takes until you fit the ideal lest you remain unworthy forever. Also, hot sticks of processed meat are un-ladylike.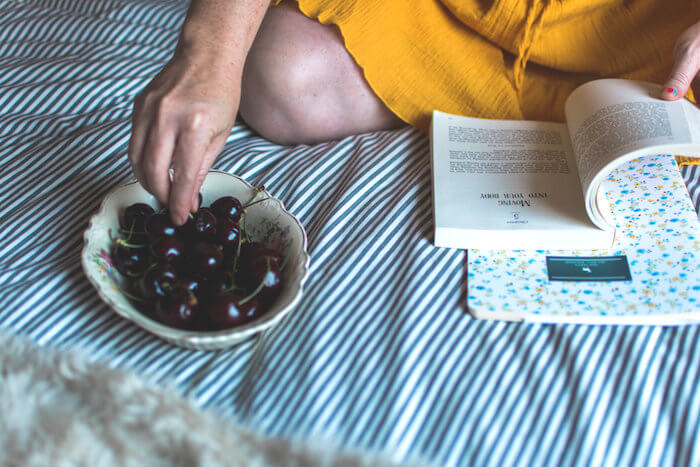 >>>
Your intuition lives in your flesh …
It might look like a criticism, a comment, a side-eye (sometimes much worse), and it makes you gasp, the foul gas of "you're not good enough" filling your lungs and seeping into your tissues. From that day on, the myth of diet culture is no longer just a story around you, it is a story about you.
You disconnect. You abandon your physical self. You override your female knowing that your curvy, lumpy, bumpy body is beautiful and normal and you do your best to crush the voice that says "I'm hungry" or "carbs would be nice" because that voice is clearly an idiot that doesn't know bikini season is coming up.
The result? Food issues, yes. But diet culture doesn't just destroy our relationship with food and distort our body image—it separates us from the most powerful ally we have—our inner knowing.  
Your intuition lives in your flesh and speaks to you through your body. She is nourished by pleasure, abundance, approval, and desire.
When she has been dampened and starved into submission, you are left living a storyline that keeps you doubtful, unsteady, competitive, and unsure. An ideal that keeps you distracted from your most important work in the world and suggests your worth is up for debate.
>>> 
Amplify the whisper …
When we discourage (read: flat out ignore) the whisper of biological feedback that tells us we need more calories or carbs or a day of rest—we simultaneously diminish the whisper that helps us discern and decide in all areas of our lives.
These whispers are one in the same. Learning to hear and trust the signals from our very intelligent, self-regulating, female appetites is a super-powered short cut, reconnecting us to our broader inner knowing. It amplifies the whisper.
I lost so much time sacrificing my wellbeing and connection to self in the pursuit of worthiness via weight loss and superficial beauty. I made bad decisions. I was distracted. I lost time. I learned slowly that, in order to write a new storyline for myself, I would need the power of my intuition and that the first step in rebuilding a connection with my soul voice was winning back my body.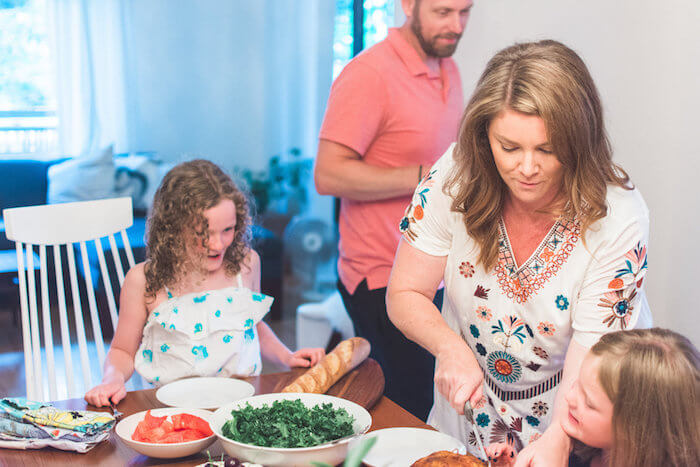 >>>
Here's how to start amplifying the whisper and winning back your own body …
1// Give up the pursuit of weight-loss. The pursuit of weight loss is THE thing that disconnects us and keep us looking outside of ourselves for shoddy solutions. Weight-loss attempts fail over 90% of the time, long-term, and the collateral damage is your relationship with food and your connection to your inner knowing. Start by pretending that you aren't in control of your weight (because you really aren't) and that your only goal is to feel vibrant and energetic and joyful in your body.
2// Counter the deprivation narrative. Tuning into our hunger and reliably feeding our bodies is the first step in repairing the collateral damage of deprivation and moving towards a more intuitive relationship with food.
Start the process of consistent nourishment by connecting with your hunger signals. See if you can rate your hunger on a scale of 0-10 (0 = not hungry at all, 10 = "hungry," low blood sugar, shaky). Can you notice the subtle differences between a 4 and a 7, or do you regularly swing from overstuffed to starving?
3//Discover your delicious. The basics when it comes to nutrition and movement have been well understood and unchanging for generations – move your body regularly, get fresh air, drink water, eat lots of plants and unprocessed foods – not too little, not too much, and honor your mental/emotional need for pleasurable, celebratory foods.
Now, from this magical place—without all the rigid rules, "shoulds", and fears—what do you feel like eating? How do you feel like eating it? How do you want to move your body and for how long?
*Note: There is a good chance you have NO IDEA. Start by asking the questions and experimenting. Follow your curiosity and see how it goes—maybe you hate plain raw carrots but you love them roasted or with dip (Hot tip: DIP IS DELICIOUS). Allow yourself to try new things and neutrally observe how your body feels.
4// Fully live with the beautiful bod you've got. When your physical appearance stops representing your entire worth and is, instead, just a fun outward expression of your personality, the game changes. Start living the life you aspire to have when you are in the perfect body and watch the shift!
Make a list of all the activities you are waiting to do when you lose the weight, get more toned, have your nose fixed, are more perfect, etc. Make the list as exhaustive as possible. Next step? Start doing all of those things IMMEDIATELY. Wear the red lipstick, rock the shorts, eat the gelato, show your navel, go on the date, try the tap class, climb a mountain, go back to school. Do it all!
Dr. Jillian Murphy is a registered, licensed Doctor of Naturopathic Medicine. She has dedicated the past 8 years to studying intuitive eating and body image, and works with diverse, smart, health-conscious, women who are DONE WITH DIETING, and looking to get out of their heads and re-connect with their bodies. Follow her on Instagram, listen for more wisdom on her Podcast, and join The Food Freedom/Body Love Collective, her monthly membership space that provides you with the tools, strategies, support, and community you need to live healthfully in the body you are IN!