The Capricorn moon sign is tougher than most – a balance of tender and tough, says Ash Baker. PLUS 8 lifestyle tips to help you manage your Capricorn moon sign. Artwork: Prince Lauder via Behance.net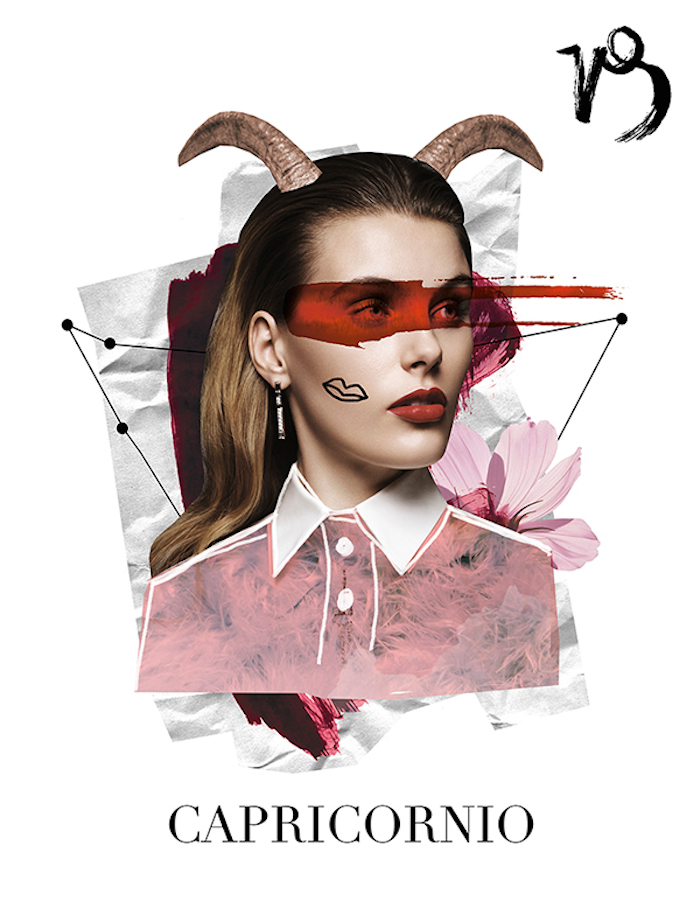 Fellow sea goats, gather around and learn about your personal take on the Moon. You project an emotional character that is sparkling with strength. Even your aura is made of resilient stuff. Capricorn Moons get a bad rap though because the qualities of this sign are the exact opposite of what the Moon stands for.
This means it's a tougher Moon than others, but not impossible. I too have this Moon so I'm really speaking from the heart with this article. And it just means we have to work a little more mindfully at achieving the Moon's needs via our sign's attributes.
Capricorn stands for power, control, success and ambitious achievement. The Moon, our heart, wants to nurture and support through being soft and gentle. So this Moon's purpose is to understand how to be vulnerable while still feeling safe. To not be too controlling. To let go of the ice queen/king tendencies. This placement can feel a bit dark side of the Moon. We stay cool and detached so we don't get hurt. Learning to bridge that gap is key.
Capricorn does have something in common with the Moon though, they both enjoy taking care of needs. What those needs are varies but possessing the ability to help fulfill them is strong. This can be a very realistic Moon in that Capricorns see the logic in emotions. They can come across insensitive due to being so grounded, conservative and stoic.
The Capricorn Moon sign needs independence and to prove that it can do things on it's own. So working towards the goal of embracing independence while asking for help every once in awhile would be beneficial. Just watch out for being too controlling of others to get what you want. You really take it to heart if you think someone sees you as unable to fulfill certain functions. Therefore you can become too rigid and bossy just to hide the fact that maybe you are not so perfect at everything you set out to achieve.
It's okay. You are human. Our flaws bond us. Allowing those who love you to take care of you is HUGE. You want to remain in a place where you feel dignified and composed, but also open enough to depend on someone else. This is where true intimacy is born and your Moon can fully blossom. We each have an area of life where we feel the need to get the job done. The Capricorn feels respected, nurtured and fulfilled in doing so.
Below are a few suggestions to work/benefit your Capricorn Moon sign's higher vibes.
:: Strength ::
Pick an exercise that makes you feel strong. One that gives you a feeling of power over your body yet humbles you at the same time. This sign rules the bone structure so if yoga suits you try this yoga sequence…
High Lunge :: Alanasana
From a standing position step the right leg/foot towards the back of the mat. Come up on the ball of the right foot with an inhale. Exhale and bend the front left knee. Make sure the knee is bent directly over the ankle. Tilt the pelvis slightly under and lengthen up through the spine. Inhale and reach the arms loosely into the air. Reach your upper body towards the ceiling and press the lower body down towards the floor. Come back to standing and switch legs.
Warrior 2 :: Virabhadrasana 2
Come back to Tadasana. Step the right foot back 3-4 feet. Turn your right foot to a slight angle with the toes out and the heel in. The left foot should be pointed forward. Inhale and reach the arms up and out in line with your shoulders like wings. Exhale and begin to bend the front knee directly over the ankle. If you are a beginner, lessen the bend in the knee but never take it further than your ankle. You should see your 1st/2nd toes. Make sure your torso is directly above your pelvis. Reach your arms out wide and feel them lengthening. Press your feet down into the ground gathering energy back into the body. Hold for 30 seconds up to 1 minute. Come back to Tadasana and switch sides.
Reverse Warrior :: Viparita Virabhadrasana
From Warrior 2, drop your back hand down to the back of your back leg or on your hip as you lean backwards from your side and reach your front arm up and over your ear, creating length in your ribs and side waist. Keep the knee bent directly over the ankle. Look up towards your hand as long as you don't have any neck pain.
:: Time alone ::
You need solitude to plot, plan and stay on top of all the goals you want to achieve. Being such an independent Moon you emotionally benefit more from private time than some other signs do. If this is something that feels difficult to add into your life, really start to make it a priority. Put up some boundaries if need be. This quiet time will really benefit your heart in the long run.
:: Lighten up ::
Now, following the tip on alone time you also need to balance. Be sure to add fun, and silly experiences to your life. This sounds easy to most people, but it's something you actually have to work at. This Moon sign is serious from birth. We enter the world like little adults. So going out of your way to go out and play is actually quite therapeutic.
:: Life coach ::
Being such a goal-oriented sign is a good thing, but it can get a little too controlling. So why not ask for some help? Hire a life coach to help get things in order so you're not constantly obsessing over your never ending lists. This actually is a double whammy for you because it allows you to work on asking for help while still achieving goals piece by piece.
:: Bodywork ::
Massage. Reiki. Shiatsu. Any modality that helps ease the rigidity of your body from stress is going to do wonders. We all hold tension in our bodies but due to this sign being so prone to stress, a healing release is necessary. You may be guilty of only feeling comfortable when worrying over a deadline. If this is you, go treat yourself.
Happy healthy climbing Cappy Moons!