In this month's column, Ellie Burrows investigates how the ancient Shamanic art of shapeshifting has infiltrated her relationships – and what she's learned about herself in the process. Portrait: Katie Fischer.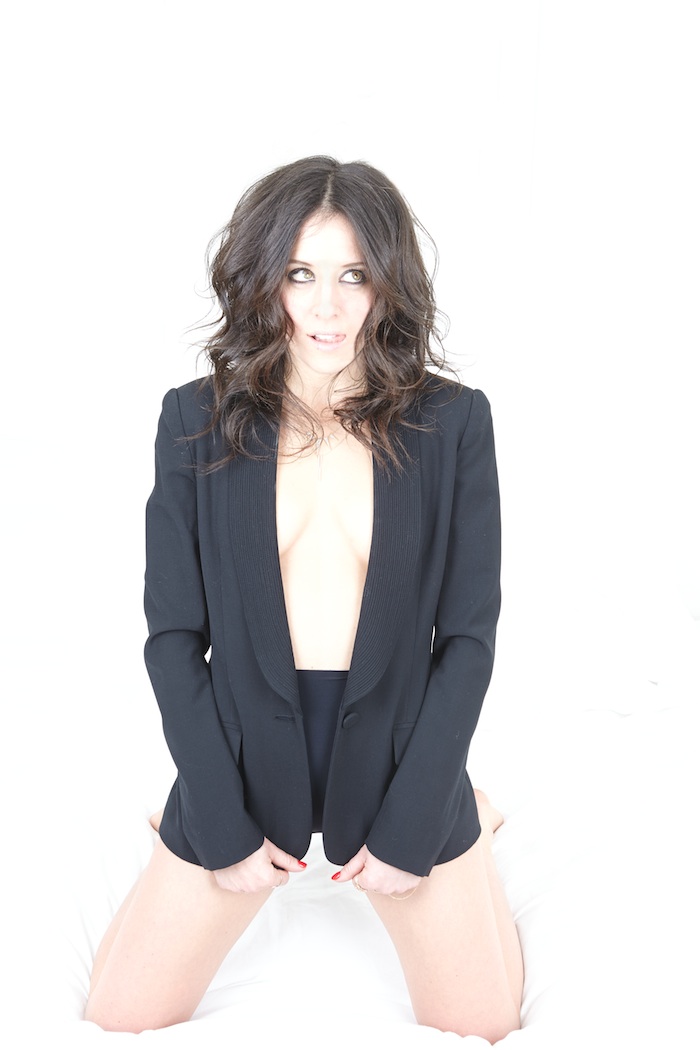 Ask any of my friends – when it comes to my lovers, I'm known to be a shapeshifter. As in, I change form depending on my bedfellow. I admit it.
In 1998 I met my high school sweetheart. We wore Air Max 96's, Jordans, Nike snap pants, and listened rap music in his black two-door Ford Explorer Sport. I had cornrows and rhinestone sunglasses. He was captain of the basketball team and regularly had one pant leg scrunched up to the knee. Young love at its finest, we were a match made in 1990s high school heaven. We were each other's dawgs.
In the summer of 2006, I met an Israeli businessman twenty years my senior. It was always DJ Tiesto and the mispar echat (number one) everything: the number one restaurant, the number one hotel, the number one vodka, the number one yacht. Lots of excess, free love and bacchanalian behavior. Everything was a teachable moment and I learned all sorts of sexual lessons. He was a bird of prey and I was his helpless kill.
In my twenties, it was my seriously cool East Village architect. All raw denim all the time. No shampoo. He taught me how to dial down the fancy, wear my curly hair like a mane and eat meat off a bone. I was a lioness and he was my lion, the king and queen of a concrete jungle. We had a lot of pride. And frankly, that's what killed us.
Shapeshifting litters the landscape of divine folklore and shamanic traditions. Magically speaking, it's all about changing form in order to take on and assume the nature and qualities of a specific creature. A shapeshifter morphs in order to alter or enhance particular thoughts and perceptions or acquire new abilities. One changes shape to see and access the world from a different perspective.
As the dawg, the kill and the lion, I fully embraced and emulated the quality of each manimal I was with. I immersed myself in our love and thoroughly explored their natural habitats. I invoked their energy within myself, adopted their characteristics and saw the world from their vantage points.
This was a practice of sorts, the method by which I connected to the symbol of my desire. And it was most definitely a symptom of my immaturity. When I loved what they loved, enjoyed what they enjoyed and preferred what they preferred, I felt a deeper sense of closeness and communion. I think it goes, imitation is the sincerest form of flattery, not love. And in fact I royally fucked up because I lost myself completely in each beast.
As of late, my ability to shapeshift is non-existent. Turns out, I prefer not being anything but myself. Venturing into someone else's habitat and taking on their views, behaviors and tastes to enhance our connection no longer serves me – especially when that person drinks like a fish, doesn't work out, lacks a connection to the divine or fucks without reverence for the act of fucking itself. I tried to get down with that species and it just didn't work.
Changing form to align myself with my partner stifles my own needs in relationship. I became unrecognizable in the mirror and then there was no perspective at all. And if I can't see my self in the mirror, then it defeats the whole point of partnership in the first place.
The mirror is one of my favorite metaphors for a lover, spouse, significant other, partner, friend or soul mate. It can feel vulnerable to step in front of a mirror and take a good look. You will see all your beauty, your ugly, your gains, your losses, your shortcomings and strengths. It can be exhilarating, humbling, ecstatic and painful. The human mirror is an extraordinary thing because we have the capacity to really understand our very existence in the presence of another being.
What ultimately serves me in my relationships now is to be in my true form, my authentic self, and see how I occur in the context of another human being. I've learned that it's my responsibility to grow as a result of that reflection. And if I'm really honoring myself, then I can honor the other too, and hopefully be the ultimate mirror for them.
Ellie Burrows is a storyteller, seeker, mystic and guide living in New York City. Discover more at Ellieburrows.com