Getting the most from an intuitive reading is all about learning good psychic hygiene, says Elyssa Jakim.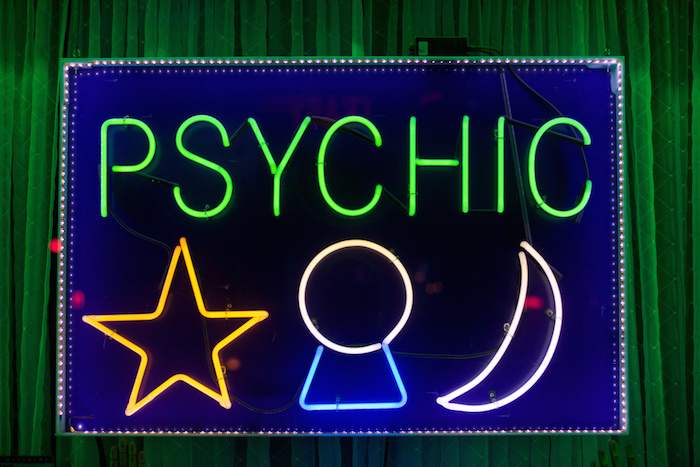 As a medium, a channel, and an intuitive (yes, some like to use the word "psychic"), I have received my fair share of readings. I went through a period of being obsessed with getting readings, in fact: psychic, tarot, astrology, you name it. Looking back on it, this phase helped me innumerably as a reader, but more than that, it helped me to be okay with the process of life itself. So, I talking about good "psychic hygiene," I do not mean clearing your energy field or removing stuck spirits (we could talk about this another time) – I actually mean being a good receiver. Having good reading receiving mind will enable you to feel like the true mistress of your destiny – which of course you absolutely are.
Here are my tips for how to receive intuitive readings in a healthy and productive way:
1. Keep what works
A reading should not feel punishing. A reading should not make you feel bad about yourself. I don't know about you, but I've often gone into readings, heard a lot of great stuff about where I'm at, and then heard about a few challenges. I hold on to the challenges like they're sad, sticky glue, and forget 95% of the mostly positive stuff! So write down the 95%. Use it to create positive affirmations. Go back to it to keep you going and keep you glowing. It's my personal belief that the messages that feel like balm to your body and soul are the ones to really listen to.
I talked to a wonderful astrologer friend after getting a reading with some thorns, some challenges. She said that a reading should be up-lifting. If there are things that dishearten you about the information received, just throw them away. There's no need to be punish yourself with what you hear. When the hard stuff comes up, this is a message to keep doing the best you can, so go gentle. Simply creating awareness around the challenges helps to move them. When in doubt, throw it out, and hold yourself with love. It's a brave step to even get a reading, so be proud of yourself for showing up for your growth.
2. Don't be too literal
I once had a reading with an incredibly skilled medium that was very specific. My grandmother came through and her message was: "you need to continue your career as an actress…this healing stuff is keeping you an in igloo of isolation, it's good for you, but it's not your path." I also got the name of a lover (someone I already knew) who was apparently my soul mate, and would become my partner in the next few months. So I threw myself into acting again with gusto – for the next three weeks or so. And it felt really good. But you know what, I ran out of steam. And the man didn't come in. I tried to connect with him but it didn't work out. This was also very hard because she had told me "he will contact you." So my love life was on a weird hold for a few months.
Looking back, I believe that this reading was extremely important and got me to where I am now, even though the details did not come to pass. When it came to acting, I made amends with people I'd had deep wounds with. I made myself open to a passion that I'd blocked off. I also had to claim my desire to be a healer for myself, regardless of what spirit was telling me (it was the advice of a concerned grandmother after all). After this, the pursuit of acting felt less important.
And as for the man? What I learned eventually was that it wasn't him specifically who was going to come in, but it would be him who woke something up in me and allowed me to feel my worthiness. He made me believe that I could be with an incredible man. The dream of him gave me a sense of how incredible I was, and that's what I really needed. Vibrationally, that reading catapulted me forward into a different phase. Spirit gave me the information I needed to hear, in a format that was right for me then. I had to let go of the exact details in order to be free enough to enter this next phase. So, don't take a reading too literally—take it as an event to catapult you into the vibration you're ready to stand in.
3. Stay in the present
Remember when we called intuitives and tarot readers "fortune tellers?" A reader is reading your current fate – your current vibration. Thus, it's a reading of your present, not your future. But if you make changes to your present situation, your "fortune" can and will change. That's why it's so hard for psychics to read timing. Plus, there really is such a thing as divine timing.
I was getting a tarot reading from a dear friend and intuitive that clarifies this principle. The first cards in the spread opened up a conversation between the two of us about my healing work. The next 30 minutes of the reading became a brainstorming session about what I offer and what I do, and places where I could feel more vibrant, and places where I could shift. This discussion was not "in the cards," but the cards inspired this. By the time we finished this portion of the conversation, my lovely reader said "well, the other cards are not your cards any more. This reading would have ended with you being stuck. But you adjusted your vibration and now you're on a different path."
We literally changed my fate over the course of the reading! This is why it's important to think of this as a reading of your present. It's not about fortune or future telling, it's about reading between the lines on the current page of the book of life, and then encouraging you to choose your own adventure.
4. Find the right reader
Keep in mind that whomever is reading for you is going to have a slant. No one is going to be a perfectly clear channel. So this means it's up to you to find someone who feels as objective, open-minded and balanced to you as possible. Find someone who does the soul work him or herself. Someone who is truly "OTP" (on the path). The more worldly and open-minded a reader is, the more likely that the times their channel is a tad fuzzy around the edges (we all have our off days!), they are still going to deliver a reading choc full of wisdom and love. Spirit is always loving, always rooting for you, and always wants to scoop all of you up in compassion. Ideally, a reading and a reader should let you feel the well of love and peace that's always available to you.
5. Be your own psychic
At the end of the day, you must be your own psychic. Everyone is born with four psychic senses (hearing, feeling, seeing, knowing), and everyone can learn to develop them. But beyond this, when you think about it, we're all practicing our psychic skills all the time. We're all doing our best to make choices that serve our highest and best, and hopefully the good of others too. At the end of the day, we've got to ask, "how much do I need to know all the answers?" and "how much room do I give myself to make mistakes?" Allowing yourself to make mistakes in your life is perhaps the best psychic hygiene you can practice. Know that you are trying your best, and that is always one hundred percent good enough. When given a tough decision: ask your body, trust yourself, and give yourself leeway to not know.
To summarize, the best way to manifest a beautiful future is to enjoy the present and all that it has to offer. So if a reading's got you feeling down on yourself and your life, throw it away and find a way to dance or laugh or sing and enjoy the richness of life, as it is constantly unfolding around you.