The numerology of 999 is a powerful invitation to let go and move forward in our journey, says Felicia Bender. Artwork: Victor Moatti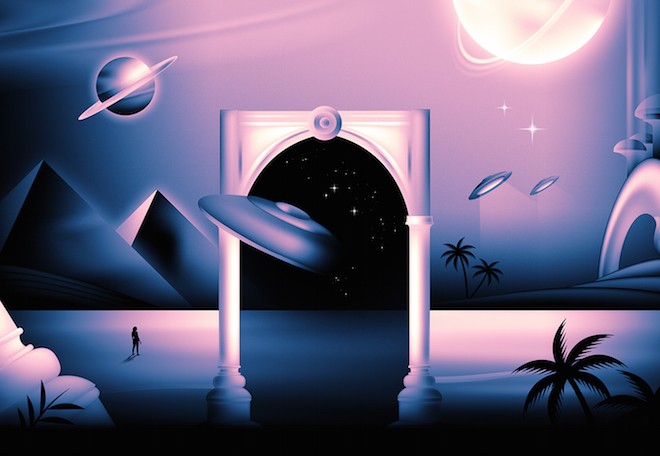 999
Ah, sweet surrender.
September 9, 2016 breaks down to 9-9-9 (since "2016" = 2+0+1+6 = 9, making this a Universal 9 Year). The code is a message and also an energetic reality.
This day opens us to surrender on the highest realm. It is the end of a concerted struggle and a transition into wisdom or even a sense of rebirth.
Think about what has constituted your biggest or most consistent struggle—either in the past year, or even throughout your life. This is the time to put this issue (or issues) to center stage and into the spotlight. Now is the time to make some deep changes.
In Numerology, the number 9 is sacred and offers all of the lessons related to all the numbers 1-8. It challenges us to take the lead and embrace independence (1), to love and serve the needs of everyone (2), to express emotions in a healthy way and to be creative (3), to work hard and create stability (4), to use freedom constructively and have fun (5), to nurture and create a home (6), to live with a spiritual base and also ask questions (7), and to empower ourselves and to manifest in the material world (8).
The numerology of 999, day where there is a TRIPLE serving of 9 energy, it opens us—whether we "like" it or not—to our truth, in ways that we have been both searching for and avoiding. While we can say we want enlightenment, we often romanticize it, when the actuality is that enlightenment a painful process. It is a constant stripping away and revealing of Truth and also shines a light on how we must participate in creating what we want in the world.
There is true beauty in the transition opening on this special day. And given we also have two eclipses in September—which themselves are known to accelerate change in a big way—the numerology of 999 in this particular year presents an opportune time to unveil your deepest desires and visualize what it would look and feel like to step into your new reality.
So how to maximize the numerology of 999?
TAKE THE LEAP. Have you been hovering around a decision for so long you can't remember a time when it hasn't been eating at you? For example, I know people who have been thinking about getting a divorce for years and just continue to hover in the relationship. A friend of mine said it so well: If you're constantly thinking about whether or not you should be in your marriage, you shouldn't be in your marriage! If you're meant to be there, thinking about whether or not you should stay or go is simply not on the radar.
BE REAL about your actions and participation—while forgiving yourself fully and completely. Do you keep beating yourself up about something you did or didn't do in the past? Do you replay it over and over again? I think it's Byron Katie who observes that often we have one traumatic experience and yet our mind relives it so often, it is if we experience the trauma every time we replay it. This is the time to find a way to truly forgive yourself and move on. It's up to you to find your way to do it—Therapy? Energy work? Hypnosis? A "Release" ritual? Whatever speaks to you, try it it.
EXPAND YOUR CONSCIOUSNESS. Oh, sure. Sounds so cliché. Yet the energy of the 9 is optimized when we can truly live the Buddhist tenant of being Present—when we can live in the moment, let go of the past without resentment, and be open and curious about the future. If there's ever a time to clear our slate of negativity, this is it. And this is made more challenging by the current conditions we're experiencing in the world. There is so much tumultuous change, it can be disconcerting. Yet if we can be the eye in the center of the hurricane—even in the most intense times—the rest of it will become so simple.