When your practice becomes a crutch it could be time for a spirituality detox, says Victoria Cox. Artwork: Elayne Safir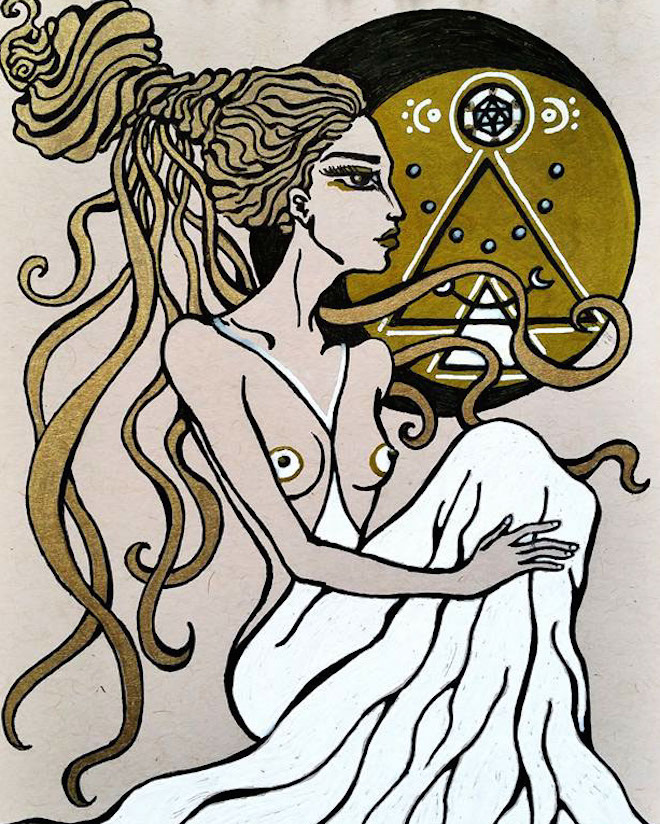 I've been fascinated with the esoteric side of life since I was a little girl, but in recent years I've been delving a little deeper. Kundalini yoga, tarot, energy healing, astrology, crystals, meditation. You name it, I've probably tried it.
And lately I began to notice that whenever life got more intense, I would lean a little harder on these practices.
I'd pull a tarot card every day (okay, sometimes several), check five or more astrology sites religiously, and my morning meditation schedule became a non-negotiable. To the point I began to wonder if, instead of utilizing these practices to gain a deeper meaning of life, I was using them to numb out. After all, I was no longer experiencing the blissful results and striking insights I'd encountered initially. Simply put, the whole thing was starting to make me feel neurotic.
So, what was a girl to do?
In a twist of irony, my question was actually answered during an energy healing session. After listening to me whinge about how I was working so hard on myself yet my anxiety levels were creeping higher, I was informed I was being put on a month-long "spirituality detox." In short, it was time to cut the woo-woo and get grounded.
Here are the five signs that showed me I was in need of a spirituality detox. If anything sounds familiar, you might decide to join me…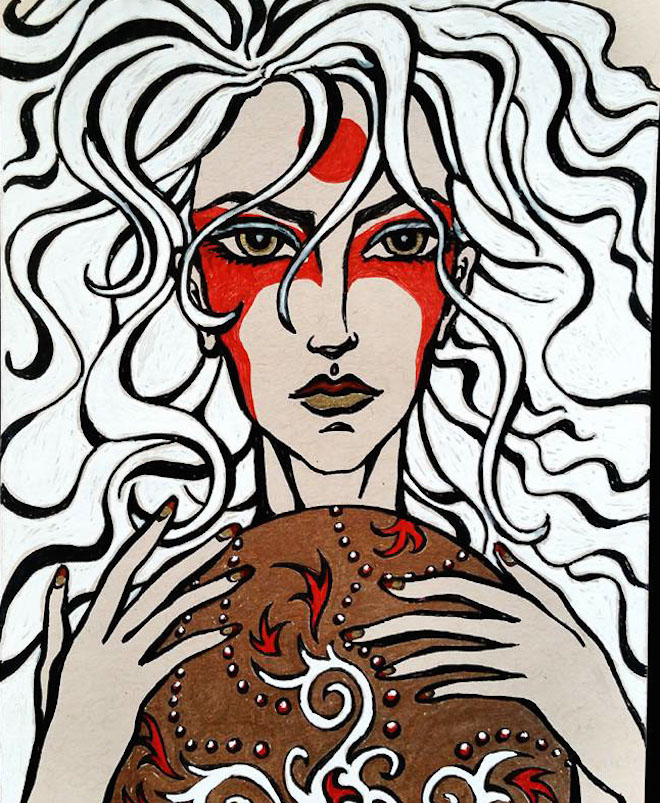 A daily practice becomes a daily obsession
For me this was Kundalini meditation. At first, the results were impressive; I was calmer throughout the day and found myself less likely to get sucked into life's dramas. Yet, as external challenges mounted, I became more rigid about my practice. I had to do it no matter what.
There were mornings where I woke up tired yet pushed myself through the practice, counting the seconds until I was finished. My morning "meditation" was beginning to feel more like bootcamp, and I was no longer enjoying it. As a result, the benefits I'd experienced when practicing from a place of reverence, began to ebb away.
Pursuing spirituality for personal gain
Over time I'd acquired a toolbox of sorts to deal with life's rough patches. If was feeling anxious, I journaled about my feelings. If I was feeling uninspired, I meditated. If I wanted to create something new in my life, I would use visualization techniques.
These tools were extremely helpful in getting me through hard times, but I was starting to use them in the good times too, to satisfy my ego desires—opposed to spiritual yearnings. And then when life didn't go exactly the way I wanted it to, I became angry. I realized that in using these practices this way, I was buying into the idea that the the Universe somehow "owed me"—and was mystically designed to reward selfishness, when actually the opposite is true.
Self-helping vs. self-medicating
I noticed a pattern of behavior that went something like this: waking up after a boozy night out I'd feel a familiar sense of self-loathing about having drunk too much. To alleviate these feelings, I would head straight to a yoga class to clear my head.
Feeling better about myself, I would then come home and have a glass of wine—undoing all the good work I'd done in class! I was essentially using my practice as a quick-fix means to feel better in the moment while ignoring the real issue (why I'd drunk too much again)—instead of a way to learn about myself on a deeper level.
Searching for the next spiritual fix
Living in New York, there are a classes and workshops offering every spiritual answer under the cosmos. Energy healing; Chakra cleansing; Past-life regression. You name it, it's here. While this is wonderful in many ways, I noticed how the sheer abundance of choice made it feel like there was always one more thing to try.
I began to convince myself that I needed to do every treatment, attend every event. I was treating these revered spiritual arts like a mass consumer, always looking for more instead of stopping and simply asking myself what I was trying to heal.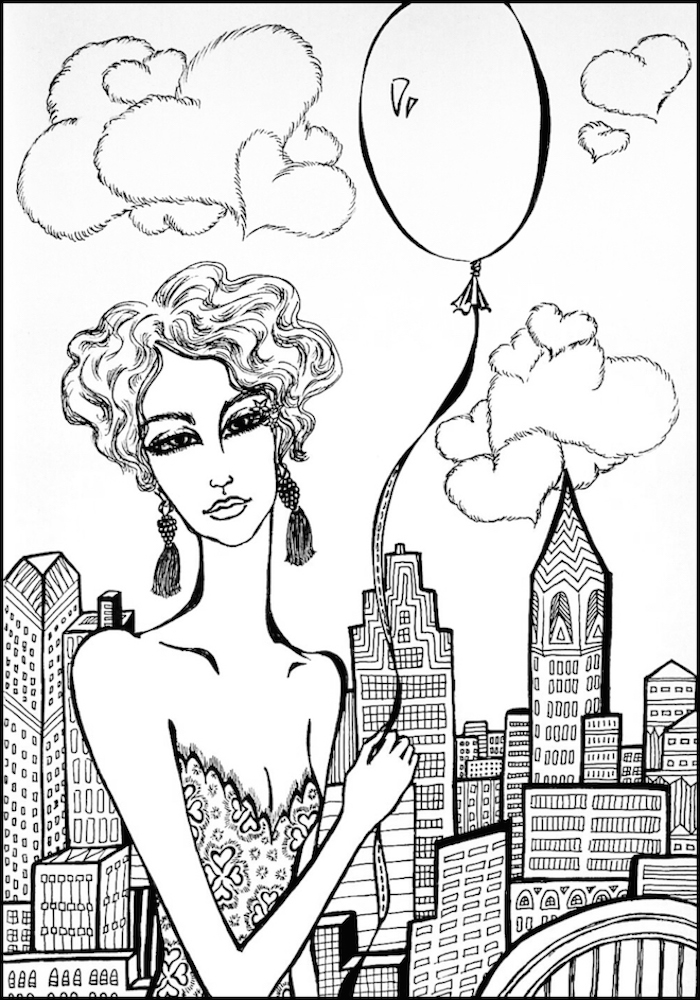 Spiritual neurosis
I discovered that my motives were becoming completely anti-spiritual, as I indulged in a sort of metaphysical materialism. Over time my beloved practices had morphed from a source of comfort into a supposedly mystical way to manifest my worldly desires.
Instead of wanting to go to a sound-bath at the end of the week to relax, I felt I had to go—or I would be missing out on some great revelation about myself. I wasn't. I was living my life wrapped up within my ego's neuroses instead of living from my heart.
***
Once I saw clearly how I was misappropriating my spiritual practice, I asked my energy healer what I needed to do.
Her prescription?
No mind-altering substances (i.e. alcohol) for 30 days. Stop reading or engaging with all esoteric information. Cease all meditation. Stop all energy practices or group healing
Instead?
Spend time on grounding activities such as house-cleaning. Practice intense cardio exercise. Sleep and rest. Spend time in nature. Take plenty of salt baths to detox the body and drink lots of water.
Initially it seemed like too big of a pill to swallow. But as I deleted my astrology and tarot apps from my phone I already began to feel lighter. When my alarm went off at 7am for my morning meditation I almost squealed with pleasure at the thought of sleeping for an thirty extra minutes. I relished the empty weeknights where I didn't have some class to attend.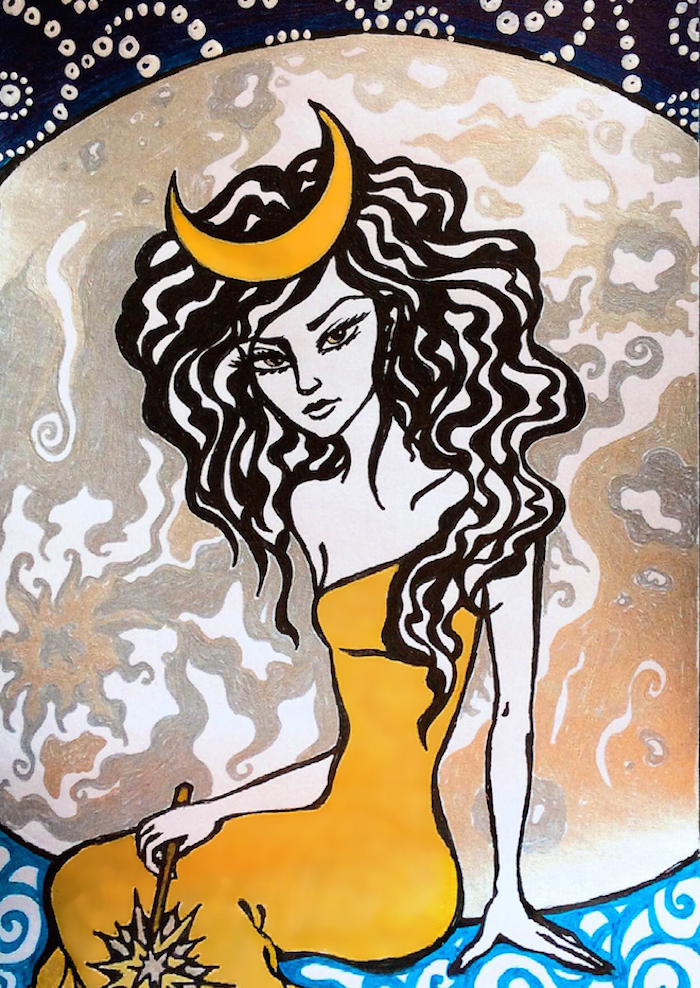 I knew it was the right thing to be doing simply because it felt so damn good. I felt like a child taking a month off from a very strict boarding school. Admittedly the hardest part for me was not drinking alcohol; I didn't partake during the week, but I'll be honest and admit that I still dabbled, albeit lightly, some weekends.
And once the thirty days were up? There were some practices, such as Kundalini yoga, that I was dying to get back into—simply because they made me feel better. But there were others, like my incessant tarot card pulling, that no longer held any appeal.
Most importantly, my experience taught me far more about myself then I'd learned in my obsessive pursuit of all things Now Age. I learned that the spiritual path is a long and meandering one; that there are no quick fixes or shortcuts.
Most importantly it taught me to listen to my heart instead of my head, and to always ask myself if what I'm seeking is in service of enlightenment or egotism.
Have you had a similar experience to Victoria? Share your thoughts with the Numinous tribe Instagram and Facebook, or in the comments below…