The 2018 Gemini Full Moon is a powerful opportunity to tune in to our environment, and let trust in abundant connection lead to compassionate communication, says Sandy Sitron …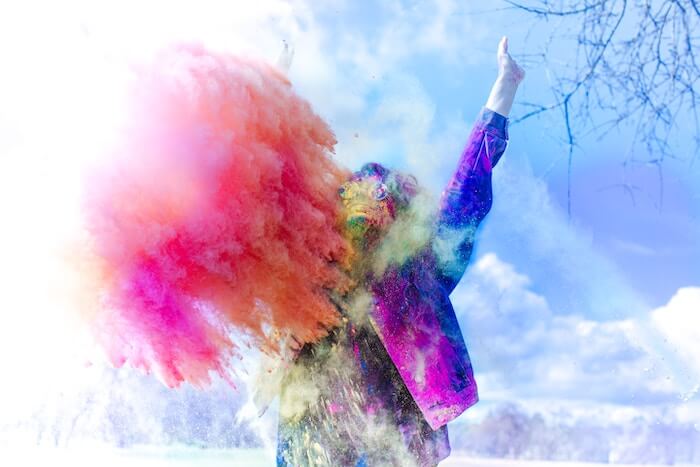 Full Moon ::  November 23 2018 :: 12:41 am EST :: 0 degrees Gemini
Listen to the blue jay sing. A splash of inspiring color against gray sky. But the bird is on attack. Caw caw caw. It scolds and picks with aggressive intensity. Then it takes flight and the whole interaction is forgotten.
On November 23rd, 2018, there's a Full Moon in inquisitive, talkative Gemini. The Moon is opposite the Sun in truth-seeking Sagittarius.
There's a potential to verbalize with this Full Moon. That drive to communicate can come through in different ways.
First of all, it's fleeting (that's something to be remembered in the midst of your next big conversation). What feels important is impermanent. Next, it's vibrant. Fired up. A flash of interest, vitality, brightness. There is an urge to communicate with intensity.
That can result in sharing opinions that you're not even sure you believe. Gemini likes to talk and Sagittarius likes to know. When it comes to conversation, who is listening? Notice an urge to nitpick or criticize, like the bossy blue jay. Maintain an airy sense of lightness. You can fly away from the conversation. You can let it go.
There are so many strands of information flying, so many truths to be determined with this expansive Full Moon. Be deliberate about the information you take in. Notice your environment. Who are you influenced by? Whose messages and opinions are seeping into your mental space?
If you aren't deliberate, you'll will find that you scatter your energy against the wind. This could happen through internet binges, continuously scrolling through social media, or asking for advice. How much do you want to take in? 
The best results of this Full Moon energy come when you are driven by compassion. When in doubt, move through your world with an awareness that everything is interconnected.
The Moon in Gemini increases your desire for input. The Sun in Sagittarius pushes your ego to KNOW and to have your truth defined. This is an opposition of energies that can be solved by the T-square to Mars in Pisces. Translation? Take all of this cerebral processing and balance it with your drive to feel emotionally connected.
When your actions are guided by a feeling of continuous and universal love, all is well … 
///
Moon opposite Jupiter
Bundles of flowers overwhelm the aisle. 
So much abundance, it's hard to decide where it should all go. Of course that's not a problem. Let yourself be lifted into a positive vibration by this radiant energy. You don't have to maintain a limit on how much happiness you'll allow. Notice if your joy is immediately followed by thoughts of worry and fear. If that happens, remind yourself that you really do get to be happy. Your joy won't be counteracted. You won't jinx yourself by talking about your good luck. And you aren't taking up too much space. There's always room for more flowers.
///
Moon square Mars
Ice skating.
Just keep going and going. There doesn't need to be friction. There's so much movement in general with this Full Moon making a challenging angle to action planet Mars, and a slew of planets in mutable signs. Take up the pace you need to take. Go for it. Make all of your adjustments. Just remember to keep your center of balance. You don't want to spin out of control. Mars is in Pisces, so your actions need to be filtered through a vibration of love and compassion. That will help it all mean something.
///
The conversation starters below are to help you get deeper into what the 2018 Gemini Full Moon means for you. Find a friend and talk it out. For the most accurate reading, look to which house holds 0 degrees Gemini in your chart and use the prompt for that house. New to your birth chart? Calculate your chart for free HERE.
Aries / Aries Rising / Full Moon in the 3rd House
"The question I would most like answered is …"
Taurus / Taurus Rising / Full Moon in the 2rd House
"What feels delicious to me right now is …"
Gemini / Gemini Rising / Full Moon in the 1st House
"I feel most confident in myself when I …"
Cancer / Cancer Rising / Full Moon in the 12th House
"I am letting go of …"
Leo / Leo Rising / Full Moon in the 11th House
"This time next year I will be …"
Virgo / Virgo Rising / Full Moon in the 10th House
"My long-term career goals are …"
Libra / Libra Rising / Full Moon in the 9th House
"The trip I am longing to take is …"
Scorpio / Scorpio Rising / Full Moon in the 8th House
"I can't stop obsessing about …"
Sagittarius / Sagittarius Rising / Full Moon in the 7th House
"The most important relationship in my life right now is …"
Capricorn / Capricorn Rising / Full Moon in the 6th House
"I am working hard each day to …"
Aquarius / Aquarius Rising / Full Moon in the 5th House
"I feel like a kid again whenever I …"
Pisces / Pisces Rising / Full Moon in the 4th House
"I can always care for myself by …"