Tips and practices to help understand and work with your Cancer Moon sign from Ash Bonelli. Artwork: Prince Lauder via Behance.net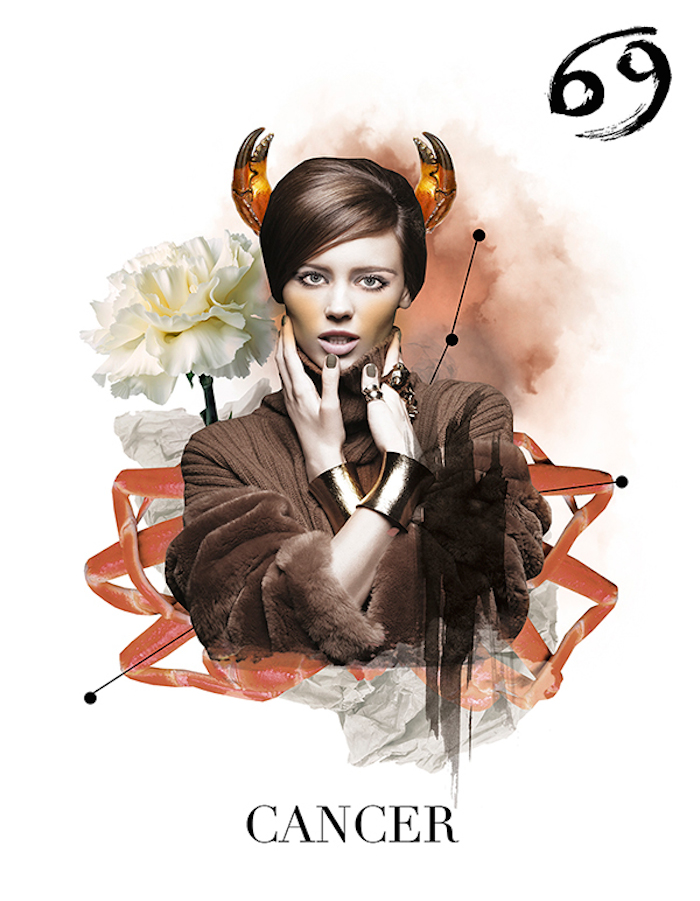 The Moon represents the inner subconscious world that we usually only share with those we love and trust. It can show us our needs and how we care for others—and as such, our Moon sign (where the Moon falls in our birth chart) shows the style in which we express this softer side.
Work out your Moon sign, when you do you chart for free here.
The inner world of the Cancer Moon sign is a gentle, vulnerable and emotional landscape. The Moon rules the sign of Cancer so she feels quite at home in this sign making it easy to fully express her archetypal nature. When we think of the crab itself (the symbol for Cancer), we see the hard protective shell on the outside but know there is nothing but softness on the inside. A small being that carries its sanctuary on its back so it can feel at home wherever it goes.
These themes symbolize the Cancer Moon sign. You can put on a brave face, but deep down you feel EVERYTHING. You usually cry easily and really experience the emotions of any particular situation or environment you happen to be in. This Moon is very in tune with its intuition, thoughts and feelings—so much so you sometimes forget that not everything is always about you. Being sensitive is great, until it isn't and you become resentful and hide away in your shell. There is a fine balance to be found with the Cancer Moon sign.
Taking care of others usually makes you quite happy, but when it goes unappreciated or the care isn't returned you can get quite hurt. And so Cancer Moons are often working on expressing their needs. Working on being vocal about this is really important, as you can get so lost in taking care of others that you end up with the short end of the stick.
Fear of getting hurt is very real for you for you, mainly since being hurt in love, for example, you may feel it more deeply than others. Honestly, unless you live under a rock, you will be familiar with this pain and what it can do to you. So this is a genuine fear, but not one that should stop you from receiving love.
Often times the Cancer Moon sign is associated with the mother, and rightfully so—since both Cancer and the Moon represent this energy. But not every Cancer Moon sign wants to be a parent. The mother archetype is actually about nurturing and caring for others, offering tender love and support, and this can be applied to anything in life. Your career, your pets, your friends, your home or your hobbies. You can channel this inner need to love into anything and it will be fulfilling, just as long as you let others love you back so there is a sense of balance in your life.
Below are some suggestion to connect more to your sweet Cancer Moon sign, and make the most of its intuitive expression…
:: ACTIVE LISTENING ::
The Cancer Moon sign has a tendency to feel first when engaging with others. This can go badly if you what you intuitively pick up about someone is incorrect, which can shape the relationship in the wrong direction. You can get your feelings hurt because you feel you know what they "really meant." But assumption is really dangerous, since it can lead to un-founded resentment which can turn into distance.
This can be easily avoided if you work on listening to what they are actually saying, rather than simply feeling into their energy. If assumption-based feelings occur take the time to ask questions to gain further insight. Use your nurturing nature to engage in a more open conversation. This way you aren't incorrectly just reading (or rather feeling) between the lines.
:: SANCTUARY ::
All Cancer Moon signs need a place to retreat. They need a space to feel safe and secure where they can let all of their emotions out without judgement. This doesn't need to be an entire home or apartment either. It could be one room, or even a space within a room. Maybe a meditation pillow with a small altar if this practice speaks to you.
It could also be a certain location, such as your favorite park or beach. For some it could be a place from your childhood. The Cancer Moon sign can be very nostalgic so places that awaken happy memories really warm your heart.
:: NURTURE ::
Find something to nurture in your life that isn't another person. The need to express care is innate, but you can get burned out if this means attracting energy vampires. Needy people love the sweet lunar crab, for you will always try to help solve the problems they should be dealing with on their own. And so learn to be selective.
Finding a hobby that will reward your nurturing with feelings of worth and accomplishment is such a good idea. Think gardening, or cooking, working with animals, or becoming a beekeeper. What do you want to be good at that requires time, nurturance and patience? Find something that makes your heart feel good and you will bring some emotional balance back into your life.
:: INTUITIVE PROTECTION ::
Being that you are such an intuitive, maybe even psychically gifted person, you need to work on protecting your energy. Otherwise it's likely people will energetically take from you until you are totally drained. This can make you feel vulnerable in an unhealthy way.
Begin by taking time each morning to visualize yourself being cleansed by white healing light. Just a simple shower before (or even during!) your regular shower. Then imagine a bubble of light surrounding you, which people can only enter into when invited by you. It can be any color that you love.
These are your mental and energetic guards for the day ahead. You could also burn some sage in your space before your start your day or make a healing spray with essential oils to mist yourself with. Anything that  creates an energetic boundary between you and the world will help.
Also, be present to when you feel depleted. What was going on? Who were you around? Sometimes the best defense is creating literal space between you and the people or situations that take advantage of you.
Above all, may you find comfort in your innate ability to be vulnerable—and use it to show others the strength in letting down our guard in a world that needs it more than ever before.