With the lucky planet's move into the sign of harmony, relationships and social justice, Jupiter in Libra will bring blessings for every sign, says Ash Bonelli… Artwork: Paula Duró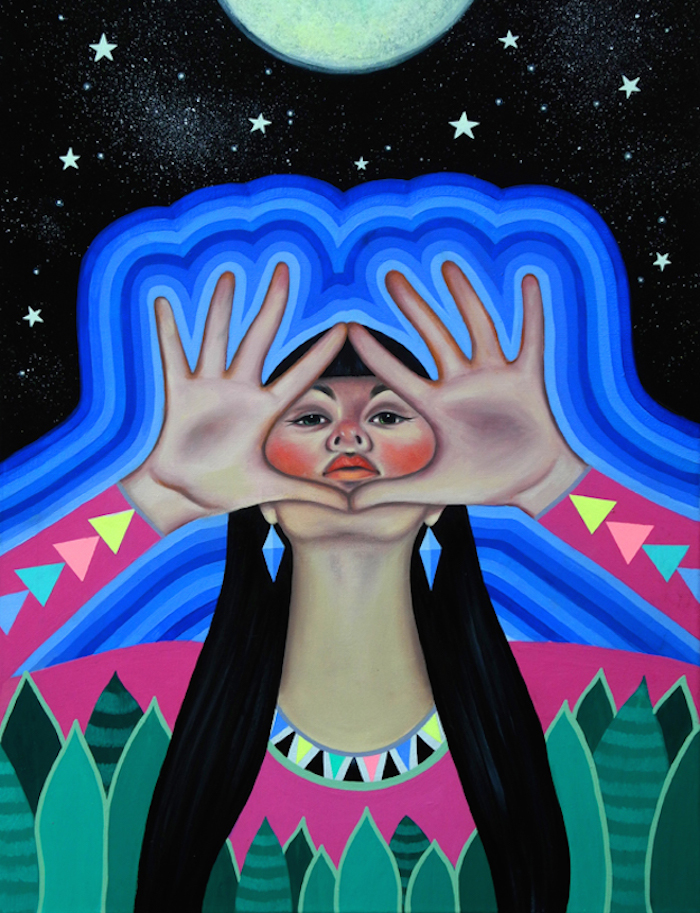 Jupiter, our cosmic Santa Claus, will enter the sign of Libra on September 9, 2016, and will stay here until October 10, 2017. Jupiter spends roughly a year in each sign creating a 12-year cycle. He basically vacations through each house of your natal chart giving you the opportunity to experience his qualities in each area of your life, and so each 12-year cycle signifies an all-encompassing period of growth. In astrology, each house also builds on and balances the one before it, bringing you experiences that help you gain knowledge and maturity with each passing phase.
Jupiter has been in the sign of its detriment, Virgo, for the last year. In non-astro speak, this means he's been a bit uncomfortable. Jupiter wants to go BIG, and has the tendency to indulge if not kept in check. Virgo likes to look over each detail until everything is absolutely perfect no matter how long it takes. This past year these two opposing energies have made for strange bedfellows for sure! Jupiter has had to learn the art of pure focus and Virgo has had a chance to see the entire forest, not just the bark of each branch. Now that Jupiter is moving into the Libran area of your chart, life will run a bit more smoothly.
A reason to celebrate, since gratitude is the quickest way to usher in more gifts—which is what this planet is all about! Jupiter in Libra 2016 will highlight relationships of all kinds, which I will touch on below. Libra also likes elegance, balance, and fairness. Jupiter stands behind justice and equality. This transit will also highlight the other three cardinal signs, so you will also notice a boost to any area where you are Aries, Capricorn and Cancer.
This will be a welcome reprieve as the cardinal signs have been hit really hard over the last few years with the consciousness shifting Uranus/Pluto square. No matter where your planets reside you all have these signs in your chart so everyone will get a taste of Jupiter's blessings! Listed below are some suggestions as to how Jupiter in Libra 2016 may express itself for your sign. If you have your chart, you can get a more accurate read of how Jupiter in Libra may impact your life by checking which house is ruled by Libra. Don't have your chart? You can do it for free here—but you will need to know your exact time of birth to know which sign rules each house.
These are not rigid interpretations but rather some inspiration to get you thinking about that part of your life. Little jumping off points to help guide your free will and connect you to the flow of your path!
LIBRA :: LIBRA RISING (Jupiter in the 1st house)
Jupiter in the 1st house is about to expand possibilities around how you put yourself out in the world. This transit can add a nice boost to your self-confidence and can give your aura an extra sparkle. Jupiter in Libra can help you express yourself in a more successful way which in turn can bring about more opportunities for healing and growth. You may notice that you desire to be seen and heard more, especially in your personal relationships. You could use this transit to get more in touch with what you need out of your relationships and really be mindful of how your energy is given.
The 1st house also rules our bodies so this would be a great time to kick start any healthy endeavors that have been lingering about at the end of the to do list. You could switch up your diet to include more greens, start meditating to connect more to your higher self or start exercising. Whatever you choose to embark on will grow and most likely at a faster rate than usual but keep in mind that Jupiter can blow up even the negative choices. So choose wisely about your body, health and relationships this year!
VIRGO :: VIRGO RISING (Jupiter in the 2nd house)
This transit could amplify all 5 senses. You may feel the need to dive deeper into self-care and start a new routine around how you could love yourself more. The things in life that you value most could come up for review and this includes the relationship you have to yourself. Where and how you find pleasure will likely be more important in the year ahead. An emphasis could be placed upon your material world and how your possessions either make you feel more safe and secure or weighed down.
This transit can be a boost to your finances through a raise, promotion or career shift. This house usually doesn't lend itself to quick abrupt changes though so the pace may move a bit slower than usual for Jupiter's liking. Slow and steady wins the race though so enjoy the finer things in life without completely blowing through the extra funds you may find yourself having. Jupiter can blow things out of proportion so embrace what feels good while always keeping a foot planted on the grassy hills of reality. Also, enjoy the boost to your self-esteem and take time to figure out how you can create more stability in your life!
LEO :: LEO RISING (Jupiter in the 3rd house)
Jupiter is about to have a year long conversation with you. As he glides through your house of communication you might notice yourself becoming a bit more chatty. You may become more involved in your community or social groups. Your relationship to your siblings might be more prominent at this time as well. The 3rd house symbolizes our ability to express through teaching, writing and engaging so you may go back to school to catapult at new career path. Simply learning a new skill either through a structured program or a DIY book could capture your interest.
If you ever wanted to become a better public speaker, write an article for a magazine you love, start a blog or get involved with a charity, this would be your year to do it. Jupiter riding side saddle here can bring blessings that make us more confident and open. People seem to receive us in a really positive way which just builds on that amped up self-esteem! So get out and connect. Be open to possibilities such as fun weekend mini-trips, learning opportunities and all around growth in how you express you!
CANCER :: CANCER RISING (Jupiter in the 4th house)
Jupiter comes homes for you during this transit. The 4th house represents our family, our homes, our security and our roots. You may find yourself being more of a homebody than usual. Also, the desire to be more involved with your loved ones could grow stronger. This can also signify a time when a new member gets added to the family unit. Baby bells may be chiming! Home improvements or moving to a new residence could be in order. Jupiter wants room to grow and expand his independent intentions so you may need to work on creating more freedom within your family dynamics.
This could be a healing time for you, where you discover more about what you need to feel more secure and stable. Sometimes we have to grow past our comfort zones to really see what we are capable of and what we really need in our hearts. Elements of the past may come up for review as this house symbolizes our roots. You may discover more about your ancestry and get a better understanding of yourself via a new perspective and appreciation for the blood pulsing through your veins. Use this transit to connect deeper to someone in your family, blood or not and embrace what you need to feel more centered.
GEMINI :: GEMINI RISING (Jupiter in the 5th house)
Welcome to the party! Jupiter likes to enjoy himself in this house. This is traditionally the house of Leo so all things playful, dramatic, creative and expressive are going to be highlighted this time around. This is also the house of falling in love and dating. It's the house where we flirt and the first flutters of romance are in the air. With the jovial king here you may meet someone new and have a passionate love affair. Considering this is a Jupiter in Libra transit, the potential for all romantic relationships will be highlighted. A jolt of new sparks could fly for the longtime couples as well so never fear if you are already happily paired up.
This could also be a time of heightened artistic expression. Keep in mind you don't have to be a traditional artist to be creative, although if you are this could be an amazing year for you. Any hobby or craft already in your life could really grow in importance or you may find a completely new creative passion. This is also the house of indulgence so to keep from going overboard be respectfully mindful of the fact that Jupiter also enjoys the act of going over the top. He will big up anything he touches. So with that in mind embrace the fun and enjoy life but remember to keep your head above the water!
TAURUS :: TAURUS RISING (Jupiter in the 6th house)
Jupiter gets a new routine here. The 6th house governs over our bodies, our health, our need for perfection, our work routine and acts of service. Considering this transit is moving through Libra you may notice that you are paying more attention to the relationship you have with your body. This would be a great year to start eating more whole fresh foods, to start a new workout program and just be more aware of your mind/body connection. Another point of focus could be on your daily routines, (the little tasks that make life a bit dull) and how you could move through them with more efficiency.
The daily grind will either feel more fluid or you will recognize you need more freedom from certain routines. Now will be the time to correct your daily habits to better suit your needs. You may also see some success at work via a promotion or you may shift jobs entirely. Also, this could be a time where you get involved in some type of charity work that speaks to heart. Jupiter has faith in humanity and the universe so you may feel yourself naturally tap into that altruistic energy! Use this benefic presence to find perfection in the imperfections and to get healthier!
ARIES :: ARIES RISING (Jupiter in the 7th house)
Ah, the house of love! With Libra ruling this house, relationships of all kinds may always be a big focus in your life but with Jupiter moving in for the next year, he will be kicking things into high gear. This could be the year that you take your romantic relationship from dating to co-nesting or a bigger option, (remember Jupey poo likes BIG) wedding bells! With that said if you are in an unhealthy relationship this could also be the time that you cut those toxic strings and work on the love affair with your own heart. The Jupiterian energy will be there helping you to make big leaps that you may have been too scared to make beforehand. Just trust your heart and forge ahead with your head held high!
On the less love focused front, you may meet someone who would make the perfect business partner giving you the spark you need to embark on bringing those indie business dreams to fruition. Collaboration of all kinds could be major themes for the year! Get social and connect because you never know who is coming onto your path to help you out! We can meet our earth angels anywhere.
PISCES :: PISCES RISING (Jupiter in the 8th house)
Jupiter goes deep into the soul with this transit. This is the house of sex, death and taxes. The human shadow. Our spirit wounds. Our power and how we use it. You may find that you desire to have more control over your life in general and the positive energy now available with this transit is here to help you attain that goal. You may need to do some soul searching though because power is only a good thing when the intention behind it comes from a healthy and balanced place. You may start to see where you are out of balance when it comes to wanting to control certain people, situations or experiences in your life.
This is Scorpio's house so stepping into the fire to come out anew is a dominant theme here. You may need to let go of an attitude, belief or person in order to overcome and heal. With the benefic energy here though you will have aid at your side. You will find the strength needed to evolve and grow past any self-imposed limits. This could also be a time of increased money in your pocket. This would most likely come  from an inheritance, property sale, legal issues being solved or any situation where the finances come from someone else instead of your job. Use this good energy to move past any soul blocks and come out on the other side with a happier healthier spirit!
AQUARIUS :: AQUARIUS RISING (Jupiter in the 9th house)
Jupiter loves the 9th house! This house governs all of his favorite subjects. Traveling, teaching, law, publishing, spirituality and philosophy. You may find yourself traveling or studying foreign cultures. Getting totally immersed in another language and lifestyle. Adventures are highly smiled upon during this transit. Also, education could be a big focus this year. You may go back and get the Master's Degree that you've been dreaming about for years. This will probably be a year of thinking, understanding, learning, sharing and preparing. Like the 3rd house description above you may go to a traditional institution for your area of study or you may choose to teach yourself something new.
Either way, the amplified learning energy is there for the taking. Diving into a new spiritual practice or getting involved more intimately with your existing religious practices could be highlighted. Understanding your place in the world and understanding other people's ways of life could provide valuable insights into your soul's growth. Faith and optimism will be key features this year which you can apply to any section of your life for a boost of good energy. Use this auspicious time to learn more about yourself and your world! Learn a skill that you never thought you could before. Surprise yourself!
CAPRICORN :: CAPRICORN RISING (Jupiter in the 10th house)
Jupiter meets the boss! The beautiful benefit will be bringing the blessings to your career house. Polish up your public persona because you may find that you are in social situations where you are the focal point more often than usual. This is a good time to make your mark and put yourself out there for the world to see your greatness. You may get a promotion or venture into a new career field. This can be a very exciting time because everything you've been learning via Jupiter's previous transits can be put to good use in how you express yourself. Think about any valuable lessons you have learned over the past year while Jupiter was in Virgo.
Those lessons can be applied into action steps now. You can also find a great new mentor during this transit as the 1oth house rules elders/bosses/authority. This could be someone who can help you shape up your goals to reach the next level. Be open to any opportunities to get in front of people because you never know who you will meet next on the path that could change your life! Jupiter is here to help you be in charge of your life. So get your GirlBoss on and go after your best dreams!
SAGITTARIUS :: SAGITTARIUS RISING (Jupiter in the 11th house)
Time to get social! This transit helps you expand your tribe. The people that you feel on a soul level really get you. All your unique traits are appreciated and even celebrated during this transit. You may have the desire to be way more social than usual. This always throws off the introverts, so never fear my little home dwellers, it's only a year! Plus this isn't the painful socializing we must do to "play the game." This is fun, optimistic, heart opening experiences that make you fall in love with how awesome humans can be.
The 11th house is the home of hopes and wishes so it's possible that your birthday wish could come true or something you worked very hard on over the past year while Jupiter was amping up your career house will come to fruition. You may also find a charity or cause that really speaks to your heart. You could find yourself giving back and discover a new way of being seen via really seeing others in an amazing, vulnerable way. Your attitude could also shift into more eccentric, unique and striking ways! Embrace your own quirky behaviors, have fun with your new friends and get connected with a cause that makes this a better world for us all!
SCORPIO :: SCORPIO RISING (Jupiter in the 12th house)
Jupiter goes undercover. This is more of an internally felt transit. After a year of Jupiter being in your social 11th house you may want this year ahead to be more private. This has a very healing, lunar, yin energy to it. You can use this time to integrate all of the experiences good or bad that you've had via your previous 11 Jupiter transits. This is a great time to start a meditation practice to let go of any unwanted gunk that has built up in your psyche. Restorative Yoga or Tai Chi would also be good choices to help cleanse the energetic body. Jupiter can bless you with the positive energy to work on your relationship to self-love and help you create new healthy practices.
You can think of this next year as healing prep for the new cycle that will begin when Jupiter moves into your 1st house and touches on your Ascendant. Shedding old skin and parsing through your soul's needs so you can move ahead fresh and ready for Jupiter's next 12 year sojourn. There can also be a focus on any health issues that have been buried or ignored that need addressing. Use this time to deeply check-in with yourself, find something to revere and honor in your life and allow the time needed to emerge from this blessed chrysalis!