Big up to the grass roots entrepreneurs, an infrared detox, meeting my Mini Me…and the lies we buy about booze.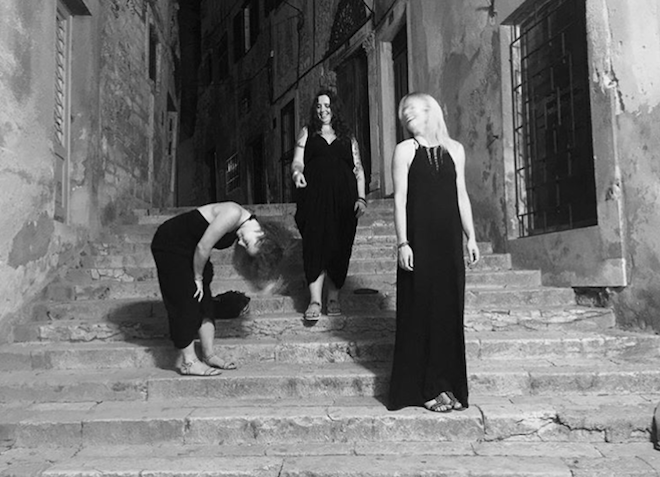 :: MONDAY ::
Massive shout out to the organizers of Obanjan, the Croatian music and wellness fest I returned early from today. Early because a gnarly confluence of eco-operational-political factors meant they had to postpone the opening…the night before the opening, having already flown artists and contributors in from all over the world! And with close to 300 guests and press arriving for the big reveal to boot. A.k.a. every entrepreneurs worst. Freaking. Nightmare.
And here's the thing. It's fear of monumental s*it like this hitting the fan that keeps most of us from stepping up, pursuing our dreams and truly doing our dharma. From putting our heart, soul, balls (ovaries?) and life savings on the line to create something we truly believe in. Anybody who's built a business or launched a project or product will have experienced similar setbacks—falling somewhere on the sliding scale of devastation. I know I have. And it feels HORRIBLE. And I keep putting my heart, and soul, and ovaries and life savings into my projects anyway.
We all say we want less corporate, less branded, more DIY experiences, right? Well down in the grass roots, there are also gonna be some weeds.
Sure, it was an inconvenience to fly half way across the world for nothing. (Although it wasn't for nothing really, since I got to brainstorm with my boo Alexandra Roxo, hang out with Shauna and Morgan from Unlimited, FINALLY bond with brilliant Jayne Goldheart, and meet the magical Gail Schock). And yeah, if the holiday I'd booked got cancelled/delayed at the last minute, I'd be pretty pissed off too. But really? Fairly minimal annoyances compared to what the organizers were going through.
All I kept thinking as I witnessed the fallout, was: Good for you. Good for you for feeling the fear, and doing it f*cking anyway.
AND latest update is, Obonjan opens for business Friday Aug 5 (yes, that's today!!) Keep following their Twitter and Instagram accounts for more updates.
:: TUESDAY ::
Shout out to another badass entrepreneur, Henry Holland, who I watched set up his label House of Holland from scratch out of the fashion cupboard of the magazine we were working on together 10 years ago. Wow, a whole decade! And with PLENTY a "character building" road-bump along the way. Anyhow, this rather special sweatshirt (below) from his latest collaboration with Lee arrived in the mail today. #COSMIC!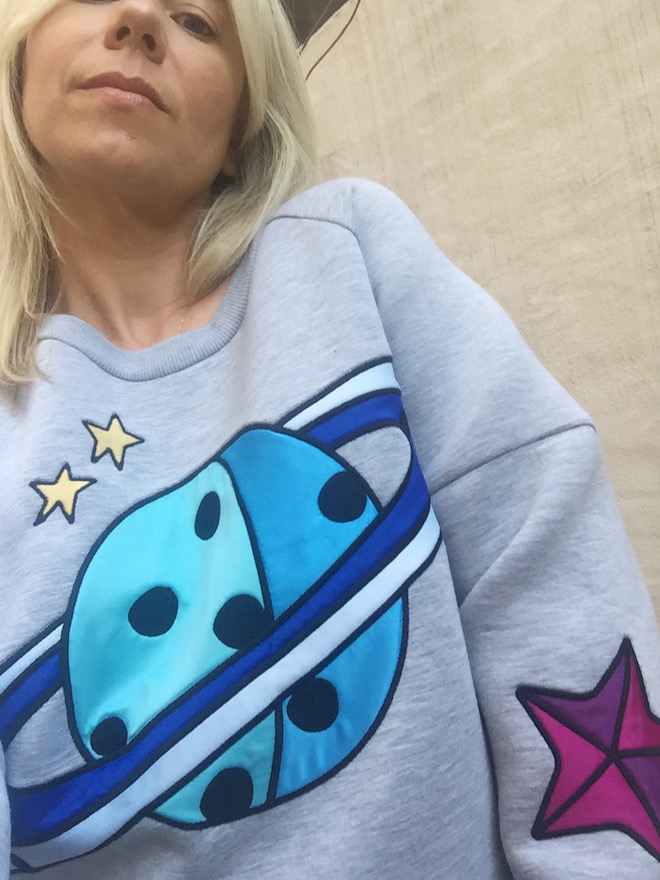 :: WEDNESDAY ::
Infrared saunas, anybody? It's a big YES PLEASE from me after my first visit to HigherDOSE today, a new spa offering private infrared sessions in Manhattan. I kind of never got the sauna thing, but secluded in my little wooden hut, my own music on the speakers, sweating tennis balls of toxic travel stress (see: Monday), I found myself thinking: well this feels like it's REALLY good for me. Kind of like Bikram, without the pain part. Maybe it's cuz I was also reading their info pack—"decreases cortisol, increases serotonin; detoxifies heavy metals, radiation, and environmental toxins; stimulates collagen, reduces wrinkles; burns 600 calories a session (!)"—and maybe it's cuz Kate Bosworth was in the booth next door. But I'll be back. Discover more: Higherdose.com
:: THURSDAY ::
Got the actual date my book will be published next year…which meant I could finally do her birth chart!! (Yes, she's a she). AND, it turns out we have the same Rising (public image), Moon (emotional center), Mercury (communication style) and Midheaven (professional path). How freaking rad is that?! Talk about Mini Me. She also has her North Node (karmic destiny point) at 0 degrees Virgo—which says she's destined to be of service in the world, but colored with some unbridled Leo North Node self-expression. I want to be her friend already 🙂
:: FRIDAY ::
Will be mainly spent spreading the word about my next Club SÖDA NYC event with Biet Simkin and special guest Betsy LeFae, Sex, Lies & Alcohol. Turns out summer (not to mention toxic travel stress: see Monday) is a major drinking trigger for me (anyone?)—the "lie" my inner booze demon spins, that day-drinking in the sunshine is what August is made for. My personal truth being that nothing feels as blissfully free (my core desired feelings from day drinking) as…never being hung-over! It's been getting super down with my intuition—simply, what feels right and what feels wrong for me—that's helped me truly connect to this, which is why I'm so happy intuition coach Betsy is joining us for this event. Read more and get your ticket here.