Brand new sweats, getting sober curious in London, walking the human tightrope, and saying "goodbye 2016″…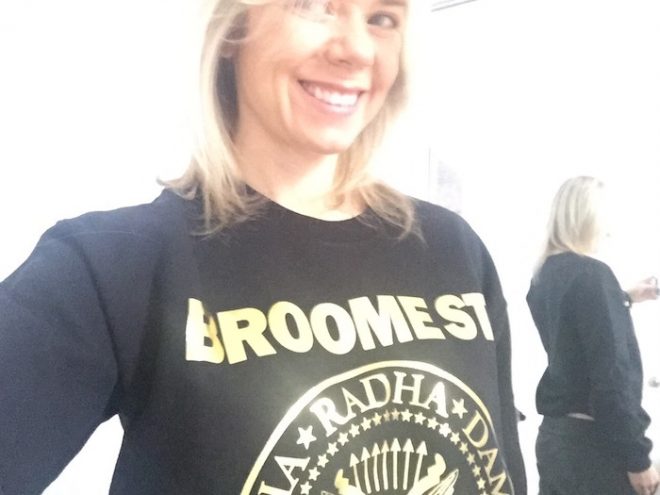 :: MONDAY ::
Got interviewed by badass yogi Guru Jagat for her RaMa Radio show "Reality Riffing," which was really kinda cool because usually I'm the one interviewing people! And luckily the moon was in Gemini and I was feeling extra chatty. We got through a bunch of stuff about spiritual activism, walking the wellness talk, and how "being in a human body feels like walking a tightrope right now" (her metaphor, but who isn't feeling this one??). But guess what? Maybe the tightrope is the only way across the abyss. In which case, let's keep calm, clear, centered, and never quit cheering each other on. You can listen to the full interview here.
:: TUESDAY ::
First virtual Full Moon ritual for our Moon Club members, and we had people attend from Belfast in Ireland, Toronto, London, Mexico, and all over the United States. YES, this community is global! Since this week's Gemini Full Moon was the last full moon of 2016, it has felt like a good week to take stock of a year that has brought so many harsh lessons, so much anguish (the tightrope, remember?), and, as a result, such tremendous opportunity for growth. What have you been through this year, and who have you become? This was the theme of Alexandra Roxo's moving guided meditation, in which we journeyed to meet the different "selves" of 2016, and ask for their lessons, and their blessings. Intrigued? New members can access a recording of the session via the private Moon Club Facebook group any time you sign up.
:: WEDNESDAY ::
Finalizing details for Club SÖDA NYC, the new name for my "sober curious" Club Soda events—which I am bringing to London on January 11 due to popular demand! And speaking of previous selves…when I left my home town five years ago for a new life in NYC, I was a full-on party girl, using alcohol and other drugs as a way to bridge the fulfillment gap (the abyss…?) that has since been bridged by creating The Numinous, and all the offshoot projects of this platform. London is also the kind of town where saying you don't drink is often met with eye rolls and extreme pressure to "just have one," followed by intense gossiping about how you must be a) in AA, or b) pregnant.
So to say I'm apprehensive about how my new attitude to booze will go down, is kind of an understatement. But it seems that even in the UK, the conversation is changing. Ever since I announced the launch of Club Soda on this side of the pond, I have received messages from Brits asking me to bring the events to the UK—"because we really need something like this." Not to mention loads of newly sober (and sober curious) friends offering to help me stage a London event. Which means…it's happening! Read more and get your ticket here.
:: THURSDAY ::
New sweatshirts, new sweatshirts! A couple of months back, Urban Yogis co-founder Eddie Stern approached me with the idea of creating a limited edition print of his Broome St. Temple tees (worn by people like, oh, Russell Brand and MADONNA). The Temple was Eddie's iconic ashtanga studio in Soho, which he vacated earlier this year to set up the equally beautiful Brooklyn Yoga Club—the tees a riff on the logo for punk band The Ramones. Our version? Went went kinda glam with gold foil! As with our Chakra and Vinyasa shirts, a percentage of proceeds will  go to the Urban Yogis, to help fund the amazing work they do bringing peace to marginalized communities in the city. You can check them out and shop the collection here.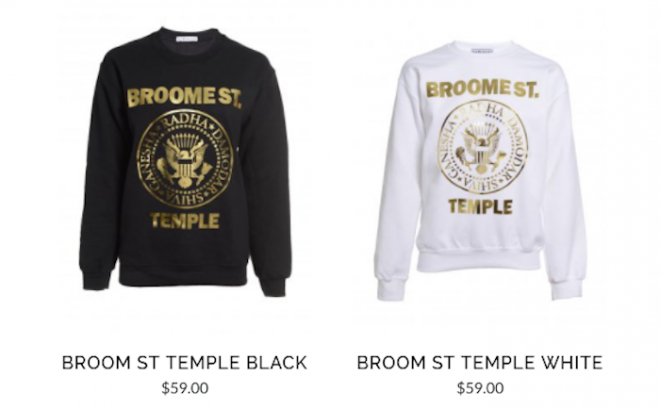 :: FRIDAY ::
And speaking of Madonna, if you didn't already then please, please watch her acceptance speech for the Billboard Woman of The Year award she collected this week. So many truths, such powerful vulnerability, and what a fearless statement about the need for true sisterhood. But above all a reminder, fitting in the final days of 2016, that: "in life there is no real safety, except self-belief." The tightrope is real. You'd better believe.