When Alexandra Roxo signed up for a peyote medicine ceremony, she forgot to tell her girlfriend this would mean a week of celibate dating. Uh-oh…Homepage image: Fab Ciracolo 
///
The night before my last peyote medicine ceremony, I was almost asleep when my girlfriend climbed on top of me and started a slow dry hump. I was jarred awake, shocked, and didn't know what to do. No, not because she's hideous or I'm no longer attracted to her or dry humping is gross. Not any of those reasons. But because I wasn't supposed to be sexual / have sex for three days before my medicine ceremony! This essentially meant a week of celibate dating.
So I was faced with a dilemma. A) We'd been having a rough time and hadn't had sex all week. B) I didn't tell her I was supposed to be celibate for three days prior to taking the peyote and three days after. Woops. And C) Well shit, C is that I love her and she's hot.
I found myself between a rock (or rather, a cactus) and a hard place. Also between 300-thread count cotton sheets and a hot bod. So I somehow justified that I'd let her masturbate on me or with me and it wouldn't count. Not exactly rational but it was the best I could come up with. She finished quickly, I didn't let her touch me, and somehow I felt no guilt about it all. Until. The next night.
I'd had two peyote ceremonies with the same medicine man before, which were both "deer ceremonies" in the Apache tradition, one in a teepee upstate and one in Mexico. Both times it was incredibly enlightening. I'd worked through deep parental issues that were a part of my Saturn return, and sung in the dark wearing a white muumuu as I released the pain of my youth.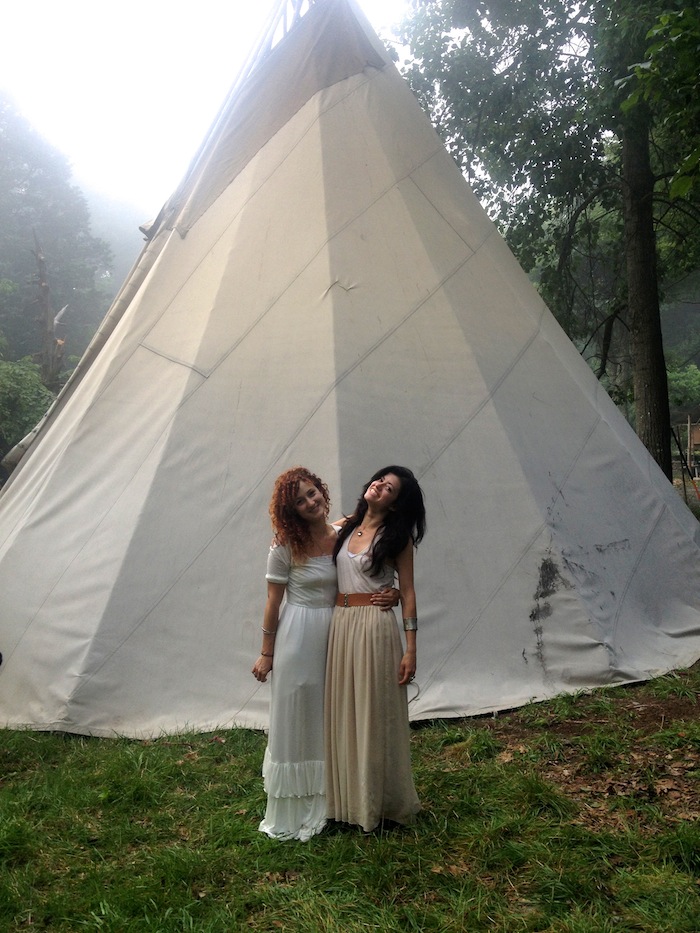 But this ceremony was different, in that I got a real ass kicking. I felt like I was gonna puke but couldn't. I felt like I was having the worst period cramps in my life. I couldn't lay down. And I kept seeing dark visions. Had my soul become a dark vault in the last few months? OR WAS IT THE SEX? (I mean, half sex really, but…)
Worse, after the ceremony the ass kicking continued for a full week. My GF and I's relationship was pulled apart and rebuilt, like three times. Meaning I was crying in public again. At one point we were sitting on a bench in the park and I was crying and she put her hands over her head and commented that her shadow looked like a deer.
At that moment I got it. Everything came together. She was in on this ass kicking from the Universe too! She didn't even know I had done the deer medicine but the plant had obviously used her lovely spirit and they'd been in cahoots all week to school and teach me.
///
This interconnectedness of my lessons has revealed itself again and again over the years, sometimes in a calm and magical/twinkly way, and other times in a more grotesque and "punch in the face" way. It still amazes me. This time, I've come to realize that managing sexual energy in times of spiritual growth can be very, very challenging.
Essentially, when I'm deep in some growth and lessons, the LAST thing on the planet I want is to open my physical body to some "poking." To put it crudely. 'Cause when I'm not in the sex zone, that's kind of what it feels like. Like an intrusive visitor showing up at the very wrong time.
When I want to hold my energy close and exist in my higher chakras, I'm thinking about my angelic spirit guides and the work I'm doing here. And sex? Well, sex feels incredibly mundane. But how is this fair to your partner? And how do we navigate these moments as a couple?
I've also started meditating every night before bed recently. You know, releasing my day by doing visualizations and setting my dream time intentions. And lemme tell you…this can be a major buzzkill in the bedroom. The other night my girlfriend and I were kissing on the couch and when we moved into the bedroom I stopped the fun and was like: "Wait, just let me meditate real quick!" When I opened my eyes 15-20 minutes later and looked over, she was passed out and snoring with her mouth open. Dammit.
On the other hand, I find myself trying to turn the work I'm doing into "our" work. The other night, instead of meditating, I asked her participate with me as we shouted what we are grateful for. "Thank you Universe for coffee! Sunshine! An HBO Go password from a friend!" And then I guided us through some vibrational chanting.
I know this is sounding like a Christian teen sleepover or a day at a Waldorf school, but it was great. But we don't live alone, so there's that. Instead of that awkward moment in the kitchen, "Shit, did our roommate hear me cumming?" it's "Did he hear us… doing vibrational chanting work and daily gratitudes??"
Thankfully, taking the leap into the land of heart-warming cheesiness can be just as bonding as sex. Sometimes we tackle the bigger questions in relationships like cheating, differences in values, or whether or not we want kids.
But the small ones can be the scariest to tackle. Like telling your partner you aren't really feeling sexual, and them being able to respect that space and not feel threatened/slighted/or like you think they're ugly now. Being able to say; "Hi. I'm wanting to not have sex for a bit 'cause I'm tryna connect with my guides and my third eye this week." Or "Hey I can't have sex cause I'm cleansing/grounding my energy before a ceremony."
And them being able to accept where you're at, and not go parading around in Agent Provocateur panties or send you nude selfies of them masturbating or watch porn beside you at high volumes while you're trying to meditate.
If your partner is down to respect and accept where you're at, then maybe during this time they can do something useful with their energy too, like work on their kickboxing moves or reorganize the fridge. And then when you've ridden out that wave and got what you need, you can come back together roaring and ready to meld energies, have sex all night and transcend together with some candles, wine and Kenny G.