In the second instalment of her brilliant column on sex and spirituality, Ellie Burrows takes a Tantric approach to online dating…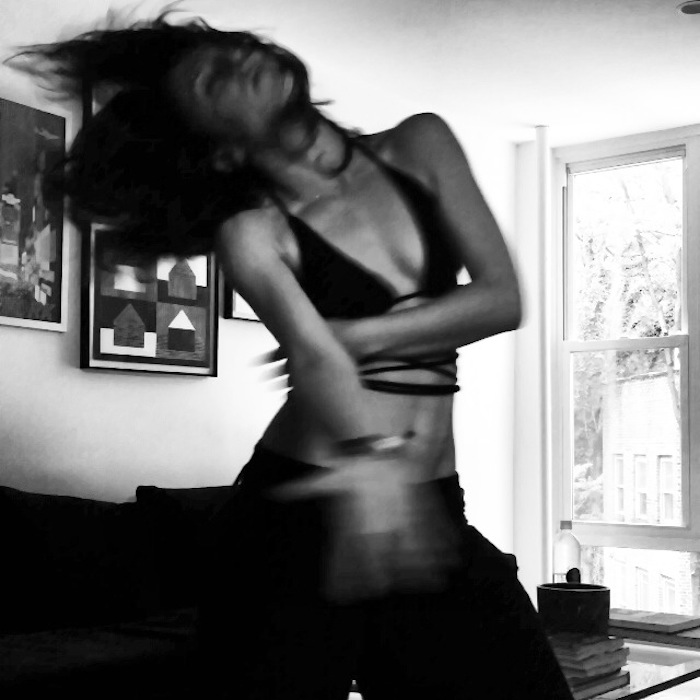 I'm pretty sure I discovered the secret to online dating.
And it's Tantra.
I'm not talking about super-connected, total body orgasm, tantric sex. I'm talking about the energetic concept that makes that kind of sex possible: balance of the masculine and feminine energies. Let me explain.
After getting out of a very intense five-year relationship, I actually took a year off from dating altogether. At the end of the year, I met a lovely lawyer in LA who subsequently flew to New York City to woo me. The weekend was wonderful. He really had his shit together, but one night lying naked in bed he called me a "stallion" – and I knew as soon as he uttered that word that we weren't a match.
The part of me that was also a mare shuddered. But to his credit, the dating experience was so positive it got me back in the saddle and over my fear of opening up my sacred sexual energy to a new partner. I wanted to repeat it many times over with all different kinds of men. And that the fastest way for me to accomplish this was to bite the bullet and get online.
Almost immediately my inbox was flooded with hundreds of messages from dudes who:
1. Hadn't actually read my profile: "hey sexy ;-)"
2. Were clever but weren't particularly attractive: "Multiple photos of you in leggings before 11am. Thank you."
3. Were so totally wrong for me (and also crazy, with really poor grammar): "So I was reading your profile and then I was like goddammit…this always happens every time, I'm reading some nice girl like your selfs profile and then I remember I didn't check your diet…Bam! I know I'm fucked before I even look, she's going to be a god damned vegan, CRAP! Then by some magical stroke of luck or maybe the stars have aligned in my favor I see, I see: "Strictly Anything"…fucking finally a girl who isn't a new age picky bitch, thank god! Hi I'm Johnny, its nice to meet you."
Where was the quality? Where were the guys that I would actually want to meet and touch in person? The discerning, thoughtful men weren't sending messages to every chick on the site. Then I remembered three very important things.
1. I'm a class act. And if I'm online, then my equal is probably online, too.
2. Insecurity is not gender specific, and rejection is scary.
3. We all have egos that need to be stroked once in a while.
As I browsed through the online shopping mall of men, I realized my approach needed to evolve. Big time. What if the right men weren't reaching out to me because they thought they might get rejected? What if they needed me to reach out to them? After all, my profile status was set to "Replies Very Selectively". This was going to require a serious shift in consciousness. So like everywhere else in my life, I decided to approach it from a spiritual perspective.
When it comes to love and sex, Tantra is my subtext. And Tantra embraces opposites, playing with concepts of light and dark, attraction and repulsion, hot and cold, and obviously, male and female.
As Osho writes in The Book of Secrets; "Tantra says that when the ultimate bliss and ecstasy comes inside you, it means your own positive and negative pole have come to a meeting – because every man is both man and woman, and every woman is both is both man and woman. You are born not only from woman or from man, you are born out of a meeting of the opposites."
Now do me a favor and look between your legs. Seriously, look. Imagine what's underneath those jeans…Now, completely forget what you just imagined. We're all over the spectrum, people. There are masculine and feminine energies in all of us despite what our genitals tell us. Male energy is about focus, purpose, and drive. Female energy is about creativity, nurture, and radiance. ALL of those qualities are in EVERYONE. However, sometimes we get our energetic wires crossed when it comes to the dating dance and we can short circuit.
In 1995 the authors of The Rules, claimed that the male must be the sole initiator when it comes to dating. Yet according to ancient tantric rituals, the female is deeply revered and considered an initiator of sorts. She's the creator. So you see, either the male or female energy can initiate. The feminine is always on the receiving side of the masculine penetration, but in Tantra "penetration" and "initiation" are two different things, and that's where we get confused.
Having wrapped my head around this, I was now ready to send out some serious digital fuck me eyes.
My first online date was EPIC. A dreamy Vintner from Northern California (match 97%) was visiting the city and geo-locating attractive ladies using a feature called Quickmatch. Basically, the equivalent of telling me I was hot but not being bold enough to send a message.
I showed his photo to my friend Sarah who was staying with me for the week. Call it kismet, fate, even divine intervention, she responded; "Oh my God, I know him. That dude is amazing. I did some day-drinking with him a couple months ago in L.A. You need to message him."
I dreaded sending my first message, but I knew it was all in the name of Tantra: "Small world moment of my day. Sarah was overlooking my shoulder when your face popped up on my quickmatch. She says you're good stock."
I gave no name. No mention of his profile. Didn't ask him out. I wanted to rouse him out of his man cave, give him a little confidence, and let him know I was willing to play. Now it was up to him to show me his peacock feathers.
And boy, did he show me. He was only in town for two more days so he asked me out immediately. I was supposed to leave town but it was a blizzard outside and when I got snowed in, I agreed to meet him that night – which turned into a 36-hour first date. It included closing down two bars (Smith and Mills and a deserted Greenwich Hotel), dim sum (with his friend), sushi (just the two of us), two sleepovers (one at his, one at mine), and one flight change (his).
I can't believe a computer told me I would like this person so much. So okay, online dating is kind of awesome.
Next, I tried my newfound strategy on a very handsome Corporate Lawyer with perfect abs and a brilliant mind whose profile I had been circling for a couple weeks (match 89%). We had also matched on Tinder, very equal opportunity in the cave-door knocking department. On OkCupid, we both had the same answer to the question "The most private thing you're willing to admit?" which was that we both loved reading Missed Connections. I sent him the following:
"High percentages.
Tinder Match.
Missed Connections.
Nice Abs.
Your move."
Again, no name. No overly thorough message. Just a little Tantric taunt.
Well, Corporate Lawyer asked me out immediately and told me that was the most effective message he had received to date. We went on a date and shared some steamy make outs and engaged in a pretty intense cerebral texting relationship. He also serenaded me with The Magnetic Fields' "Come Back From San Francisco" begging me to return from visiting the aforementioned vintner. Timing wasn't on our side; he got a new job, moved to Colorado, and although my body was back in New York the truth was that I had left my heart in San Francisco.
A key part of online dating is discernment. Over the course of four months I went on six dates, with five truly viable options. Only one was terrible. It was my first Tinder date and I didn't vet him enough over text. Amateur hour.
But my point is, I didn't go on hundreds of dates. I didn't shoot twenty arrows and hope one hit a bull's eye. I shot six and missed once. The men I met were of the highest quality and I had played my part in the courtship. It's too bad I can't have five boyfriends at once.
I'm sure it's no surprise that in preparation for the this article I picked up The New Rules: The Dating Dos and Don't for the Digital Generation to see how the game had changed with the advent of social media.Inside, I came across lines like "Don't talk too much in the first weeks" and "Don't write to guys first," and "ignore winks."
Yikes. I had to throw it across the room. It was entirely missing the opportunity for an open dialogue about the nature of our hearts and gave total disregard to spontaneity, two pretty important tenants of love.  More importantly, it diminished the equal power of the male and the female to ignite something.
At its core Tantra is about expressing everything that "comes up," including all that you feel. It's about allowing ourselves to feel and express everything between two polarities. It would never have you suppress anything for the sake of strategy or gain. It wants you to dance openly with everything and everyone you encounter. It's all checks and balances, and I am glad I went with the ancient wisdom on this one.
Which makes me a rule-breaker I guess. But I expressed myself fully and created something magical.
NB: I had roughly 1000 words to make my case for Tantra as an online dating strategy, so I've seriously cherry picked my way through the infinite Tantric garden here. For a more in depth lesson, see the following reading list:
Ellie Burrows is a storyteller, seeker, mystic and guide living in New York City. Discover more at Ellieburrows.com