Ellie Burrows has a confession. The mood of the Autumnal Equinox has got her turned on to the idea of…commitment? Portrait: Mikal Marie Photography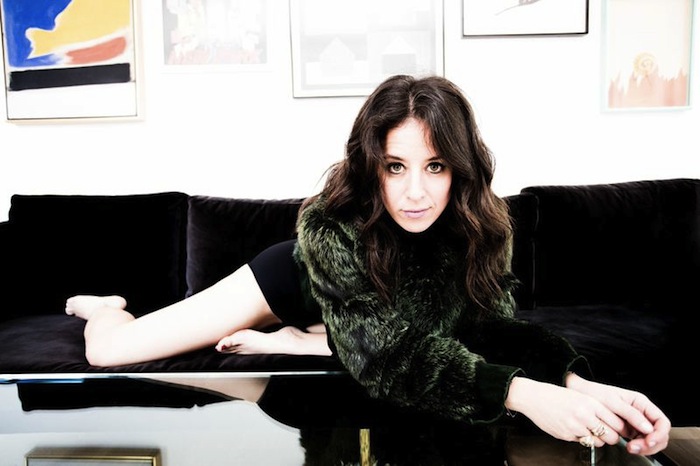 I'm hanging in the balance.
It's the Autumnal Equinox and we're halfway between rosé in the sand with a tan and cashmere socks and Schnaps.
For the Earth, the Equinox represents a point of balance. This year, for my heart, it's the tipping point.
June, July and August are releasing their hypnotic hold on me. My rear view mirror is filled with the boys of summer and their hard bodies at pool parties. No more fist pumps to summer jams or kisses that taste like Pina Coladas. Goodbye to short shorts and tiny dresses. Gone are the days of sweaty hands up my skirt and sticky rolls in the sheets while blasting AC to bring down all the heat.
Fall means I'm 90 miles from mistletoe with just one stop for turkey. It's about back to school, back to work, a return to obligations. It's time for knitwear and leggings and with them along comes all sorts of longings. We're plunging into colder climates, descending into darkness, and harvesting in order to hibernate. And all that impending cold just makes me want to snuggle up and pair down. Fall always sings songs of commitment and for the first time in a long time, I want to sing along and settle in with a romantic partner.
When I initially sat down to write this article, I wanted to explore the transition from a Summer Fling to a Fall of Love. The original pitch was something about "turning your Montauk share into a home ownership." In New York City, the hot months have an echo and it sounds like "dating in the summer is hard." Trying to get a relationship off the ground in high season is like trying to swim against an undertow. Everything is in motion and everyone is gone on the weekends. But when autumn arrives and beach rentals end, the restaurants in the city are filled with hopeful singles once again trying to figure out how to keep their beds perpetually warm for winter.
Telling my readers how to turn a steamy summer hookup into something more substantial felt like teaching them how to take a cold shower. When you let the hot air out of the balloon, it floats to Earth. It felt strange to try to decode the alchemy of love, because it's a magical process of transformation and the infinite combinations make it impossible to boil it down to a single formula. The heart is just not a transactional place.
But something is shifting in me and it's right on schedule with the Earth's rhythms. In my own personal Equinox it feels like I'm on a seesaw suspended in air at zero degrees. From this place of balance, I can see exactly what's changing in me.
I never really dated with the purpose of finding a boyfriend, a husband, or "the one". Like masturbation, I date because it feels really good. I learn by experience and it's always been up to the experience to determine its own purpose, a purpose that only comes into focus in hindsight. I always felt that being attached to outcome when it came to dating was a hindrance, a one-way ticket on the disappointment express. However if I'm being really honest with myself, my lack of vision was buying that same ticket at a cheaper price.
It seems rather silly to think about it now, but the idea of what I actually wanted out of dating never factored in. I think I may have flat out ignored it. I always thought I would figure it out along the way and that my wants, whatever they were, would reveal themselves to me in the process. Yet the only things that were continuously revealed were my "don't wants."
I want a man that's mine. I want to wake up in the morning next to someone and I want that person to bring me black tea. I want to have a raging argument, walk out of the house and know that he will be there when I return. I want it all. I want to be alone and I want to be together. I want to be alone together.
This year, I'm not sad to see the dog days go. I'm leaving my summer playground in search of something more. I'm going to harvest my experiences and move into the winter of my being where it's the quietest. Deep inside of me there is a burning desire to be in a devotional partnership. Somehow admitting that on the Internet is scarier than talking about my aroused vagina. It feels outrageously vulnerable, like standing on the street, in the middle of an epic blizzard, totally naked waiting for him to bring me a jacket. But, saying it out loud feels a million times hotter than playing it cool.