Spiritual and queer? It's on us to create places to practice that reflect every shade of spiritual pride, says Alexandra Roxo … PLUS 3 ways to create more inclusive healing spaces.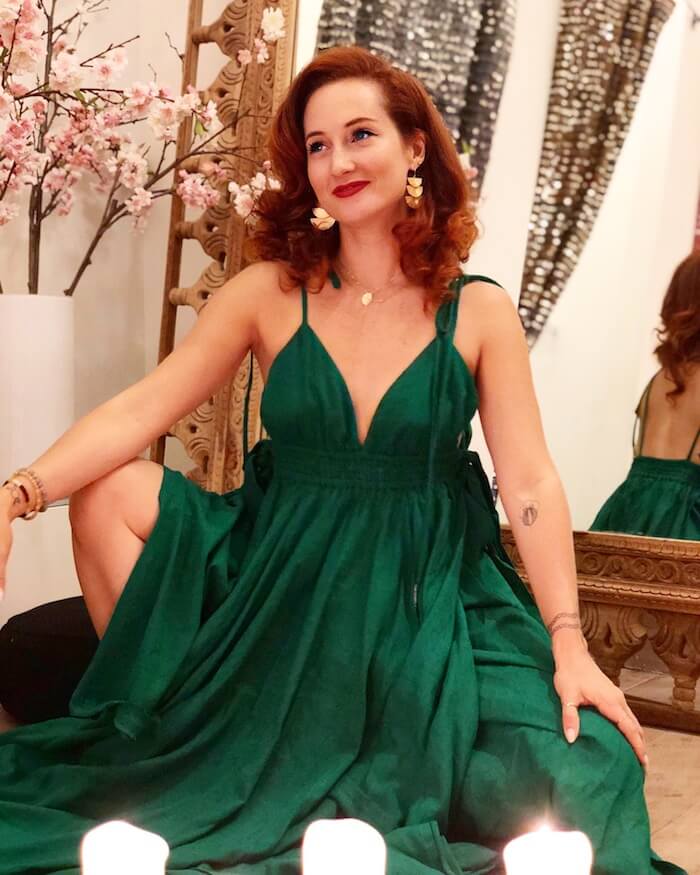 Some of my favorite summer memories were in my first Pride month in New York City in 2009. I was falling in love and my girlfriend was ecstatic to be bringing me into her community. It almost felt cliche to fall in love during Pride! Finally coming out as bisexual/queer, after years of closeted same sex encounters not deemed appropriate in Marietta, GA where I grew up, I finally was able to be the whole me.
During this time though I veered away from some of my spiritual growth. Not because I actively thought I couldn't be in a lesbian relationship and also be spiritual, but on a subconscious level I had internalized this belief. Why? Because none of the spiritual traditions I'd studied said anything positive about same sex partnerships or sexuality. When I asked some of my yogic teachers about this, they frowned and avoided the question.
There also weren't any spiritual leaders I looked towards who were openly queer. So in a sense, during those years I shunned my own spiritual devotion in order to express my true sexuality.
It is difficult to stay committed to a spiritual practice when your leaders and teachers don't reflect your experience. Deepak wasn't queer. Yogananda wasn't. Marianne wasn't. The tantra books I was reading all featured hetero couples so I stopped reading them. In spiritual circles or in yoga communities and retreats I felt out of place. So I nixed them for a while and made plant medicines and gay nightclubs my church.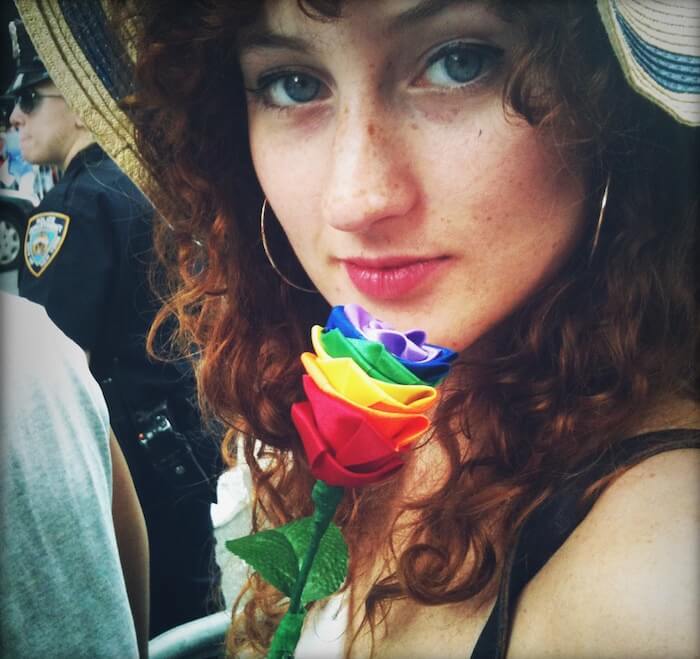 As I matured however, I realized that just because Krishna and Radha aren't gay, or Jesus and Mary Magdalene, that being queer doesn't make me less devoted. I turned my attention inwards and began to focus again on my practice. Even though the retreats and spiritual communities I was in remained mainly straight and white, I stopped giving a fuck and showed up anyway without looking for a validation of my experience there.
When teachers assumed hetero preference as we discussed sacred spiritual sex practices, I would get hot and nervous and want to speak up. It always took me a moment to raise my hand and say I was bisexual/queer identified, but it was always worth it. And not only for me, but also so the teacher could consider including diverse experiences in the class.
On my path, I've also been deeply inspired by every other person who shows up to retreats, yoga classes, and ceremonies despite not seeing their experience reflected in the people there. Who raises their hand and stands up for their experience, too. Not to prove a point. But to feel seen. To begin to shift an outdated paradigm and create change. It takes a brave soul to willingly highlight your difference, but it is worth it—for each of us personally, and also as a collective.
>>>
The below queer leaders and teachers are going one step further by shifting the face of wellness to open the gates for way more inclusion and love in the spiritual scene. Here they are offering some words of wisdom, spiritual teachings and personal experiences for you this Pride month …
BUNNY MICHAEL. @bunnymichael. They / them.
"When I think about it now, coming out queer at age 15 in Texas was probably one of my first spiritual experiences. It was the first time I had to trust what my heart was telling me, not what I was conditioned to believe in. It was the first time I had defined for myself what Love was. It was the first time I was truly afraid. Afraid to lose the people who were most close to me. It was the first time I questioned my worth. Being queer gave me an early insight that the spiritual path isn't always easy … and it's not supposed to be. It shows you your limits and how to break free of them. It challenges your foundations and builds a bridge to step into a peace within yourself. It shows you that in every space you walk into it is your responsibility to stand up for Love."
Bunny is a healer, writer, musician, activist and artist.
SAH D'SIMONE. @sahdsimone. He/ his.
"A little residue of the collective prejudice [on being queer] still creeps up in my mind once in a while, and in the past it would leave me with a knot in my throat, followed by thoughts of guilt and shame around being myself. Now after 6 years of spiritual work I can see that unconscious reaction taking place and I can pause the downward spiral — breathe it out, and wish myself and everyone that could be getting hooked in this collective trauma to heal and be okay with being themselves so fully! Truth I stand by is that when we are truly ourselves without the baggage of shame that was passed on to us, we are actually inviting other people to be themselves fully too. And wow that's a powerful spiritual gift you're sharing with everyone around you."
Sah is a gay identified meditation teacher and transformational coach.
DANNY BRAVE. @hellodannybrave. He/his.
"Spiritual practice allows me to get into alignment with my soul, and sexuality is my favored way of embodying that soul with the fullest pleasure and power. Being queer, as it turns out, means just being me. It means I don't follow the 'rules' with gender, with relationships, with clothing, or with essentially anything. It means I am just me."
Danny is a trans identified healer, writer and activist.
LISA LUXX. @luxxy_luxx. She/her.
"My sexuality IS my spiritual position: I'm daughter of our elemental earth, all my relationships are seasonal, and I desire women who view all levels of intimacy as a conscious practice where we can exercise our subconscious and unconscious paradigms, ultimately making every connection a space to grow in …"
Lisa is a queer writer and activist and poet living in the UK.
AARON ROSE. @aaronxrose. He/him.
"My gender & sexuality have been evolving my whole life. The more I heal, the more I develop my spirituality, the more me I become. These days I identify as a gay trans man. When I was 7 years old I was obsessed with Leonardo DiCaprio and I always wondered: do I want to be him or date him? Turns out the answer is both!I feel deeply that there is a very specific reason that I am a man who experienced socialization & abuse as a child who the world saw as a girl. Those experiences have allowed me to grow up into a healed and whole man, with a deep capacity for nurturance and emotional presence. I am called to celebrate both the divine feminine and masculine within myself and lead from that place of integration."
Aaron is a gay trans identified coach and leader who works on diversity and inclusion strategies for businesses and individuals.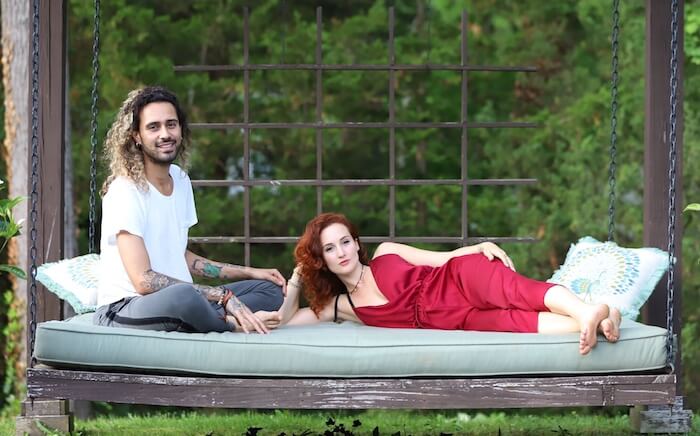 >>>
Ultimately, it's up to us to revolutionize the modern spirituality scene to become more inclusive, diverse, and celebratory of healthy sexual and creative expression, dialogue, and freedom. Regardless of your own sexual, political, or romantic preferences, here are a few things we can all do to make spiritual spaces more inclusive:
– No assumptions! You can't assume someone is male or female or gay or straight. Ask! If they wanna answer then great, if not all good. Respect the boundaries.
– Take out gender referential language. You can still honor masculine and feminine of course. But saying directly "hi ladies!!" Or "hey guys!" Or "hey goddess!" Can hurt hearts if this does not speak to the experience of someone in the group. Claim what works for you.
– Update for the Now Age. If you're leading or teaching from ancient texts consider modifying language for 2018 to be more inclusive.
Thank you to everyone out there stepping up, stepping out, shining bright, risking, shouting, asking questions, listening, and shifting the old paradigm of spirituality and wellness into more inclusivity and diversity to reflect the world we live in.