HOW IT FEELS FOR A TRANS SOUL TO COME HOME
As the 2018 Leo Lunar Eclipse asks us to stand up in our fire and be truly seen, childhood abuse survivor and joyous healer, Danny Brave, shares his journey and reveals how it feels for a trans soul to come home …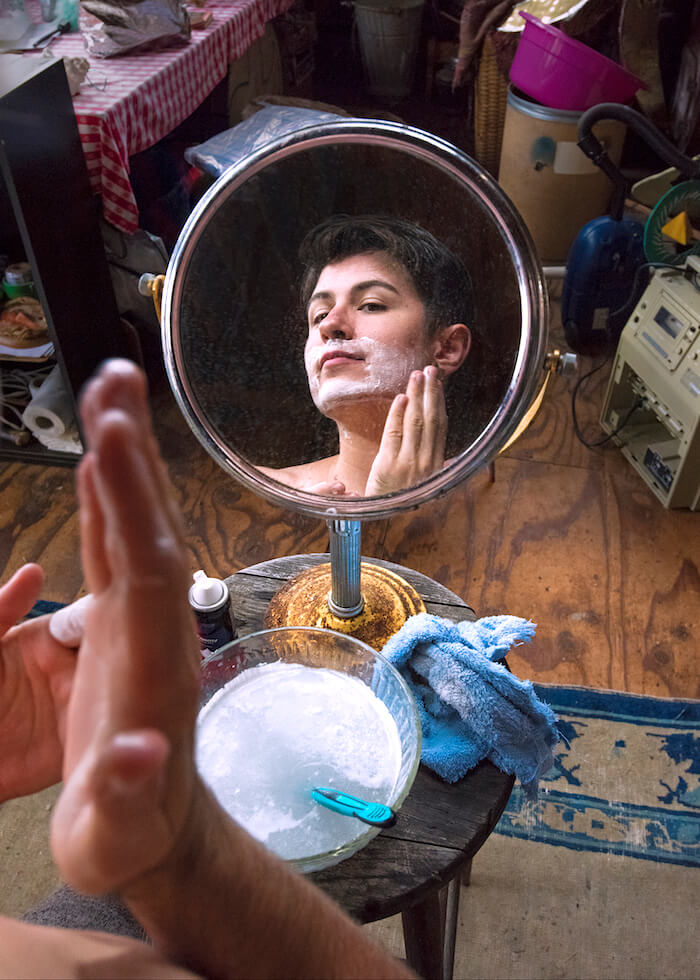 "I remember the moment
when I came home to
my body
what a lovely reception 
that was
(though emotional) 
. . . "
While working with a sexual empowerment coach in 2015, this was the beginning of a poem I wrote entitled "coming home." In the exercise that inspired it, I visualized that pieces of my soul were perched over my head.
My coach then instructed me to reach up with my hands and pull these pieces of my soul back into my body with my hands. After a few minutes, the coach then instructed me to call my soul back into my body by placing my hands on my heart and saying my name out loud, three times: Katie. Katie. Katie.
And I burst into tears, because I felt in that moment a tiny piece of me came home, along with a deep knowing that I had never actually, up until this moment felt at home within my body. Not once in 28 years.
>>>
:: MEETING DANNY BRAVE :: 
This session took place just a month after recalling memories of my father sexually assaulting me as a child, an event which completely altered the course of my life. The memory shattered the fabricated reality of the cheerful, healthy relationships I thought I had shared with my immediate family members up until this point.  
As a result, my journey home into my body has also felt, and still sometimes feels, extremely challenging. In fact, at times, this would be an extreme understatement.
Between July of 2015 and now I have, almost relentlessly, uncovered countless repressed memories of being sexually assaulted and abused in a multitude of ways. Not only by my father, but also my mother and grandfather, along with some deeply questionable evidence that I was not in fact a woman.
I remember being in the thick of my repressed memory recall and looking in the mirror and talking to myself, and hearing a voice in my head say to myself, "I want to be a boy." I thought I must be insane, and shut that voice down for an entire year before I would allow it to re-emerge and accept it as truth.  
Fast forward to today. I now know that my true name is Danny Brave, and I am a gay trans man. I discovered the trans part in June of 2016, but was too terrified to come out until that November. And the gay part I wasn't even too sure about until about a week ago.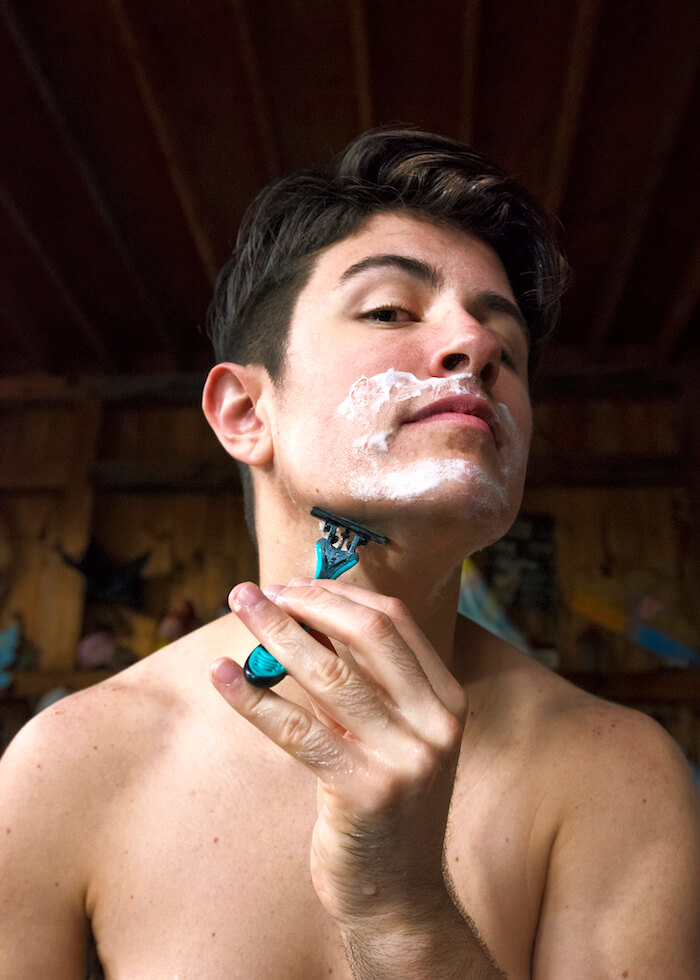 >>>
:: I WANT TO BE A BOY; I AM A BOY :: 
The reality of my gender identity came crashing down that June, when I decided to, once again, look my inner child in the mirror and have a conversation with them and really listen this time. This is a practice I had adopted from the amazing work of Louise Hay as I found it to be deeply healing (and for those who are brave, I cannot recommend it enough!)
I asked my inner child what was wrong, as I had been feeling deeply depressed, and I had long hair at the time that felt droopy and heavy. I asked what I could do to help them feel better. In response, I heard the voice of my inner child scream: "I want to be a BOY!! I AM A BOY!!  I want to cut off all of my hair!" 
It was that same voice I had heard a year ago, a voice that I could no longer ignore or discredit as crazy: this was the real me, the one who as a kid tried to pee standing up, who felt confused about why he did not have a penis, the one who loved dancing, singing, and fabulous shoes, and had dreams of being a visual artist.
This moment in the mirror was the moment I finally decided to listen to myself. Two days later, I cut off all of my hair and immediately felt so much better, so much more like me. I began to realize that I could not visualize myself in the future as a woman without wanting to die.  
>>>
:: FROM TERROR TO TRANSITION :: 
At this time, I had dug myself into a hole by moving to a small town an hour and a half outside of Los Angeles, where I was making little to no money, had no car, and no health insurance, let alone access to trans health care or support groups.
I was terrified, and had created this situation out of that same terror. I knew I had to get back to a city to gain access to support for figuring out my transition. I thought my choice would be Los Angeles as that would be the most convenient, but shortly after moving to LA and not being able to land a job with decent pay, I took the little money I had left and moved back to NYC in August of 2016.
It was in NYC that I was able to take my old job back, and gain access to the support I needed to come to terms with myself and transition: trans masculine support groups and free therapy via the Center on 13th Street (for which I am forever grateful). I came out in October 2016, and lost a majority of the "close" friends I had at the time.
In the winter of 2016, I met up with a friend from one of my support groups and told them I was having suicidal thoughts and that I couldn't get out of bed. They gently pointed out to me over a cup of coffee that not being on testosterone was "not working for me," (to put it mildly) and I started hormone therapy shortly thereafter, in January of 2017.
Every week since then (with the exception of one month during which I completely panicked) I have been injecting myself with a needle filled with testosterone (also simply referred to as "t" within the trans community).
This simple act is slowly but surely transforming me externally into the person I have always been internally, which feels a bit like becoming sane and going crazy at the same time. I am going through a literal and a figurative process of transformation in order to become the person who I have also always been. Quite a trip!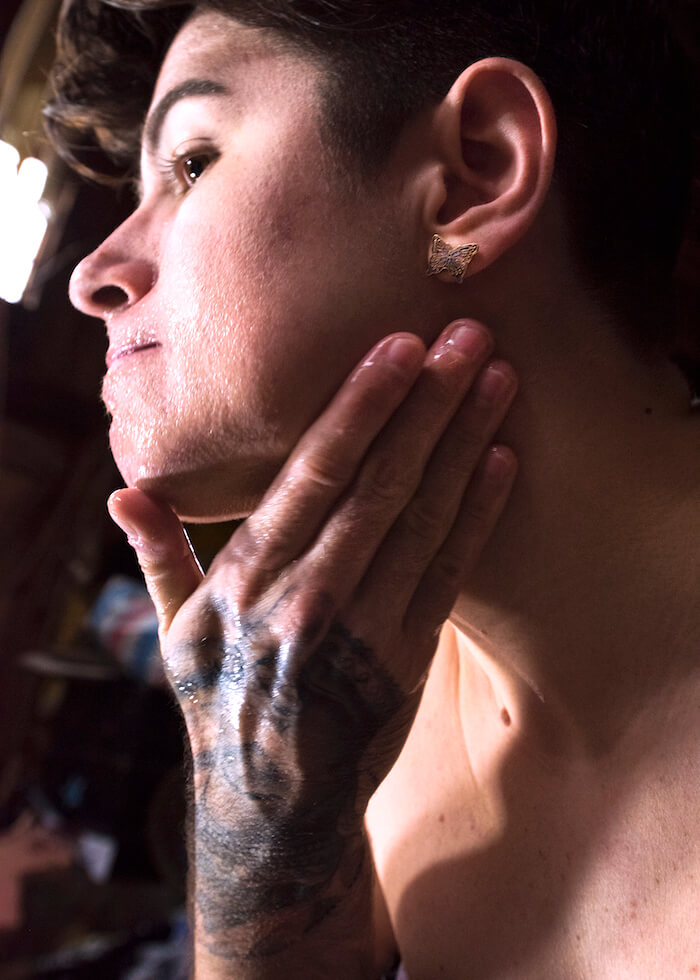 >>>
:: WHOLE, LOVING, JUICY :: 
Last week I had a more triumphant and joyful moment of homecoming, when I attended a dance class with my loving partner (who is also a trans man) shortly after having anal sex for the first time (for hours on end, I might add).
Something so essential about who I was clicked into place while with him: I felt like my soul actually landed it my body. It felt really good, and really whole and loving.
Running late for the class, I looked into his big, beautiful eyes on the train on the way to class and felt he was really seeing me for the first time, and I him. Beneath the boobs, we were, and are, two gay men, despite all of the "ma'ams" and "misses" and the lifetime of being perceived differently by everyone, including ourselves. Our truth felt so simple in that moment, and I felt truly beautiful in his eyes. Really real, and really me.
Looking in the mirror in the dance class, I could see how recently my arms, wrists, and fingers had gotten so much more masculine looking, and how flat my chest looked with my binder and the grey t-shirt I was wearing. This made me smile, as did acknowledging how much I love to dance—always have, always will.
I glanced over at my partner in the mirror, and saw a beautiful person who was somewhat scared to be themselves out in the world, but who was doing it anyway, just like me. I saw someone who was willing to go outside of their comfort zone to try something new, something they always wanted to do, like take a dance class, or write this article, and the simultaneous nervousness and courage behind his eyes made my heart swell.
Then I looked at his juicy butt doing the warm up and felt my genitals wake up once again in my stretchy pants. This also made me smile. I realized and accepted in this moment that I was gay—that I REALLY was a man who liked men (cis and trans). Always have been, always will be. And that despite all of the incest, I always have been and always will be a deeply sexual person (after all, my Venus is in Scorpio).
>>>
:: IT TAKES COURAGE TO ENJOY IT :: 
It has taken years, a village of trans allies, sensitive artist friends, therapists, Reiki attunements, shamanic healers, dance/movement therapy teachers, sexual alchemy teachers, yoga trainings, sexual empowerment coaches, random acts of kindness from strangers like the lady in the Starbucks who told me that who I was was really beautiful and that the world would love the real me, and thousands of dollars worth of credit card debt to get here. But damn, I did it. I've done it. I'm here.
And I love sex. Yes, I love sex! says the man who had his first orgasm from masturbation when he was 27 years old, because he thought sexual energy meant being hit, yelled at, and penetrated without consent. Says the man with a female body who didn't want to look down or touch himself there because it would mean realizing that my mind and body did not match. Says the man who was, as a child, anally raped by his father and grandfather and molested in a bath by his mother, and taught by the Catholic religion that sex was a sin and that my body was something to be ashamed of. Says the man who was not allowed to share a bed with his boyfriend when he visited his parents' house at the age of 26, being not-so-subtly shamed that they lived together before marriage.
Yes, I love sex. And I have reclaimed sex to the extent that it now makes me feel alive, loved, present, powerful, and best of all, real. What once made me feel terrified now allows me to feel safe. It takes me from that idea of myself in my head perched above my body to actually being an embodiment of self. It is teaching me to trust life again.
In the words of Bjork in her song "Big Time Sensuality": It takes courage to enjoy it. I hope that everyone who has been through what I have gets to experience this particular kind of courage.
I hope that everyone gets to experience the pleasure of coming home into their own sexuality, their own body.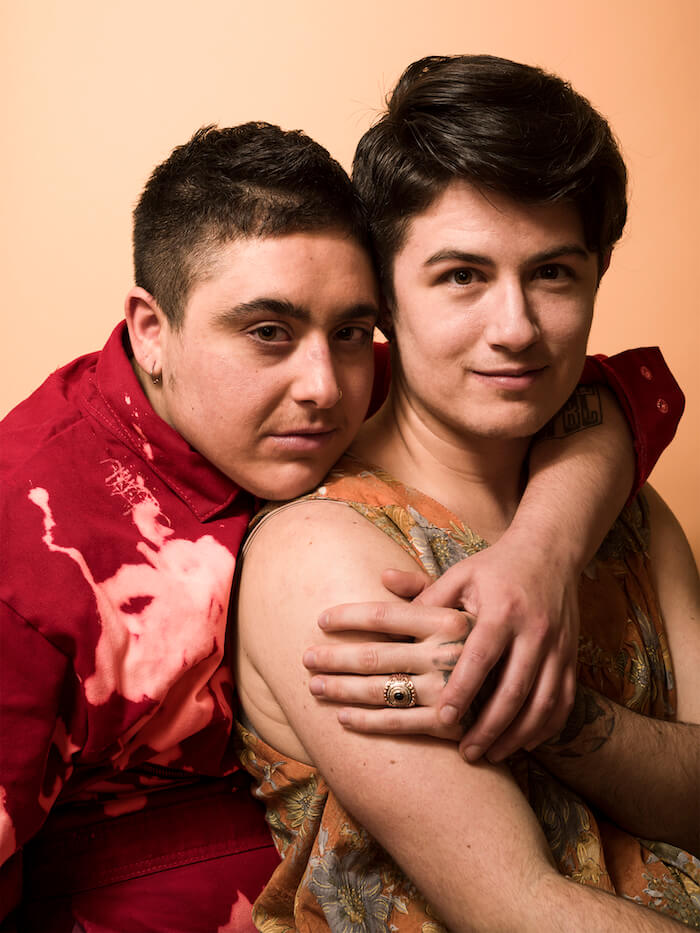 Danny Brave is a Writer/Public Speaker/Educator on the subjects of Gender/Transgender, Overcoming Trauma, and Ascension/Spiritual Living. He is a Master Shamanic Reiki Practitioner/Psychic Healer specializing in helping people of all genders, ages, body types, and races overcome the effects of child abuse/sexual assault via various healing modalities which he has come to term "Brave Healing Arts." He conducts monthly LGBTQIA & Allies Community Healing Circles at Maha Rose in Greenpoint, Brooklyn (1st or 2nd Wednesday of each month). He is 100% sober, vegan, and loves to paint, take photos, dance, and pet dogs.