The 2018 Scorpio Full Moon is priming us to dig deep into our process, slough off the old, and imagine a re-birth, says Sandy Sitron …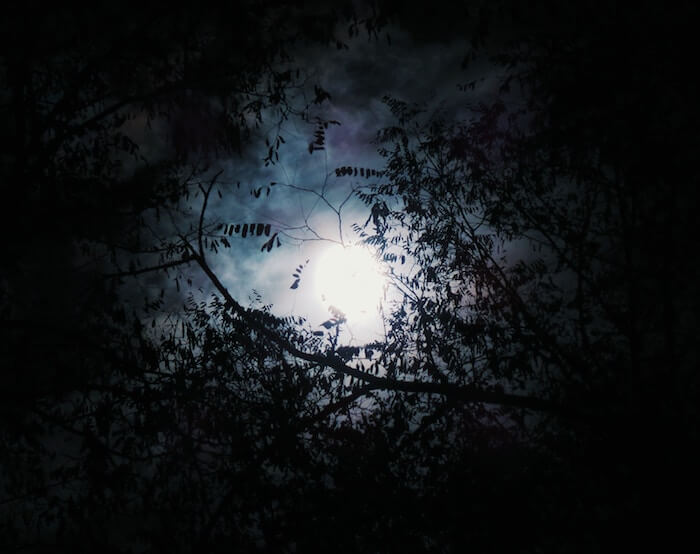 Full Moon :: April 29th 2018 :: 8:59 pm EDT :: 9 degrees Scorpio
A branch scrapes against a window. Long twigs and budding leaves comb the air. The tree reaches through space to get your attention.
Come out and play. Leave the world that is safe and predictable and go out into the dark night, the tree says. Out here there is a hint of magic in the air and an opportunity for connection.
Embrace a world that is more raw and more real. Dance naked around the tree in the gentle rain. Feel alive.
On Sunday at 8:59pm EDT we are lit up by a Full Moon in Scorpio, opposite the Taurus sun. This Moon in Scorpio is helping you understand your true power. Power that is built like a tree. Rooted. Grounded. Ancient. Naked. Regenerating year after year.
To encounter this raw, rooted power it is necessary to venture toward the unknown. Be brave enough to get vulnerable.
What is vulnerability and why is it so important? Dr. Brené Brown defines vulnerability as, "uncertainty, risk and emotional exposure" and she says that "vulnerability is the birthplace of love, belonging, joy courage, empathy and creativity. If we want greater clarity in our purpose or deeper or meaningful spiritual lives, vulnerability is the path."
When I think of vulnerability, I think of Scorpio. Scorpio is the sign that yearns to merge with another person emotionally, sexually and spiritually. To truly connect with another person is often scary. So the less mature Scorpio tries to control the experience. However, the fully realized side of Scorpio urges you to build trust, and then challenge the knee-jerk reaction to try to stay in control. If you feel safe enough to do so, you can open up vulnerably so that you experience true connection.
The 2018 Scorpio Full Moon is the perfect time to stretch your tree branches to new levels of vulnerability. Go out into the dark of night and play. Scorpio urges you to merge and Taurus, the sign of self-worth and value, urges you to know your own strength. To be vulnerable you need to believe in your self-worth. As the Moon in Scorpio and the Sun in Taurus face off, this is a chance to get clear about your self-worth and stability so that you can let yourself be vulnerable. Be naked. Be real. Put in the effort to build trust with another person that you can share. And from there you experience true connection, transformation and healing.
Part of your power at this 2018 Scorpio Full Moon comes from letting the old patterns fall away to make room for new growth. This is about letting go on every level. Letting go of control and letting go of old patterns. Scorpio rules the life cycle. Transforming from birth to procreation to death to rebirth. Be brave enough to evaluate that which is no longer serving you and shed. Release.
Does the tree grieve when it loses it's leaves? Does the tree understand that they will come back? Maybe the tree can feel the promise of new growth even as the old is dying away.
Help your systems refresh at this time. This Moon is high energy as all Full Moons are. Make space and time for getting grounded. Connect with your senses so that you feel present in your body and in the moment.
A watery 2018 Scorpio Full Moon can bring on the feelings! If you are feeling heightened emotions be brave enough to lean toward the shadow. Look at the feelings that you might try to avoid. Feel them fully so that they can slough off like dead leaves when the time is right. New growth is blossoming already.
>>>
Full Moon sextile Saturn
Nailing down a board.
This Full Moon is propped up by a force of stability. Saturn is sextile the Moon and trine the Sun. These aspects say, if you're willing to do the work, you can build anything you want. It should be as simple as an inhale. This moon can deliver the outline of your next steps. Use your energy in ways that are practical, yet deeply meaningful.
>>>
Full Moon conjunct Jupiter
A fireworks display
This is big expansive energy. Show up for yourself. Give yourself a lot of love. This Full Moon will help healing happen at a faster rate. If you invigorate this energy by thinking positively and celebrating your accomplishments, fireworks will explode all around you. Sometimes, this kind expansion can be uncomfortable, a little bit like growing pains. Lean into it and see where it takes you.
>>>
Full Moon trine Neptune
Bunnies with cotton puff tails.
Where do they go when they disappear from sight? There's a hint of magic in the air. A possibility of getting swept off into another dimension. Like Alice you can get curiouser and curiouser. Follow the white rabbit all the way down and connect with yourself in a new way.
The energy that is building up with this Full Moon helps you feel stabilized enough to be vulnerable, so that you can expand into healing. With a soothing trine to dreamy Neptune, you can do all of this while connecting to your heightened intuition. This Moon offers you an opportunity to see the world in a more magical way and maybe even dream of impossible things.
>>>
The below study questions are designed to help you dive deeper into the energy of the Scorpio Full Moon. For the most accurate insight ready for the House that holds 9 degrees Scorpio in your birth chart. Don't have that info? Do you chart for free HERE.
Aries // 8th House
What old pattern or belief are you ready to let go of?
Taurus // 7th House
How can you safely bare your soul in an important partnership?
Gemini // 6th House
What are you ready to refine in your daily habits?
Cancer // 5th House
When you feel happy, what can you do to feel the positive feelings fully?
Leo // 4th House
How is your home a reflection of your well-being?
Virgo // 3rd House
What are you yearning to learn?
Libra // 2nd House
When will you let yourself feel rooted?
Scorpio // 1st House
What would help you trust in the process of transformation?
Sagittarius // 12th House
When do you get dreamtime and alone time?
Capricorn // 11th House
What friendships need to be invigorated?
Aquarius // 10th House
What are your goals for your sacred vocation?
Pisces // 9th House
What inspires you and keeps you thinking positively?
Want more wisdom? Book a reading with Sandy here. And check out our Numiversity digital course VENUS: YOUR TOTAL GUIDE TO THE PLANET OF LOVE with a special Venus guided hypnosis from Sandy, plus symbols and activations for each Venus sign.