Looking for a way to be of service? Look to your natural —and keep it simple, says Kerri Aab…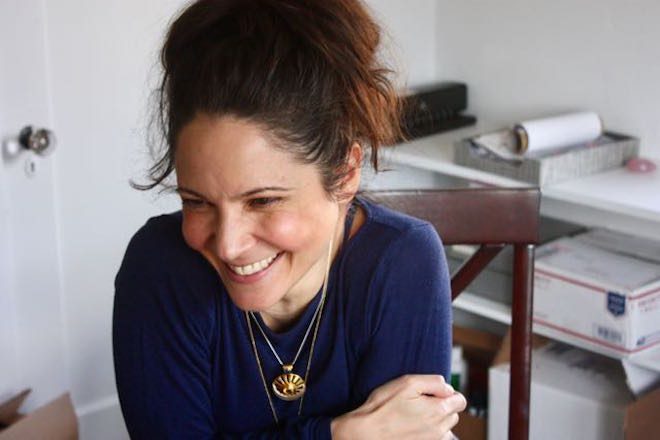 In spiritual communities, it's often believed that at your lowest point, to be of service to someone else can turn your entire situation around. That looking past our own suffering for ways to alleviate the suffering of someone else is a key to happiness and fulfillment.
No time like the present to test the theory, right?
And if the phrases "alleviate suffering" and "being of service" bring to mind images of volunteering for the Peace Corps or doing mission work in Africa, it's worth keeping in mind that an act of service can include anything from smiling at a stranger, to complimenting a struggling mama at the grocery store, to baking some cookies for your neighbor.
Being of service doesn't have to mean some grand act of self-sacrifice. It simply means reaching out. And sometimes the actions that have most impact are the simplest.
Case in point: late last year I was deeply depressed. Not un-common for me during the time of year we're supposed to be making merry. I'm used to the holiday blues.
But last year was different. There was an ache and an emptiness that none of my go-to spiritual or healing practices seemed to be able to reach. I looked for guidance and sought all kinds of remedies to take the pain away—but the more I grasped, the worse things seemed.
I felt hopeless, helpless, and adrift.
Then, one morning during my daily self Reiki practice, I felt compelled to turn my Reiki hands not towards myself, but rather, to send the Reiki out. I did so and there I sat for the next hour with a vague intention of sending Reiki to "anyone in need."
No, there were no unicorns swooping over the horizon, and no rainbows suddenly appeared— but I noticed how my sense of despair had lifted. Enough for me to send distance Reiki out again the next day. And the next.
Within a week, I'd decided to make a daily practice of sending out Reiki to others. Shortly after which, brief little messages of hope or inspiration would come through during my morning Reiki time, which I texted to a few friends. These messages began as subtle little thoughts that I attributed to my mind regurgitating information from years spent dedicated to learning about spirituality and energy medicine.
I quickly came to believe however, that these messages, which were growing in length and intensity, were the work of a much larger energy that I was somehow tapping into. God? The Universe (what I call "The Big U")? Who knows. I've come to refer to the bearers of these messages as my "etheric pals" though, as I now palpably feel their energy in the room with me and they feel like friends.
Within a month I had a consistent daily practice that I was being guided to share further. So I sent out an email to friends and family, offering free distance daily Reiki, plus an optional inspirational email, to anyone who requested it.
To my surprise and delight, almost every single person replied with a resounding "COUNT ME IN!" and the list has continued to grow ever since. People come, people go. But, no matter what, I sit down every morning, send Reiki, and write an email about the message I heard during the session.
Has my depression lifted, and I been living in Reiki bliss since then? Here's where I disappoint you. This isn't one of those "and then my whole life changed and everything is love and light" type stories.
But here's what did happen. 
This simple act of using a gift I have been given, to help others, has confirmed for me the importance of being of service in the world.
My daily act of service has given me an anchor to hold onto on days when depression hits so hard that I don't want to open my eyes. It does this by providing the focus and energy I need to get through to the other side.
My act of service has given my life a foundation of consistency. Rain or shine, I know that people are counting on me and looking to me for the support I pledged to give them. This is the best motivator for sticking to any practice.
My act of service has gifted me with humility and perspective. That people trust me with their stories and with a small aspect of their personal growth is humbling and something I take very seriously. These stories continually remind me of how freakin' blessed I am when there's so much suffering in the world.
And, during this very trying post-election week, showing up for the Reiki crew has, at times, felt like the only thing giving me a flicker of hope. When I have felt useless and truly despairing, sitting down to energetically uplift others has reminded me of why I'm on this planet. Which is to anchor the human experience in goodness. To help others find their inner power.
I am also so grateful for the replies I receive each day from people all over the world, about how a particular message changed them or inspired them to go out and spread some joy of their own. The benefits of service are contagious!
So, are you in?
We've all been given different gifts—and they are not ours to hoard or hide away. But to give away, inspiring others to do the same.
If you're feeling plunged into darkness at this time, my advice is to simply give of yourself in whatever way you can. There are endless ways to be of service in the world, so find your gift and share it. Take action. If you want to make the world a better place, then go out and do it. When in doubt, look out.
Do you sing? Bring your voice to the elderly.
Make a mean lasagna? Cook for the hungry.
Love spending time with children? Babysit for a mama who needs a break.
Have a green thumb? Help start a community garden.
And if you think you can't do this, I would like to gently remind you that you can. After all, a man was just elected to the highest office in the land with zero experience. And if he can believe in himself and his abilities, so can you.
So can you.
I was reminded the other day of a great quote from Jonathan Larson's musical Rent: "The opposite of war isn't peace. It's creation." 
It's time to create the world in which we wish to live. It's time for us to use our gifts to create beauty, peace, unity, love, acceptance and hope for all. One simple act of service at a time.
Kerri Aab, BFRP is a Bach Foundation Registered Practitioner, a Reiki practitioner, quantum biofeedback practitioner, Kundalini yogi, dancer, singer and group fitness instructor. Click here to register for FREE DAILY DISTANCE REIKI with Kerri, and discover more about her healing work at Seedtoblossom.com.