Your period is your connection to the divine. Learn to listen at a Red Tent Activation, says Alexandra Derby. Image: Emi Haze via Behance.net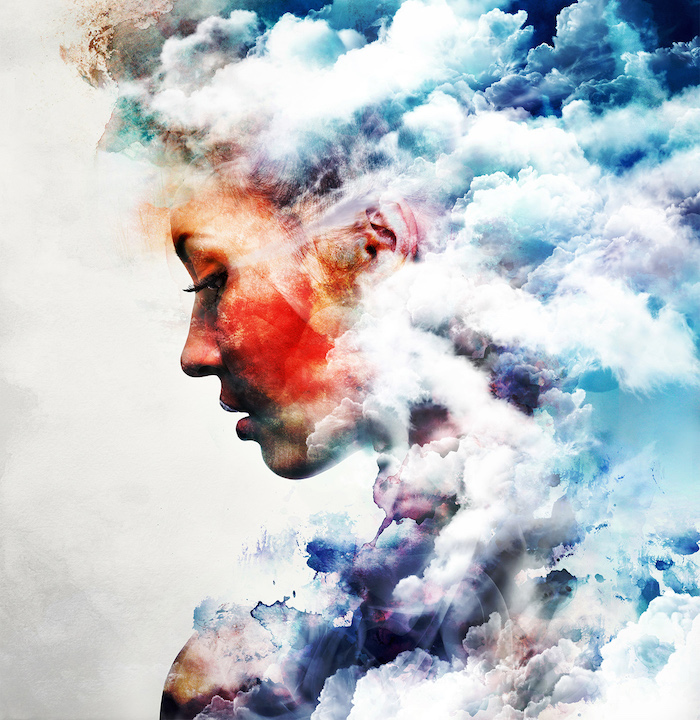 We are all pretty down with the memo on self care and coming into a place of self-love. This is what all spiritual traditions come down to at their core, the fact that only once we can fully love ourselves can we fully LOVE – one-another, the planet, and all life. But as women, we have some murky territories to traverse on the journey of self-love and ultimate self-acceptance.
A pretty big one is our complicated relationship to our body, and especially the fact it bleeds once a month. Yup, our period is something associated with negativity in our current culture. Something to 'hide', 'clean up' and generally try and pretend we are not ashamed of.
We have been trained to ignore it, and at best be grateful for the modern pharmaceutical options to 'deal with' our individual and unique cycles. Just think of the language that has been used to describe it; 'the curse'. It's also been decided it's a time women become 'irrational', and that we should disregard what they (we!) are trying to articulate as 'just them being emotional'.
But what if there was a different story that got lost over time? What if our period was actually a powerful and potentially life changing event – one that we get to experience every single month of our menstruating years?
We bleed and yet we do not die – just think about the symbolism of that. We are capable of allowing our life blood to flow out of ourselves without any harm to us. And we do this month after month after month. It is literally a physical embodiment of the cycle of life, death, and rebirth.
In the past, men were likely intimidated and threatened by this female creatrix energy, and declared it 'unclean'. But there was a time when women would all bleed together, at the time of the New Moon, and meet to honor their menstrual cycles in what is called a Red Tent.
A Red Tent (or Moon Lodge in the Native American tradition) is a place where women come together to honor their bodies as sacred, and celebrate the Blood Mysteries – what DeAnna L'am (recognized world expert on menstrual empowerment, and author of Becoming Peers: Mentoring Girls Into Womanhood
) says is the 'missing piece of the puzzle' when it comes to women connecting to their sacred wholeness.
My life has been transformed by training with DeAnna.
My period used to be a time of pain and frustration that felt like an internal war with my body, coupled with a fear of 'leaking' as people would then know – shock! – that I was having my period. I did not want to get this messy (both physically and emotionally). Today my Moon time is actually my most powerful time – a time to retreat and listen to my body, literally, and do what it wants, not what my to-do list wants.
The reward? I get beautiful, spine tingling downloads from my intuition. Ideas come through, and my days are peppered with "aha" moments. I get clarity on exactly what is in alignment for me. And every single woman has this capacity too. We each carry our own Oracle, and each month we are asked to take the time to sit down and listen to what she has to say.
Because the voice that comes through while you are bleeding is the voice of the GODDESS, and if something is out of whack she is gonna let you know! Hence not being prepared to 'put up and shut up', like we often usually do. Your job is to listen to that wise voice and take heed, because the part of you that creates IS the Goddess. And she knows what's best for you, your family and your tribe.
Now I hold Red Tent Activations myself – daylong events, where you get to completely and radically alter your perception of your own menstrual cycle, your creative potential and your body, and re-establish your divine birthright as being connected to all women on the planet in sacred sisterhood. Connected by blood to all women who have gone before you, and all women who will come after you.
A Red Tent Activation is a powerful and life-changing ceremony around telling the story of your first blood, and of letting go the judgments and prejudices you took into your precious early teenage self that have kept you from fully accessing your power and creative potential as a goddess Creatrix today! And, finally, of enacting the ceremony we never receive in modern society – that of a girl being welcomed into womanhood.
It is a deeply moving to take your place in your lineage of ancestors and as a woman on the planet with the capacity to birth LIFE – be that children, ideas, creative masterpieces, businesses, or a even a new Earth. Yes, it is that big! And we have been hiding from this part of ourselves month, by month, by month.
But just imagine each and every woman in NYC connected to their own inner guidance system. Tapped directly to the Source through their own body, listening to the Goddess within. What choices would women make in their relationships? Their work? Their family life?
Now imagine a whole WORLD of women operating from the true Source within, not longer carrying the baggage of negative self image, not swayed or influenced or manipulated by the external world, but living in complete alignment with their true values, their true desires. That is the world we can create. This is my vision for our new Earth.
Join Alexandra Derby for the next Red Tent Activation in Brooklyn, NY, on September 13 2015. Further information and tickets available at the link.
Have you re-claimed your monthly bleed as a sacred time for intuitive connection? Connect with the Numinous community and share on Instagram, Facebook and Twitter!