Blindside your folks with these tasty vegan, gluten-free dishes, for a totally high-vibe Thanksgiving y'all! Recipes by Raquel Griffin. Photos: Oliver English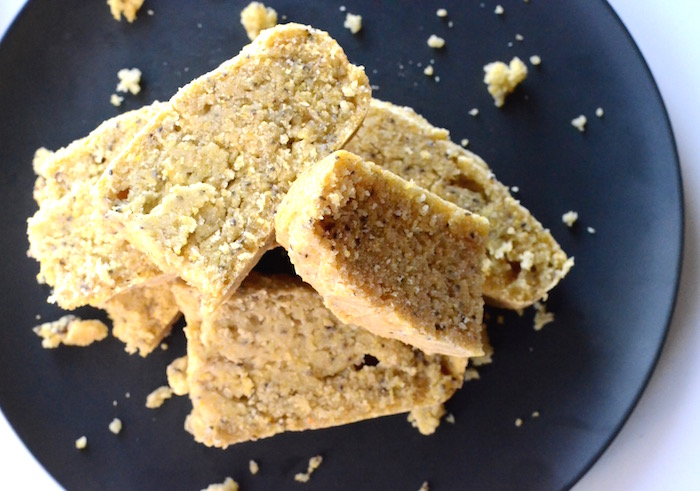 :: CHIA CORNBREAD WITH CARROT MAPLE MISO "BUTTER" ::
This is the perfect crowd pleasing vegan, gluten free Thanksgiving comfort food that even your SAD (Standard American Diet) loving relatives will enjoy. And it's also easy-peasy to make. Vegan, Gluten Free Chia Cornbread with Carrot Maple Miso "Butter". It's a recipe. Make this.
Vegan Gluten Free Chia Cornbread
Makes 16 servings
1 – 20 oz. package gluten Ffee cornbread mix (like Bob's Red Mill)
1 ½ cups fresh almond milk
2 tablespoons chia seeds soaked in 6 tablespoons water
½ cup coconut oil
DIRECTIONS
Have all the ingredients at room temperature. Preheat oven to 375°F. Generously grease a 9 x 9-inch pan. Place cornbread mix in large bowl. Add milk, chia and water mixture, and oil. Mix until blended, then mix vigorously for 30 seconds more.Pour into prepared baking pan. Bake until golden-brown, about 25 minutes.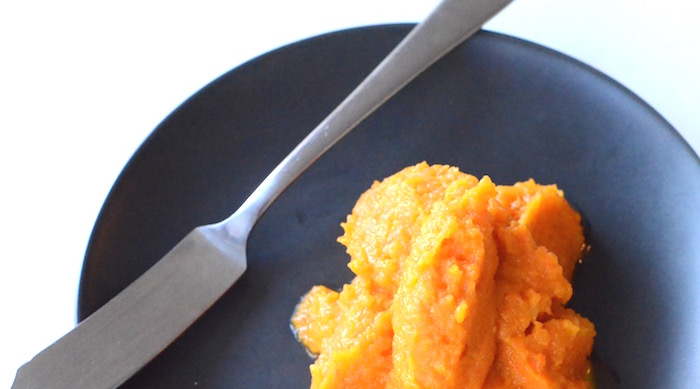 Carrot Maple Miso Butter
Makes 1⅓ Cups
2 cups carrots, peeled and chopped into 1-inch pieces (about 6 medium sized carrots)
2 tablespoons chickpea miso (like South River Organic Chickpea Miso)
1 tablespoon maple syrup
2 tablespoons melted coconut oil
DIRECTIONS
Place the carrots into a pot of simmering, salted water. Simmer for 10-15 minutes, or until the carrots are very easily pierced with a fork. Drain the carrots. Place all of the ingredients into a high-powered blender or food processor and blend until smooth. Add water as needed to get a light, spreadable texture. Store the butter in an airtight container in the fridge. It will keep for up to five days. Serve with cornbread.
(Butter recipe adapted from The Full Helping)
:: COZY GREEN SOUP WITH SPICED PUMPKIN SEEDS AND HORSERADISH CREAM ::
This is the perfect winter soup when it's cold and blustery outside and all you're looking to do is cozy up under the covers. It also helps that this recipe is pretty flexible and can be whipped up with virtually whatever green items you've got on hand – that wilted kale, failing broccoli and any other sad sack green veggies taking up residence in the back of your fridge. Cozy Green Soup with Spiced Pumpkin Seeds & Vegan Horseradish Cream. It's a recipe. Make this.
Makes 6-8 servings
3 tablespoons coconut oil
1/3 cup chopped leeks (or onions if you haven't got leeks)
6 cloves garlic, minced
6 cups fresh almond milk (or store bought…if you must)
5-6 cups of whatever green veggies you've got on hand, roughly chopped
(Escarole, Spinach, kale, purslane, celery, broccoli, even cauliflower will do.)
2.5-3 cups cooked quinoa
1 avocado
2-3 tablespoons Bragg's Liquid Aminos
3 tablespoons nutritional yeast
2 teaspoons each of sage, basil & rosemary
Sea salt
Freshly ground black pepper
For the fresh almond milk
6-8 tablespoons of raw almonds (soaked overnight)
6 cups of filtered water
For the spiced pumpkin seeds
1 cup raw green pumpkin seeds (pepitas) or any nut except peanuts
2-3 tablespoons coconut oil
1 teaspoon smoked salt (garlic salt will also work)
1/2 teaspoon cumin
1/2 teaspoon coriander
For the vegan horseradish cream (optional)
½ cup plain Almond Milk Yogurt (like So Delicious Plain Almond Milk Yogurt)
3-4 tablespoons Vegenaise (or any non-dairy style "mayonnaise")
1 tablespoon horseradish
Sea salt & fresh black pepper to taste
DIRECTIONS
To make the cozy green soup: Begin by sautéing the leeks and garlic in a pot until the leeks are translucent. Then add all the chopped vegetables along with the fresh almond milk, basil, sage and rosemary and simmer for 8-10 minute or until veggies are soft. From there, transfer the contents of the pot into your blender or food processor, then add the avocado, Bragg's Liquid Aminos, nutritional yeast and quinoa and blend until mostly smooth (about 2-3 minutes on high). Serve topped with a dollop of horseradish cream and a sprinkling of spiced pumpkin seeds.
To make the fresh almond milk: Combine soaked almonds and water in any high-powered blender and blend on high until the consistency is smooth, frothy and light about 2-3 minutes.
To make the pumpkin seeds: Preheat the oven to 350°F. Toss the seeds with coconut oil and spices. Spread onto a sheet pan and bake until toasted, about 10 minutes. Cooled pumpkin seeds can be stored in an airtight container for up to 4 weeks.
To make the horseradish cream: Combine almond milk yogurt, Vegenaise, horseradish, salt and pepper in bowl. Whisk ingredients together until smooth.
What's your favorite high-vibe Thanksgiving dish? Please (really, please) share in the comments below, or show us on Instagram, Facebook or Twitter.