Your Numinous Tarotscopes for June 2019 are here! Get the audio + written monthly reading for your sign from Bess Matassa below …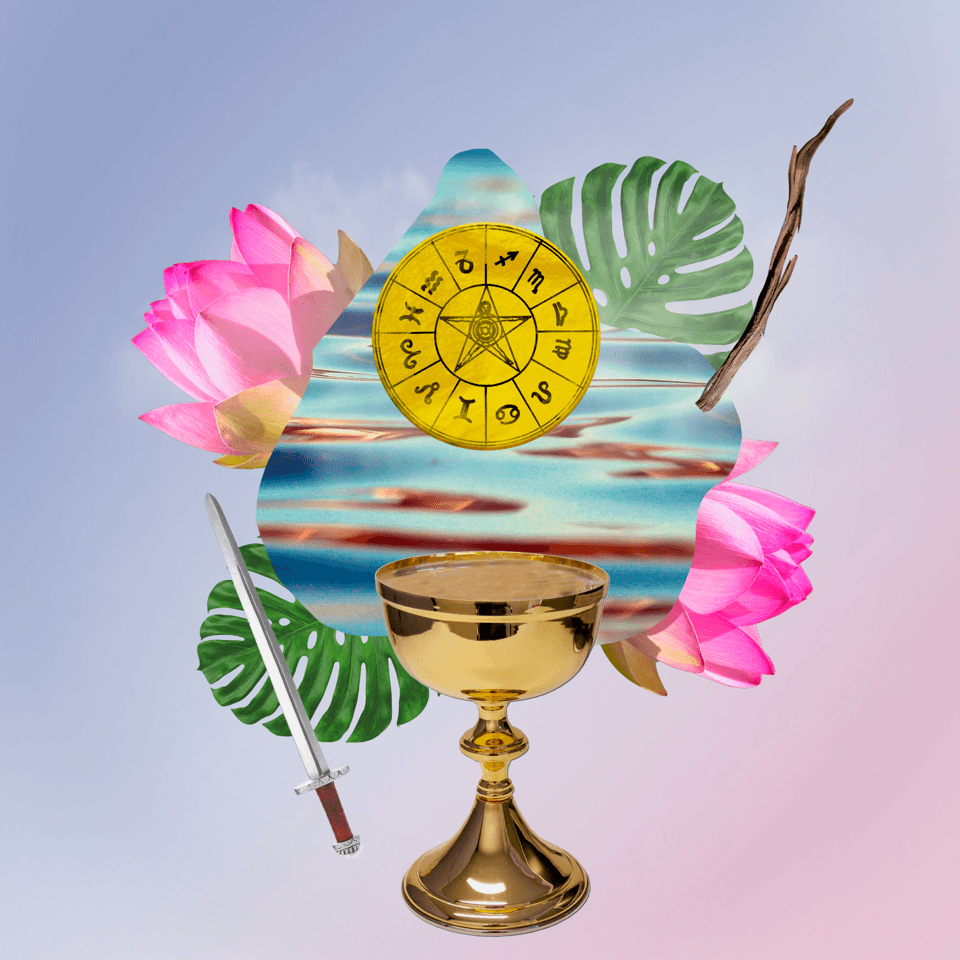 COLLECTIVE THEME FOR JUNE 2019: 6 of Wands
Close your eyes and feel the summertime heat building inside your body. Ruled by Jupiter in Leo, the 6 of Wands fuels our desires for fame, fortune, and flair. Coming at us fierce and fiery, the Numinous Tarotscopes theme for June is a collective call to the sustainable success of our personal brands.
This energy urges us to go heart first, no matter the external accolades. Asking us to break open the binary of achievement and failure, June is an invitation to craft our own cosmic corporate ladder. Sometimes we're ahead, sometimes we're behind, and it's all part of trusting in whatever bold moves want to come through us in the moment.
What would feel like a gold star for your soul? What does a life well-lived really look like to you? The 6 of Wands hands us the Oscar envelope and allows us to celebrate whatever is revealed.
Read on for the card, mantra, and cosmic audio reading for your sign …
GEMINI OR GEMINI RISING: 3 of Cups
Real love is whatever feels real to you.
Happy birthday month, Gemstone! June's invitation is a rainbow colored reminder to challenge stale storylines and hard-edged concepts—especially in the realm of romance and connection. The "3" is a hungry number, inviting us to swap either/or mentality and go for the whole damn buffet. More than any other sign, you have the capacity to understand all facets of this diamond life. In June, use this kaleidoscopic view to see where you may have been limiting yourself in love. Whether it's platonic partnerships that are offering up soul-deep growth, or a heartbreak containing bitter medicine, it is all absolutely here to remind you of your capacity to reach out from the inside. And with your ruler, Mercury, traveling through Cancer's emo waters all month, this is prime time to take these experiences out of your head and bring them back into your body and heart. This notion is rooted in that old adage about everybody being a form of God in disguise. Let yourself be guided by the idea that everyone's heart is here to connect with you.
Learn more about Bess and her work and check out all her personalized Astro + Tarot offerings HERE.
///
CANCER OR CANCER RISING: The Sun
Lean into the sweet sensation of separateness.
Think of this month like a clear beach morning in a solo bungalow, fueled by strong black coffee as you look out across your life with a sense of exactly who you are and what you need to do. With the North Node still highly activated in your sign, and powerhouse Mars traveling through it as well, June offers lessons in the concept of individuation, and is a time to focus on your own self-expression. This doesn't mean you need to rupture relationships or hermit yourself into social oblivion. Instead, start by simply feeling into your "I." Notice the times when you tend not begin a sentence this way, and investigate the roots of this discomfort. The Sun urges us to become more of the selves that only we can become, which means taking a few risks. What if it was okay that you're not "for" everyone? In fact, what if this could be a wild liberation? Free yourself from any shame around being different in favor of cultivating even more of your own flavor.
Learn more about Bess and her work and check out all her personalized Astro + Tarot offerings HERE.
///
LEO OR LEO RISING: Page of Wands Rx
I am ready to return to the original heat source.
Since the start of this astrological year you've been exploring the origins of your creative process, and, combining the elements of earth and fire, the Page of Wands wants you to use this month to closely examine how you initiate action and stoke your creative fires. Start by cultivating the capacity to sit with your urges and impulses rather than immediately leaping to lock them down by producing a shiny object. This may feel excruciating at first, but trust that there is deep magic in understanding how to befriend your emotions before they "do you." Maybe it's deliberately delaying a project. Or waiting a day longer to respond to a message. These simple acts can be a reminder to take pride of place at the center of your own life. With your ruler, the Sun, traveling through Gemini, you're being reminded of the spaciousness that can be found by embracing the ephemeral. Watch sensations rise and fall, trusting what is for you never needs to be hunted down.
Learn more about Bess and her work and check out all her personalized Astro + Tarot offerings HERE.
///
VIRGO OR VIRGO RISING: Page of Swords Rx
The slightest shifts can create megawatt expansions.
Ruled by Mercury, Virgo is the sign of responsiveness and adaptation. But when you lose a sense of connection to this natural ebb and flow, you can get stuck in endless nervous analysis. June's magic medicine returns you to your inherent capacity to embrace constant change, without racing around to immediately make it all better. The Page of Swords always arrives after a long journey through the mental realm, slaying old storylines and staring into the face of the hooks and obsessions that can leave us feeling stuck. From there, it enacts the boldest act of all: it tells the brain to bugger off! With fellow Mercury-ruled shapeshifter Gemini ruling the skies right now, allow the hard packed elements of your life to soften by making very subtle adjustments that feel instinctively right. Your mutable earth sign is connected to the element of sand and you can use substance as your guide for June. Absorb the waters of emotion when they arise. Form yourself into little castles out of the wetness. And then let it all wash away, trusting that you can rise to meet any moment.
Learn more about Bess and her work and check out all her personalized Astro + Tarot offerings HERE.
///
LIBRA OR LIBRA RISING: 5 of Swords
Being human means taking the highs with the lows.
The "5" cards are all about frictional development, Libra. But before you let that bring you crashing down from your idealized castle in the sky, take a moment to consider what "owning" your own mind might mean. What is the origin of your thought patterns? How much springs from an inner knowing, and how much is reaction? June offers up the opportunity to slip recenter yourself on your own throne. Start by considering what's "pulling you" right now. There's nothing wrong with being tugged along, begin by simply noticing what happens once you surrender to someone else's emotional spin or demands. This month, you are learning to sift through the external buzz and let your own voice rise to the surface. Rather than riding the highs and the lows of other people's trips right now, focus on your own capacity to steer your vessel, knowing that the journey towards calmer waters might require a little storm-ready self-sufficiency.
Learn more about Bess and her work and check out all her personalized Astro + Tarot offerings HERE.
///
SCORPIO OR SCORPIO RISING: Knight of Wands
Moving with my desire brings me what I crave.
The Knight of Wands calls you to move through the world as if it were your natural element. Start by exploring the concept of "strut"—what would be the most carefree way of shimmying through your life right now? Maybe you're holding your shoulders closed in an important conversation about a potential raise. Or keeping your legs crossed on a date when you really would rather open wide to the possibilities. The Gemini Sun forms an "inconjunct" aspect to your sign this month, which presents a profound invitation for integration and understanding. The lesson here is that when you actually prioritize the line of least resistance, you'll always land on the flower with the sweetest nectar. You are alchemizing sweetness with strength right now. Let it all feel lighter, looser, and fueled by libido, Scorpio.
Learn more about Bess and her work and check out all her personalized Astro + Tarot offerings HERE.
///
SAGITTARIUS OR SAGITTARIUS RISING: Ace of Cups Rx
Cracking open to the honey is my creative mission.
With Jupiter powering its way through your sign this year, the opportunities for expansion in all directions have been profound—and sometimes this can feel like an overstuffed buffet, where the bottomless urge to load up another plate takes over, whether you're full or not! And now June asks you to consider how and to what you're saying "yes" to. The Ace of Cups asks you, quite simply, what you will do with your own beating heart? Will you tone down its drumbeat for fear that your passions are too big? Will you use it to make something that could only be built from your own blood? With the Sun in Gemini this month asking you to consider how you're received in the world, and a fat Full Moon in your sign on June 17, remember you can create by channeling what's already in front of you, rather than more and more onto your plate.
Learn more about Bess and her work and check out all her personalized Astro + Tarot offerings HERE.
///
CAPRICORN OR CAPRICORN RISING: Queen of Wands
I am ready for all kinds of weather.
Take a moment to honor the big and beautiful energies that have graced your life since the start of the astro New Year in March, Capricorn: The Sun, the Queen of Pentacles, Death, and now the Queen of Wands. This cosmic combo has put you through a process of shaping and buffing, inviting you to bow at the altar of your very essence. Now, the Queen of Wands wants you to ask yourself: what witchery am I capable of? This isn't about imposing your will on the landscape, but about better understanding exactly what kind of spells you're here to cast. Maybe you're a person who can walk into a room and change the climate with a smile. Or maybe your medicine is to urge others to wake up to reality. With Pluto, Saturn, and the South Node of the Moon colliding in your sign, it's prime time to unleash your magic with clarity and compassion, understanding just how much force is in your corner and exactly how to wield it.
Learn more about Bess and her work and check out all her personalized Astro + Tarot offerings HERE.
///
AQUARIUS OR AQUARIUS RISING: 7 of Wands
My signature scent is a perfume the world needs.
You've been traveling close to the ground since the start of this astrological year in March, Aquarius, brushing up against some of the more challenging cobblestones of the Minor Arcana— process that's been about making things yours through experiential learning. The 7 of Wands comes through this month to beckon you back into your own specialness, with a little "me first" medicine. Feel into where you might be following right now, rather than forging your own path. You usually consider yourself the zodiac's radical pattern breaker, but what systems are you still operating within? The Sun in fellow air sign Gemini, is asking you to consider the origins of your storylines, and your right to choose your own adventure.
Learn more about Bess and her work and check out all her personalized Astro + Tarot offerings HERE.
///
PISCES OR PISCES RISING: 9 of Cups
Each wish works magic I can't even imagine.
You've arguably got the corner on cloud life, Pisces, but June wants you to swap out a habit of swinging between checking out and crashing back down to earth. What does the process of staying on track with an ideal outcome feel like? Maybe it brings up fears that you have to make it happen. Or that it will never happen. The 9 of any suit invites a Hermit-like dedication to privacy, urging us to process on our own time. Check in with any secret wishes that might currently be for your heart only, noticing when you feel pressured to unveil your 5-year plan. Can you let whatever is being seeded have its own lifestyle and trajectory instead? With your ruler, Neptune, stationing retrograde near the end of the month, you're moving towards a new way of working with the concept of hope. Learn to truly cherish what you can't yet fully see.
Learn more about Bess and her work and check out all her personalized Astro + Tarot offerings HERE.
///
ARIES OR ARIES RISING: Two of Cups Rx
Nothing inside of me needs to be removed.
Think of June as a time to take emotional inventory, Aries. The Two of Cups is a card of deep communion with pieces of ourselves we may want to purge, and wants you to investigate what parts of your emotional life you've been hiding away. When we attempt to compartmentalize these pieces, their voices actually get stronger, demanding to be seen and integrated. What facets of yourself do you feel are in need of "fixing" or hiding?  Think of this month as an opportunity to take a long, hazy summer weekend with the pieces of your story you'd rather purge, and learn instead to welcome these parts. What you'll discover is that inviting these members of your "feelings family" home will hep you to feel more whole.
Learn more about Bess and her work and check out all her personalized Astro + Tarot offerings HERE.
///
TAURUS OR TAURUS RISING: Page of Cups
Releasing my guard relaxes my soul.
This June, the Page of Cups is singing you the Titanic theme song, Taurus, reminding you that your heart truly does go on and on until you reach the end of this incarnation, and perhaps even beyond! Attempting to shut down or shut off simply won't work—your urge for human connection will find its way into the cracks no matter what. Being relaxed in your body and soul necessitates a certain degree of trust that life is on your side. Not that nothing will hurt you. Not that you won't be challenged, stripped down, and stood up. But this energy, and this month, is all about being reminded that when you allow yourself to soften and open you can move with, rather than against, all of the seasons of your life with grace and potency.
Learn more about Bess and her work and check out all her personalized Astro + Tarot offerings HERE.