Dive into this month's medicine for your sign with our Numinous Tarotscopes February 2019, cast by Melinda Lee Holm. Artwork: Prince Láuder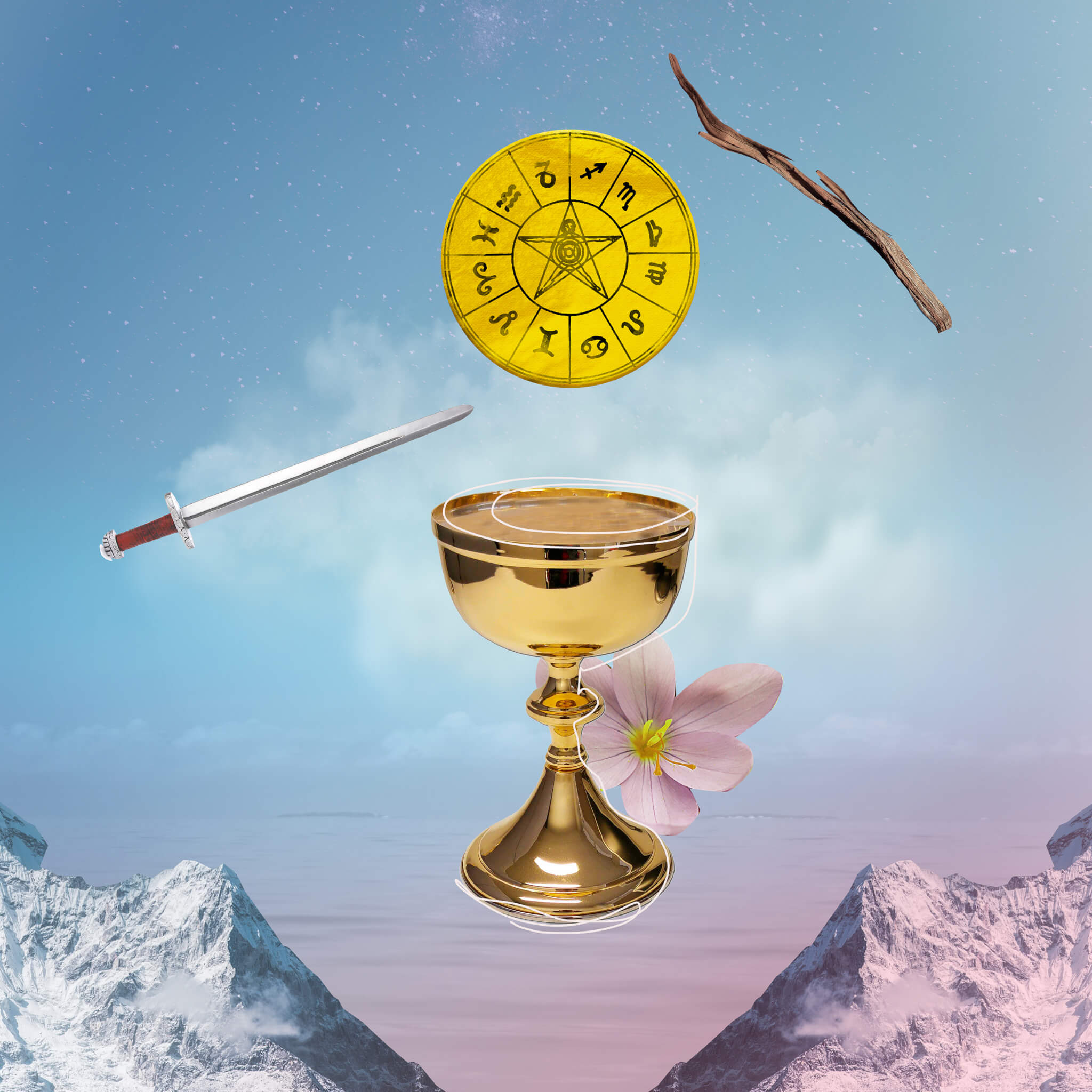 AQUARIUS // AQUARIUS RISING
The Lovers
Happy Solar return, Aquarius! Your birthday gift from the cards is a chance to cozy up to the concept of true partnership. While you are an exceptional friend, always ready, eager, and willing to help out, things can get a little sticky when it comes to the C word. The idea of commitment can sometimes get tarnished and dulled by conventional notions of settling down, falling into stale routines, and succumbing to boredom for the sake of stability. But it doesn't have to be that way.  You can keep your beloved freedom and partner up – professionally or personally – benefitting from the support and talents of another, forming a whole stronger than the sum of its parts. The trick is in being very clear right up front about what you want and how you aim to get it.
As you begin another trip around the Sun, you'd be well-advised to test the waters of engagement early and often. Call up a friend to help you out on a project you'd normally forge ahead with alone. Finally say yes to that co-worker who's always asking if you need any help. Go on a date. The magic of true, healthy partnership is that it allows both parties to thrive as individuals within and outside of the context of the relationship. While no relationship of any kind can exist without some sort of conflict, a great partner should keep you mostly feeling more powerful, productive, and inspired than you would be alone. Get out there and find out what it takes to have and to be the best partner you can!
Aquarius stone for February: Rhodonite opens and soothes the heart to allow a free outpouring of love and compassion. It promotes unconditional care for and appreciation of others.
///
PISCES // PISCES RISING
10 of Wands
It's the shortest month of the year Pisces, but it just might end up being one of your most productive. The great creative forces of Fire are waiting at the ready to burn through your to-do list in lightning speed and leave you time for more fun creative pursuits. Fire is the element of action, intuition, creativity and magic. The items on your list may or may not take place in the material world. Maybe you have a list of concepts you've been wanting to get around to mulling over, some ideas or political positions you've wanted to explore a bit more before forming an opinion. Now's the time! Your processing speed is unrivaled throughout February, so focus in on what you want to accomplish and start checking those boxes.
The thing about the tens is that they anticipate a return to the Ace. You don't usually build up from the ten, you circle around and begin again. So make sure that you've got your eye on the prize voted most likely to make you feel like a total champion once you wrap it up and tie it with a bow. This is a month for Big Chores. Passion projects are fueled by another beast, they are buoyed by emotion and existential need. Save them for a rainy day. This is your opportunity to tackle the things that you avoid eye contact with, the things you stay feeling guilty about because they seem too big to get into. Open your eyes and mind and step bravely into your new accomplished future.
Pisces stone for February: Gold Sheen Obsidian ignites the solar plexus, illuminating previously unrealized talents and the confidence to use them while clearing away any energetic blockages to success.
///
ARIES // ARIES RISING
8 of Pentacles
You are getting down to the nitty gritty this month, Aries, digging around in the dirt to find exactly what sort of environment will suit you best in the long term. When I say environment, I mean it in the broadest possible sense. This being the suit of Pentacles, the most obvious interpretation is a physical environment, the material world that serves as your home. If this is where your mind instinctually focuses, go there. Rearrange your furniture, get into that tidying show everyone is freaking out about, throw some paint on the walls, whatever it takes to get your home environment to a place where it feels like it's supporting you and not stressing you out. And if the place itself stresses you out and you have the means, get a new place.
However, there is more subtle interpretation of environment that also relates to the realm of Earth. The sort of color and buzz of the air around us, the charge of a space, the space in between that holds us all together. February is your time to make sure that THAT environment is set up in a way to support you long term as well. So if your apartment is editorial perfection, sit in it with your eyes closed and feel where it needs another kind of tune-up. Refresh your altar, ask your crystals whether they'd like a new view, experiment with a different cleansing modality than you usually use. The Pentacles don't have to be all work, but they do have to work for you and this month you can make that happen.
Aries stone for February: Hematite grounds the energetic and physical bodies and brings focus to the mind, allowing a steady pace of productivity to unfold and progress.
///
TAURUS // TAURUS RISING
Wheel of Fortune
While the Wheel of Fortune can bring frustration to some, I am betting hard on this being a VERY cozy place for you to live this month, dear Taurus. The glory of the Wheel is that it brings everything in accordance with Divine timing. The cruelty of the Wheel is that it brings everything in accordance with Divine timing. You get what I'm saying? Surrendering to the timing of the Universe can be a huge relief or an extreme challenge. Commit to choosing the former now. Meet all goals, personal and professional, with an open mind and heart and an attitude of "this or something better in accordance with the good of all beings." Sometimes we focus so intently on pushing on a particular goal that we cannot see a new opportunity flying right in front our face.
To be clear, I don't mean to suggest you take your foot off the gas completely. We all need to do our part to keep this ball rolling. Letting go of the fantasy of control does not release you from responsibility. Rather, it focuses you on your specific tasks, opens your eyes to what you can control, and directs your energy to places it can be of greatest use. My goal here is simply to invite you to take in the scenery as you go, pay attention to signs, and if you hit crazy traffic, pull over and have a cup of coffee instead of sitting in your car fuming. You never know who might be waiting to meet you in that cafe!
Taurus stone for February: Blue Calcite eases worry and anxiety by opening communication with inner and Divine truths. It allows all levels of being to rest and be rejuvenated.
///
GEMINI // GEMINI RISING
Page of Wands
Ooo, Gemini, I like this movement for you. Hot on the heels of the master of manifesting abundance, you've got the open, experimental nature of the Page here to bring you new ways to play with Fire. Experimentation is kind of like having a really great conversation with yourself, something you are very adept at in the best ways. This month, that ease of developing and exchanging ideas is going to take root in a more intuitive place, bypassing the potential pitfalls of the analytic mind and instead taking hold in a more ancient animal instinct zone. You're going to find all sorts of ways to express your creative impulses – personally, professionally, spiritually, magickally. This is a rare oppotunity to really expand your experience of your own power.
Say yes as often as you can to situations that allow you to explore new avenues of inspiration. Collaborate with new friends and with old friends in new ways, take art and dance classes, give yourself time to wander in whatever way and whichever direction you feel drawn to. This month truly is for you to play and there is no more playful element than the Fire that the Wands hold. It was some of our earliest real magic as humans to make it with our own hands and it still holds that promise and wonder energetically in our lives. What is the Fire you want to create in your life? Where will it take you? What will it transform and what can it destroy?
Gemini stone for February: Ammonite Fossils remind us of our ancient roots in the evolutionary chain, and focus our vision on how we can continue to evolve on this plane spiritually and energetically.
///
CANCER // CANCER RISING
The Hierophant
As a cardinal water sign, you are a natural teacher, dear Cancer. Your open heart and deeply held desire to do good in the world tend to lead you to places and situations where you can be of service comforting and quietly leading. This month, that instinct is getting a huge boost and alignment with your highest spiritual aspirations, maybe even those you are not yet aware of. While we have much to learn from all cards in the deck, The Hierophant stands alone as representing an embodied teacher here on Earth. This teacher can come in many forms and can represent us encountering or becoming a spiritual guide. Ideally, it foretells both. The very best teachers operate with the understanding that there is always more to learn, that we can never know everything, that even the most learned and experienced can benefit from a good teacher.
This month, make time to listen to the wise around you. Engage in deep conversations with the people you find most inspiring, read their books, listen to their lectures, follow their guidance. If you're drawing a blank, ask friends you trust who they follow and try their teachings on for size. At the same time, be open and willing to lend a sympathetic ear and a gentle guiding hand to those around you in need of some direction. This can be a casual conversation over coffee, a more formal mentorship relationship with a co-worker, or even volunteering to read to kids at the public library. The spiritual can flow through the act, not necessarily the content. The Divine is often quiet, like a little crab in its shell.
Cancer stone for February: Magnetite works to draw in to your personal sphere all that will be useful to you in the pursuit of any goals aligned with your highest purpose.
///
LEO // LEO RISING
King of Wands
The King of Fire for my fiery king of the jungle. What a win, Leo! This energy is going to feel like a breath of fresh air, especially after the challenging introspection of last month. You are ready to burst out of your cage and into the world with newfound insight into what you want to experience and create. You'll have a magic touch, able to turn drab to fab in the blink of an eye, whether in your personal space or any situation you happen to find yourself in. And I suggest finding yourself in as many situations as possible! Say yes to parties and social engagements, then focus on exactly how you want them to play out. I think you'll find you have more sway than you may imagine on outcomes that seem from the outside to be completely out of your control.
Do be careful what you wish for. I am guessing you have a bit of cabin fever and may be tempted to focus on conjuring fun and adventure. I support that. All I ask is that you do it in a way that includes some measure of useful productivity. Itching to get out of town? Take a road trip with a friend you've been wanting to collaborate on a project with and make it a creative retreat. Want to go nuts on the dance floor all night long? Great! Stay hydrated and go easy on the booze so you get the physical benefits of moving that beautiful body without losing a day to a hangover. You get the picture. Have fun, keep it productive.
Leo stone for February: Aegirine is a great ally in facing challenges of any kind. It helps to clear negative thinking, allowing creative solutions and paths to emerge where defeatist thinking once was.
///
VIRGO // VIRGO RISING
Queen of Swords
Well, Virgo, it looks like all that wandering last month really helped you to clarify some things. That big heart of yours has something to say and the absolute NEED to say it. The beautiful thing is, with the Water energy the Queen brings to the Swords, you can bet that you'll have a gift for saying it with love. You have a reputation for being … particular. And sometimes that can come with assumptions of rigidity or being harsh or judgmental, but I see right through all that. Your attention to detail allows you see the heart of a matter. Your finely tuned vision sees the minutae others gloss over and you can be affected by what you see quite deeply. This is a gift.
This month, all these impressions you've been logging along your journey are coming into focus in a very personal, emotional way. My guess is you've felt a shift churning for some time that really came to the surface last month. Now you are ready to talk about it. Begin at home, in conversation with yourself. Sit and ruminate, journal, make paintings about it. Once you have your messaging on point, you can begin to bring it out in layers, first to your inner circle and chosen family, then out to wider and wider circles depending on the nature of your message. With your high ideals and aspirations and the Queen's insistence on being felt and heard, you could be giving a speech or publishing an essay on a topic near and dear to your heart.
Virgo stone for February: Celestite brings a feeling of deep inner peace, allowing loving and well-received communication of personal truth to flow freely both within and to others.
///
LIBRA // LIBRA RISING
10 of Swords 
You're set up for high achievement in your native element, dear Libra, and I have full confidence you'll put this energy to good use detangling some of the hairier mental predicaments you may have backed yourself into over the past few months. We all talk ourselves into a corner from time to time, either internally or right out in the open in front of everyone. That is a normal part of being human. The problem comes when the threads of our argument become so tangled that we can't follow any of them through anymore. This is where the 10 of Swords excels, cutting through these knots to clear the path back to the pure truth of the Ace. So where are your knots, Libra?
I can feel you recoiling at the mere suggestion that some of your statements or positions may have caused chaos or confusion in any form. You have a deep desire for peace, and acknowledging having a part in disturbing it can be difficult. That's ok. We're not here to dwell on what happened, we're here to forge ahead with grace and love! This month, focus on loosening your grip on the positions you take on issues great and small, on allowing some air in, letting the situation breathe a bit, relax out of an argument and into a rumination. When you do, you may find that some of your more challenging entaglements fall into discreet, sorted pieces all on their own, restoring the balance you hold so dear.
Libra stone for February: Aventurine encourages appreciation for and growth of loving abundance in all forms. It gently eases anxiety and turns the attention of the heart and mind to expansion.
///
SCORPIO // SCORPIO RISING
4 of Cups
Your brooding heart is craving some emotional balance this month, Scorpio, and the cards are here to provide. The fours are a real mixed bag for me. I get a little uneasy at the potential of a false sense of security that they can sometimes hint at. But I am into this one, especially for you, my fellow Water sign. I admire your ability to face the deepest and darkest emotions head on, to dredge them up from the sea floor to see the light of day. It's hard work that few are willing to do and I know can get exhausting. This month, it's your turn to rest. Let the depths lie. Now it's time for you to float gently on the waves, integrating what you know and forming an internal foundation for heart-centered peace.
Whether you're partnered or single, see how many ways you can find to be your own dream date. I hesitate to even bring it up, but my preference would be for you to ignore Valentine's Day. Unless you have a tried and true way of celebrating with a partner, the pressure is just too much. Spread the celebration throughout the whole month and find small ways daily to celebrate love, alone or in relationship. True emotional peace cannot be given to you by another, it must come solely from within. You have such an incredible capacity for love and devotion, Scorpio. Focus that attention on yourself and see how blissful the calm waters can be.
Scorpio stone for February: Ruby in Zoisite shows us all we have to appreciate and celebrate in our lives. It brings a happiness that can only come from a deep true love for and acceptance of oneself.
///
SAGITTARIUS // SAGITTARIUS RISING
Ace of Swords
Oh wow, Sagittarius! Straight from the King to the Ace. Look at you, fully integrating that Air mastery and getting right back in line for a fresh helping of Divine truth. While you're staying in the highest vibrations of Elemental Air, the position you take within it will be quite different this month. In January you were in full delivery mode, shouting your  message from the mountaintops. This month, you are the receiver, keeping your antennae tuned to the impulses of Divine communications emmanating from all corners of the world, all beings great and small. While this can sound overwhelming, you will have a knack for picking up exactly what you need to know exactly when you need to know it. Stay alert, stay open, and practice discernment.
The discernment piece can be tough. How do we stay open to messages potentially coming from literally anywhere and also discern which are truly Divine and which are a mere distraction? By maintaining high mental clarity. Drink plenty of water, meditate, get enough sleep, meditate, get some exercise, meditate. MEDITATE. Only with mental clarity can you trust your internal barometer to tell you when something just doesn't smell right. We live in a world that blasts us with messages all day every day, and they all claim to be The Truth. It's up to us to do the work to prepare for the onslaught, control our intake, and align with what supports our greatest good. Fortunately for you, Sagittarius, that should be easy to see.
Sagittarius stone for February: Covellite encourages diving deep to overturn stones hiding even the most uncomfortable truths, and assists in processing and integrating them for maximum growth.
///
CAPRICORN // CAPRICORN RISING
5 of Pentacles
Well, Capricorn, you are getting a lot of heavy lifting done right at the top of the year. This month, you're clearing up some fear of lack that was likely left kicking around in the void left by all that energetic excavation last month. Know that this is normal, natural, and healthy. All of the Fives revolve around distorted perception creating chaos. In the suit of Pentacles, this twists our pereption of our material world, bringing up fears around poverty and material inadequecy. We all know that there is no amount of money that can magically make every person feel they have "enough." That is made perfectly clear in witnessing the phenomenon of greed in the world. Material adequacy is a mindset that can be cultivated and maintained to alleviate unnecessary stress in our lives.
If your total bills are more than your total bank account balance right now, you either hate me or think I'm an idiot or both. That's ok. If I can open you up to the idea that fear of lack is not a useful strategy to alleviating financial distress, I will consider this a great success. Whatever your circumstances, moving through change and through release work will bring perceptions of lack in one or more of the Elemental spheres. We tend to ascribe "reality" to that perception of lack when it manifests in the realm of Earth. I'm here to invite you to release that too, and to work towards an acceptance that leaves you with more energy to put toward shifting any situation that is truly not serving you.
Capricorn stone for February: Aragonite Star Clusters lend support in facing the root of our fears. They can open up channels of insight that bring the clarity and strength needed to move forward.