Just in time for Eclipse Season 2017, we've got your Moon Tarot guide to navigating each Moon phase—with customized card spreads. By Tina Gong.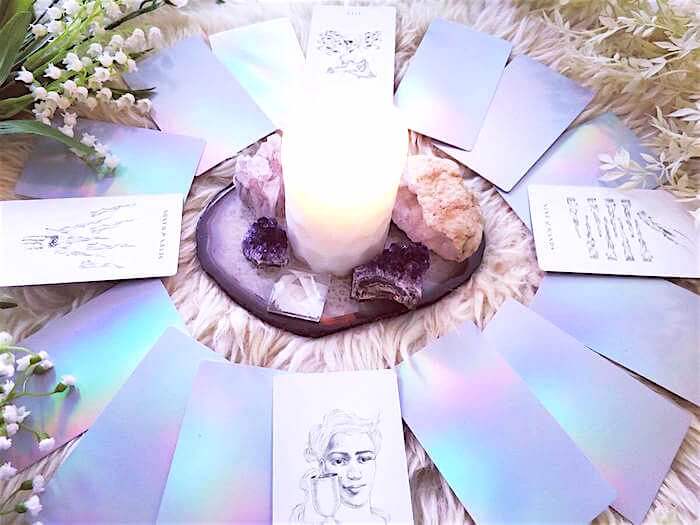 As a lifetime student of tarot, and a newer student of lunar cycles, I've started exploring the moon's teachings by casting cards for each Moon phase. I call it Moon Tarot. For this workaholic Capricorn, connecting to the phases of the Moon has taught me that there are times to push forward and times to just chill out a little bit, and I seek the cards' assistance in figuring out exactly how.
The Moon's magical cycles invite us to sync our lives to universal rhythms. Through her expansions and contractions, each phase offers us a lesson to incorporate. Likewise, Tarot's ability to tell stories, ask questions, illuminate answers, and bring fresh perspectives to challenges provides a concrete channel for adjusting to the moon's timing.
Each spread below offers you the chance to explore challenges and lunar lessons and, like the moon, to incorporate times to push forward and times to reflect. Feel free to infuse your own rituals into these readings to create truly customized Moon Tarot magic!
*Editor's note: Unsure when each Moon phase begins? We love the Luna Solaria app
###
New Moons :: New Beginnings
This phase is all about gathering our energy, strength, and willpower, and finding ways to recharge as we prepare for the coming cycle. It's a moment to think carefully about what we'd like to accomplish. Use this simple 3-card spread to kickstart your lunar month!
Card 1: Where you have been
Card 2: Where you are
Card 3: Where you want to be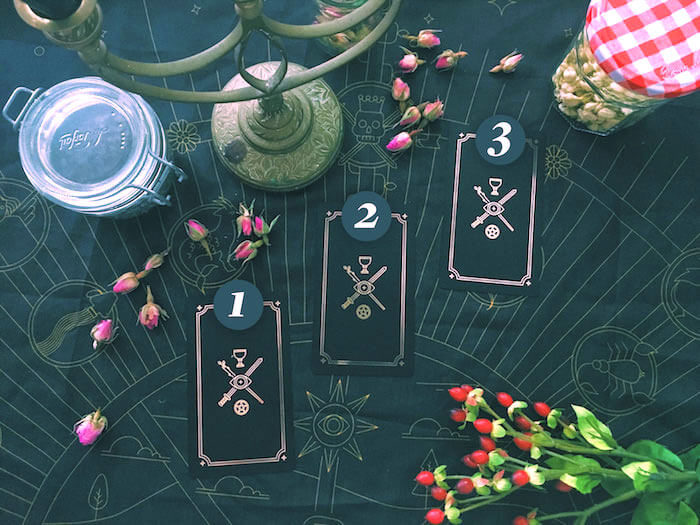 ###
Waxing Crescent :: Setting Foundations
During this phase, we're ready to develop clear foundations. To break out our notebooks, markers, and post-its as we sketch outlines and create strategies for achieving our dreams. This spread is built to help you identify and utilize all your resources.
Card 1: Your source of energy & willpower
Card 2: Your talents
Card 3: The environment
Card 4: Your resources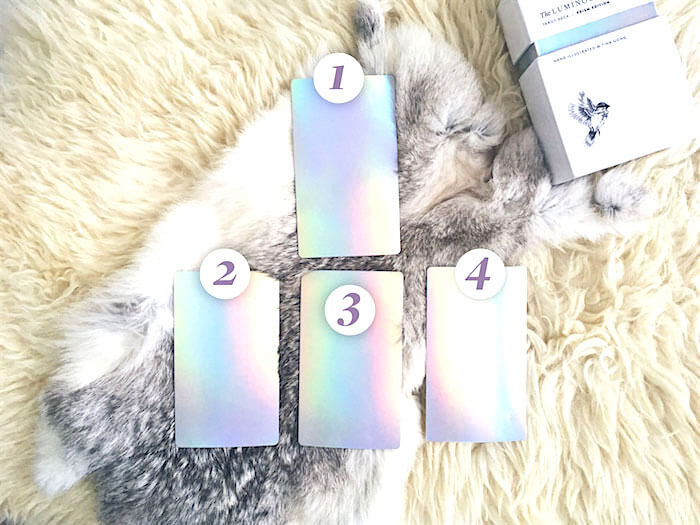 ###
First Quarter :: Actions & Obstacles
Armed with a vision, we're ready to act with decisiveness and drive. This time is perfect for pushing forward with our plans and setting things in motion. As we shoot into the future, the First Quarter spread identifies any lingering doubts that might be holding us back.
Card 1: Your self-perception
Card 2: Your obstacle
Card 3: What will help you overcome
Card 4: What holds you back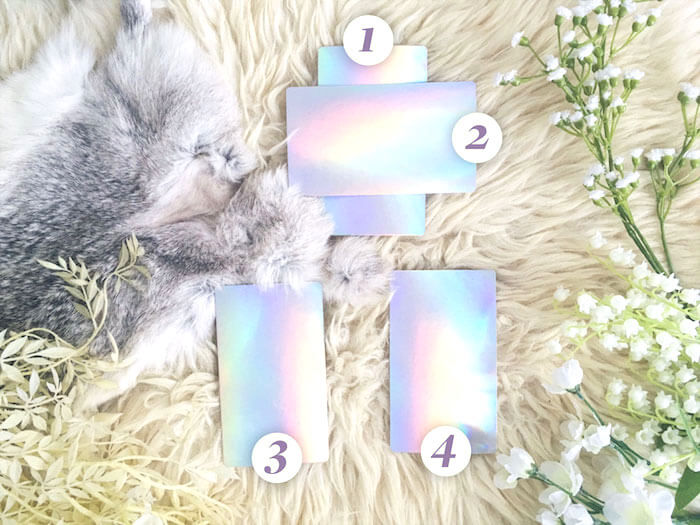 ###
Waxing Gibbous :: Pivot Point
To flow is to survive, to stay rigid is to break. After we've worked on our goals, this phase is a perfect time to take a more detailed look at our approach and to assess alternative pathways.
Card 1: The problem
Card 2: Our expectation
Card 3: The reality
Card 4: Guidance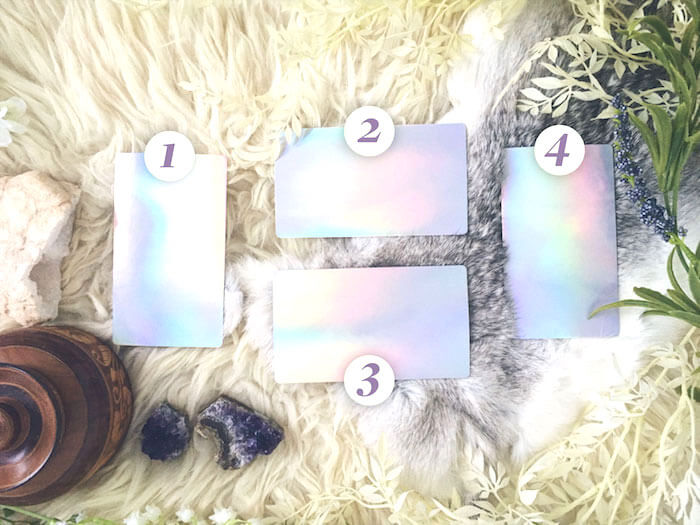 ###
The Full Moon :: Celebration!
The Full Moon is a time of harvest, self-love, and appreciation for all the things we've been given and have earned. Go hang with the people that make you happy and celebrate the joy with this spread!
Card 1: What gives you joy
Card 2: Your gifts to world
Card 3: Your unrecognized potential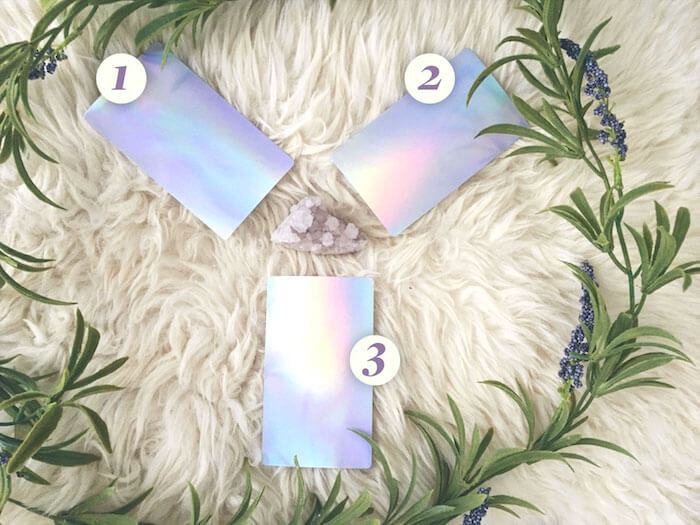 ###
Waning Gibbous :: Turning Inward
The world is a reflection of our inner selves and so sometimes, our greatest challenge is ourselves. This phase of the lunar cycle asks us to look at our shadows, and challenge our beliefs about who we are. This spread is perfect for drawing at night, complete with an altar of mirrors and candles.
Card 1: Fears
Card 2: Secrets
Card 3: Lies
Card 4: Regrets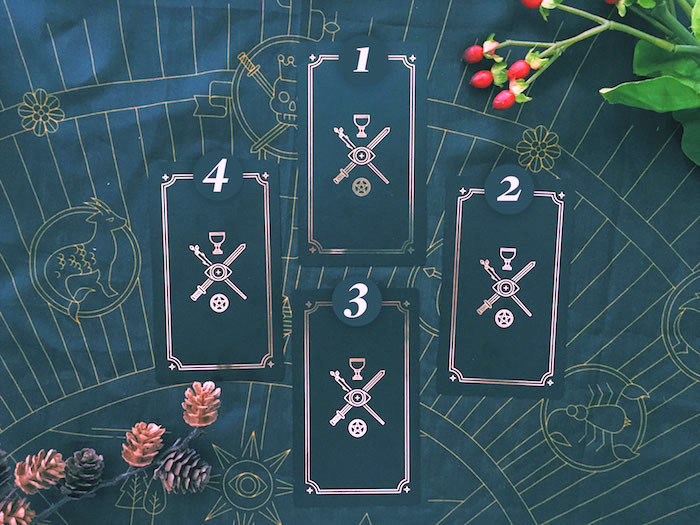 ###
Last Quarter :: Letting Go
After we acknowledge the shadow self, we must also learn to confront it, embrace it, and let it go. Break out the smudge sticks, and imagine yourself banishing all that burdens you. Each puff of smoke that vanishes in the air represents a piece of your suffering that's dissolving.
Card 1: What to accept
Card 2: What to forgive
Card 3: What to learn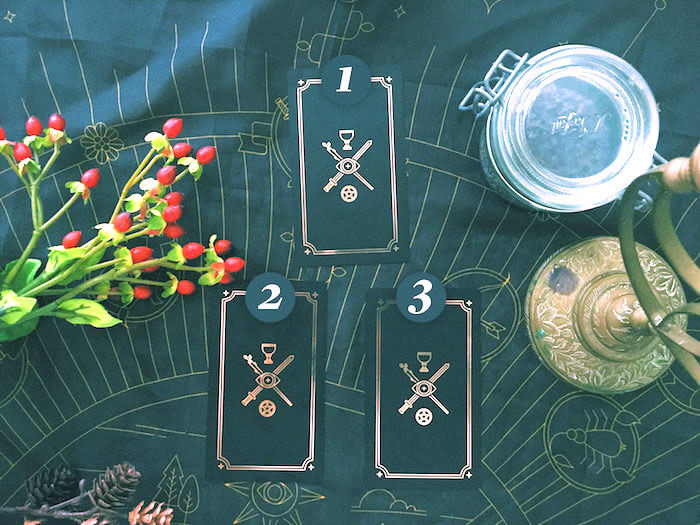 Tina Gong is a self-taught illustrator, developer, and designer of both physical and digital things. She is also the creator of Labyrinthos Academy, an online tarot school taught by monsters and mythical creatures, as well as Golden Thread Tarot and Luminous Spirit Tarot. She resides in Bushwick, and in her own bizarre imagination, with her partner and several sassy stuffed alpacas.