The Full Moon in Cancer is inviting us to feel our way home…as we simultaneously step into brave new world, says Hannah Ariel.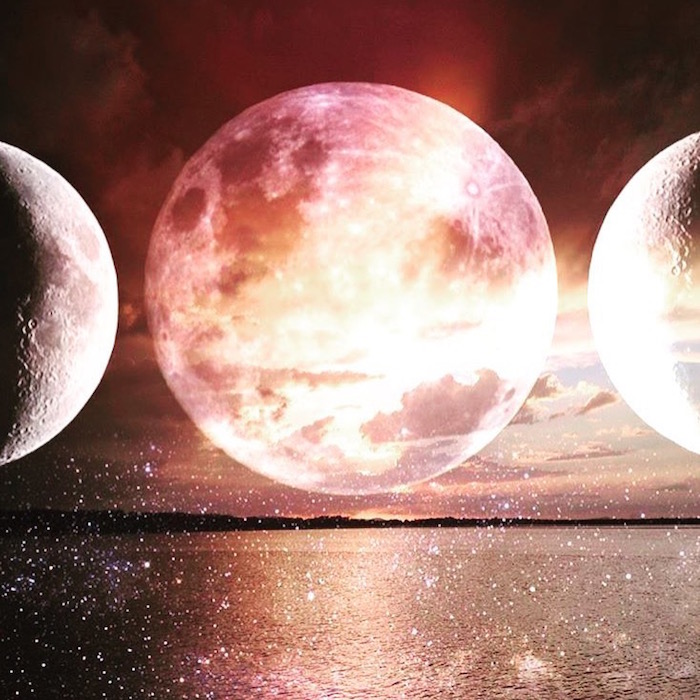 "Like great works, deep feelings always mean more than they are conscious of saying. Great feelings take with them their own Universe, splendid or abject, they light up with their passion an exclusive world." – Albert Camus
If you feel like you're having an existential crisis – hang on a minute. If you feel like you're feeling too much to put into words, that's okay, be still inside and keep quiet for a while. If you feel like you are bursting at the seams to say something – maybe it's time to say it!
And if you feel like you are opening up to feelings you've never felt before – say hello to a Full Moon in Cancer that began as a New Moon in Sagittarius. (And if you feel nothing, make sure you aren't somewhere hiding in a corner, in total denial of what's happening in your life right now!)
Astrologically, December has been a month of shifting our long-standing perceptions as a result of more expansive experiences in our lives; experiences that have re-defined our purpose here on Earth; experiences that shook us right off the branch we were clinging to for dear life; experiences that have left us here, now, with an opportunity to become more emotionally rooted in what is TRUE for us personally.
Just think for a moment – the constellation of Cancer is ruled by the Moon, which rules over how we experience our greatest, biggest FEELINGS, our deepest subconscious habituations. It is where we find our sense of belonging, our ability to be receptive, and our ability to establish a connection with our sensitivity.
Essentially the Moon is HOME, and in its full creative potential in Cancer – so even if it feels like you can't recognize the territory this Sagittarius New Moon carved out for you, call on this energy now. It is time to let go of whatever is keeping you from feeling at home within your own life.
For a Full Moon in Cancer is pure maternal energy. This Full Moon is here to nurture our future development, by feeding us just what we need. Like the tide, she guides us with a subtle body of heavenly energy, helping us know how to act, when to re-act, and when to go with the flow with life.
Allow this to be a sweet and deep and personal experience, that may begin with a welling up of sentiments. Sentiments, perhaps, that you need to let go of. This may involve tears. It may involve laughter. It may involve silence. Whatever this Full Moon in Cancer brings forth in you as she rises to her full expression, feel the protective flow of energy the Universe is offering, and just a few days after Winter Solstice.
The Solstice is the exact moment where the Northern Hemisphere is tilted farthest from the Sun. It is the longest night of the year, and without awareness, it can potentially be a time where we feel as if we've lost our "truth north," or guiding light. As the Earth turns now, we're being pulled to a place where only karmic memory can remind us of our next move.
The Full Moon in Cancer IS karma. Its light is a reflection of the Sun in Capricorn, on its way to its annual death/rebirth date with Pluto in the same sign. We are being asked to let go of the old and birth something new. It is within this alchemy that destiny will do its best work. Feel this. Find whatever it is that brings a strong sense of being peacefully in the right place, at the right time, within yourself, ready to nurture your future.
No matter what kind of Sagittarian adventure you've been on the past two weeks, it's time to come home to yourself and your inner journey, and experience true emotional re-calibration. Sure, we've had our eyes opened to fresh new visions. But how can we move into these realities without connecting to the reality of our… FEELINGS?
How can you be upfront with yourself when asked the question: "How does what I am currently experiencing make me feel?" Does the answer to this question serve your future? And how can you answer without grasping for the same old familial patterns you're accustomed to leaning on for emotional stability?
It could be all too easy for this Full Moon in Cancer to trigger old habits, old instincts, and old patterns that used to make us feel safe and "at home," especially at a time of year steeped in family traditions.
Perhaps Christmas always sees you revisit certain family members, and the accompanying emotional patterns – but whatever tradition you find yourself carrying on, know that astrologically it's a brilliant time to experience yourself ANEW.
Tap into the energy of the Winter Solstice for this, and know that you are supported as you go further into exploring a new spiritual identity, shining like a beacon in the dark. Know that this is about feeling your way into a new reality. The Sun has just passed through the "galactic center" of the Universe – literally – a time in space that offers the opportunity to go way further into your cosmic self. So allow yourself to be re-wired. What if the Universe promised you that on this day, this year, you have the power to create a new tradition? A new space to experience yourself. Then what would you feel?
On December 25th, 2015, how about cozying up to a new enlightened idea of what makes you feel alive. The light you have longed to kindle all year is ready to be ignited now, ESPECIALLY as Uranus, retrograde since July 26, goes direct in Aries. When Uranus is retrograde we may doubt sudden new potentials as they present themselves. When Uranus goes direct, we are booted out of the status quo in order to re-boot something important about ourselves.
So acknowledge where you're experiencing twists and turns in your destiny, FEEL how it makes you feel, upgrade to the new reality, and acclimate. Although you may feel like you've been supercharged with something otherworldly, unrecognizable, unacceptable, and out of bounds, this Full Moon in Cancer is not meant to shock so much as it is here to bring you to where you belong.
SURPRISE; this is how you now feel "at home." SURPRISE; this is where you're supposed to be in your life. Whatever you uncover, maybe you're most surprised to find you've had it in you all along – what you need to move forward, and this ability to feel your way into the future. So be receptive to what has suddenly become true for you, and feel its existence with your whole heart.
For a personal reading with Hannah Ariel contact [email protected]