Buckle up, divination divas. As we prepare to take on the dark side of the year, let these tarot cards for October 2017 help you face your fears and break on through, says Melinda Lee Holm.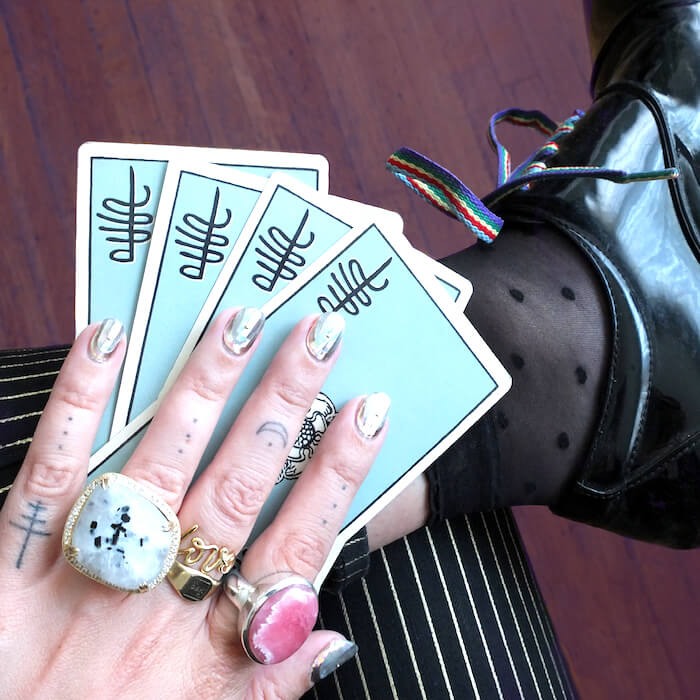 As Fall brings a shift in the light, we are crossing through the veil into the collective and individual subconscious for some major breakthroughs.
October offers the opportunity to treat the dive into the dark side like a gift, as we expand our understanding, birth our passion projects, face our deepest fears, and learn to be better partners.
The energy this month is tailor-made to get you out of your comfort zone and into the fast lane. Buckle up!
>>>
:: 10/9 Indigenous People's —9 of Pentacles :: 
Many cities across the U.S. have transformed what was formerly Columbus Day into Indigenous People's Day, and this shift is the result of decades of work to raise awareness of and appreciation for the history and experience of the indigenous people in the land we now call home.
The 9 of Pentacles helps deepen our awareness of this experience. This card represents an accomplishment in the Earthly world, a recognition of the fruits of our labor, and an understanding of how we have been transformed by our experiences. But with this knowledge comes an awareness that what we have learned demands that we learn even more. We are driven to push ahead towards an ever more profound understanding of our world and ourselves.
Calling in the 9 of Pentacles: 
Use tea tree oil on your body or in your home – it clears confusion, in addition to being a great antiseptic
Read a work of non-fiction
Dress foods with mustard – mustard seed promotes the courage and perseverance needed to learn and integrate challenging information
Keep African violets in your home to attract grounded wisdom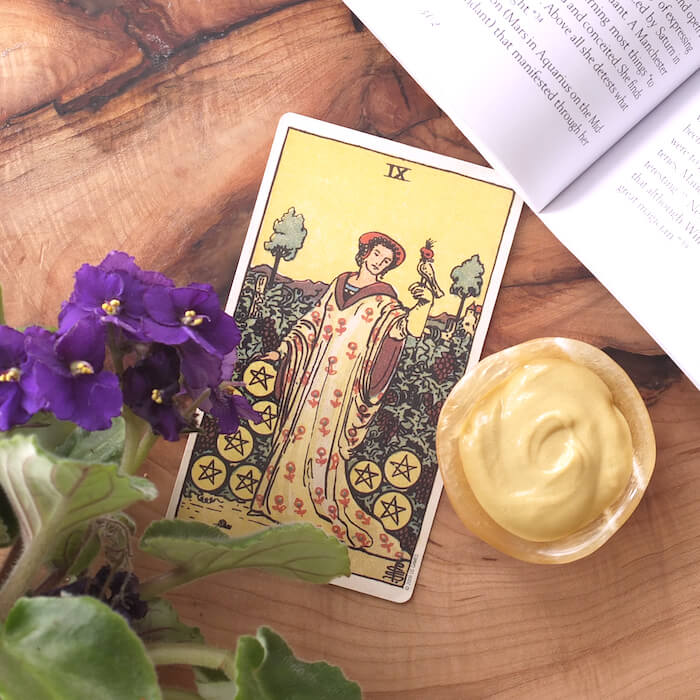 >>>
:: 10/10 Jupiter Enters Scorpio—Queen of Cups :: 
As Jupiter begins its transit through Scorpio, we're in for 13 months of majorly deep dives into the desires we wish to expand. This is BIG DEAL energy for pushing hard to get passion projects up and running. The trick is, with the potential sting of Scorpio's tail, we have to be sure that what we pursue is truly in alignment with our hearts.
The Queen of Cups has a masterful devotion to her passion. She knows her emotional self completely and is comfortable with all aspects of her emotional field. This makes her able to skillfully identify what is in perfect alignment with her heart and leaves her free to dive completely into that project and care for it as she would a child.
Choose wisely and give of yourself completely. This is a potent time.
Calling in the Queen of Cups: 
Drink linden tea to fearlessly open the heart and follow its lead
Wear or carry Ruby to inspire passionate devotion to a goal or project
Eat legumes – plant the seeds of success in yourself via proverbial "magic beans"
Dress with intention – as the saying goes, fake it til you make it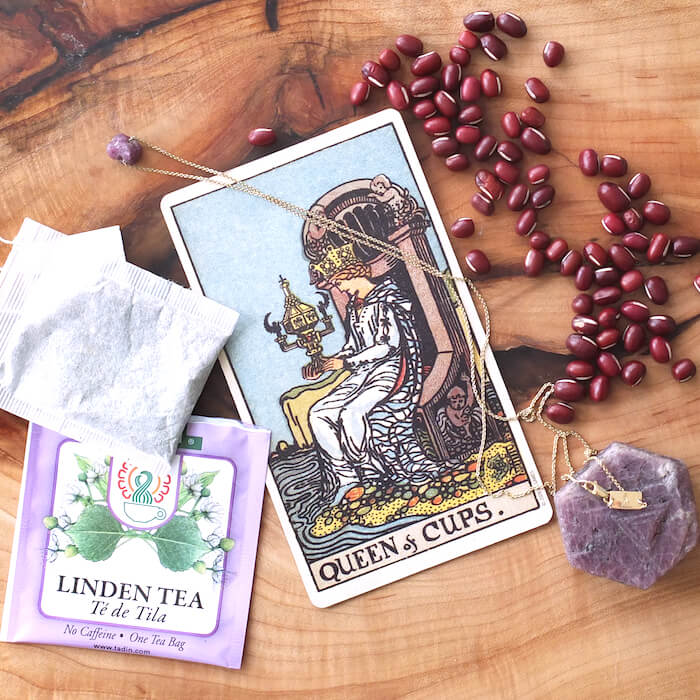 >>>
:: 10/13 Friday the 13th—The Moon :: 
Getting a Friday the 13th in October is truly a gift for fans of the spooky and macabre. Long considered an unlucky day in the U.S., it is embraced and celebrated by those with a flair for the dark side. Today, take a cue from the goths and learn to love what scares you.
The Moon card is a great ally for stepping out of the day to day and into the murky darkness of the subconscious. This card is all about major growth through facing fears, and trusting our intuition and instincts to lead us safely through the wild unknown. It's time to be brave and embrace the monster in the closet once and for all.
Calling in The Moon: 
Cook with Cumin to exorcise any superstitions holding you back
Watch a scary movie
Eat pomegranate seeds – they were Persephone's key to thriving in the Underworld
Wear or carry Moonstone
>>>
:: 10/22 Mars Enters Libra—8 of Swords :: 
Mars, planet of action, drive, and desire, enters the sign of partnership on the 22nd and stays until December 9th, putting a focus on harmony in all our relations with others. But with Mars' fierce determination, there is a danger of becoming so fixated on harmony that we're willing to bend the truth to get it. 
Avoid sacrificing clarity for comfort with the 8 of Swords. This card brings a lesson in cutting out the chatter and getting grounded in what truly matters. This chatter can come from the opinions of others, societal norms, and internalized rules about how we should or should not think, feel, and behave. Get grounded, get clear, and be true to yourself in order to keep your relationships strong.
Calling in the 8 of Swords: 
Wear or carry Fluorite to maintain clarity in your intentions
Season food or drinks with lime juice – lime promotes fidelity and peace
Write 'morning pages' daily (3 handwritten stream-of-consciousness pages) to clear the internal chatter before you start your days
Burn myrrh resin or incense to create a peaceful atmosphere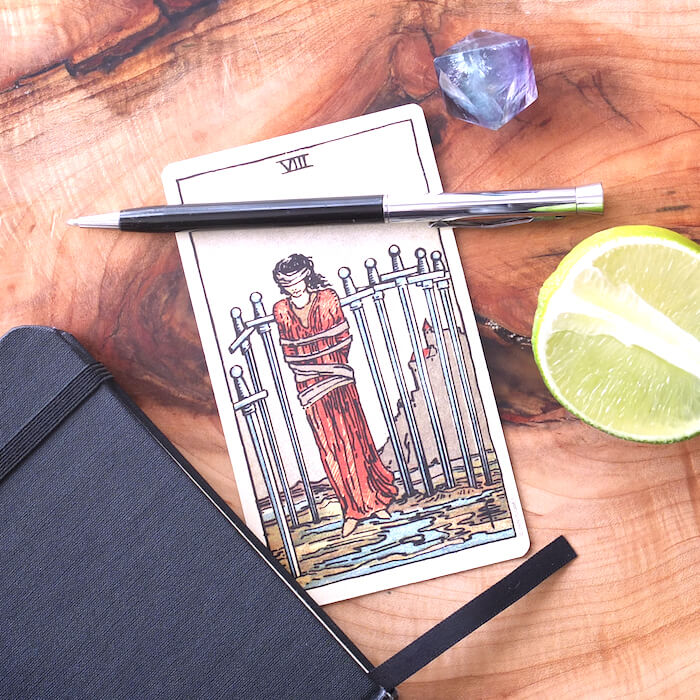 Want more tarot magic? Book a session with Melinda here, and make sure to follow her on Instagram and Facebook.