Use your imagination and go with the flow of the Universe – it is a Pisces New Moon, after all, says Hannah Ariel.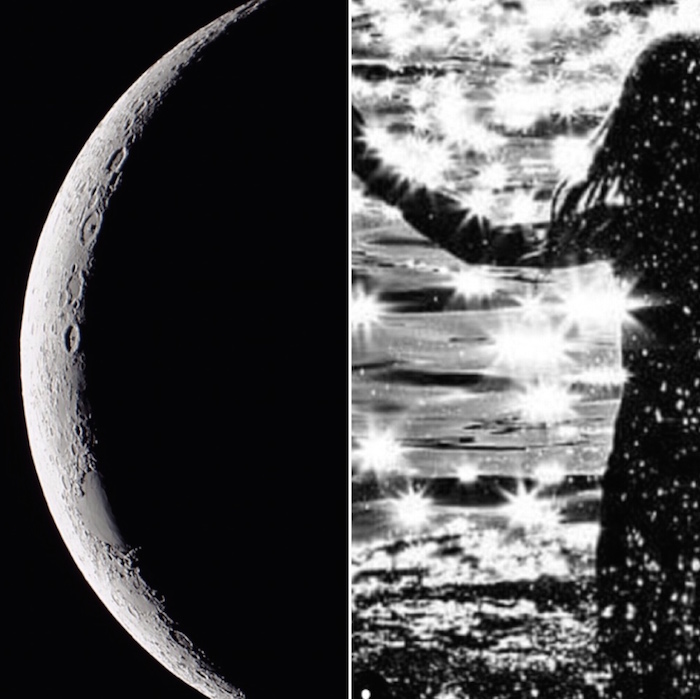 "You must conceive of possibilities beyond your present state if you are to be able to find the capacity to reach toward them" – Idries Shah
The Pisces New Moon of March 8 is not simply opening a door for our intentions – it will be a New Moon Solar Eclipse; a powerful moment of accelerated evolution. This one lands us in the deep deep sea of 19 degrees Pisces, just a few degrees away from the South Node at 21 degrees, also in Pisces. In Astrology, Eclipses always take place near the nodes of the moon – the elliptical plane where past and future storylines collide.
During a South Node Solar Eclipse, the moon meets up with the south node and experiences its lunar energy in reception to solar energy. From planet Earth, we experience this exchange as a powerful portal that transcends linear time, and orbits us right into our future potential – the story we long to step into.
A Solar eclipse is a magnificent and mysterious phenomenon that opens our psyche to a whole new paradigm. A solar eclipse in Pisces? This is an act of redemption.
Pisces is represented by two fish ever moving between worlds in an infinite conception of possibility. Yes, they go with the flow; yes, they fluidly embrace wherever the tide may take them. But the energy of Pisces can bring forth huge waves of creative potential from the depths of our unconscious experience.
Pisces season is always a time to take notice of what wordlessly surfaces from within you. What waves of consciousness are crashing now? What reality have you been subconsciously merged with for so long that you are finally swimming out of it? How are you becoming more aware of your own intuitive understanding of your life story, as if for the first time in ages?
Pisces is a compassionate ocean of deep revelation, and it is only by diving deep into its mysteries that we can know our own instinctual capacity to fully get in touch with the parts of us we long to know better.
During this Pisces New Moon Eclipse, we are karmically being called forth to release and work with what has been building up inside our psyche for goodness knows how long. It's a portal for stepping boldly into the immensity of our imaginations; to see through the stories of the past that no longer feel right; to reflect, and then recreate our vision for the next six months. There will be a peculiar mysticism to the way this unfolds though, as Pisces ruling planet is Neptune.
It is Neptune's job to reveal the reality behind the reality; it is dissolution; it is our own subjective processing of our experiences that is veiled even to ourselves. It is the experience we don't realize we are experiencing until the curtain drops. For the next six months, life will have funny ways of revealing the waves we've been subconsciously riding, and how they are actually bringing us to where we need to be.
Jupiter, still in Virgo, will be opposite this moon reminding us that everything is manageable. We expand by taking things one day, one step at a time. The shadow side of Jupiter though can be blowing things out of proportion, so take care to cultivate compassion as you are finding your way. This is not the time to fall victim to circumstance or judge yourself or others for what they believe.
This IS a time to trust that there is a positive and practical way for you to take your experiences, and roll with their teachings in a way that makes sense to you. It may also be a time where we are tempted to self-sabotage – as the South Node can sometimes find us falling into old patterns. In Pisces, this would be old patterns of escaping reality – opposed to working with the deep swells of energy that are being subjectively experienced
Also on the south side of things, is Chiron. Astrologically, Chiron points to where we may feel like we don't know what we're doing. It is how we misjudge ourselves, believing we are in some way wounded – that we don't have what it takes, or we don't have "enough" in some areas of our lives. We believe – and fall victim to this belief – that we are at a disadvantage somehow.
In Pisces, this may lead us to feel that we are disconnected from the path of our spirit, due to a mistaken belief we are in the wrong place at the wrong time. The greatest shadow of this energy is thinking that we have no true purpose, are forever lost in an abyss of puzzling storylines we just can't make sense of. So if you feel like you are just slipping through a foggy unreality, hold on!
For Chiron also shows us how we can effectively work to heal ourselves and others – by directly engaging with the very thing that we're afraid will fail us in some way. So the more we work with what's coming up, the more we take that positive and practical Jupiter energy and apply it, we have an opportunity to heal our lives beyond recognition. The reality of this Pisces New Moon Solar Eclipse is that we have so much divine experience, having swum through these waters for lifetimes, that we have all the information we need to imagine a way through.
And this Pisces New Moon Eclipse is just the beginning of learning how to use it. So, allow yourself to step into what is coming up at this time in your life, no matter how foreign it feels, no matter how confused you think you are – and use your imagination. Let go of your fear, and like a fish kept safe in water, feel your way into a future storyline with a deep rolling wave of universal trust. Step into this beginning with the sense that everything is unfolding with perfect timing.
To book a personal reading with Hannah contact: [email protected]