The 2018 Aries New Moon wants you to set your intentions, spark the match, and take a calculated leap into a brand new way of being, says Sandy Sitron …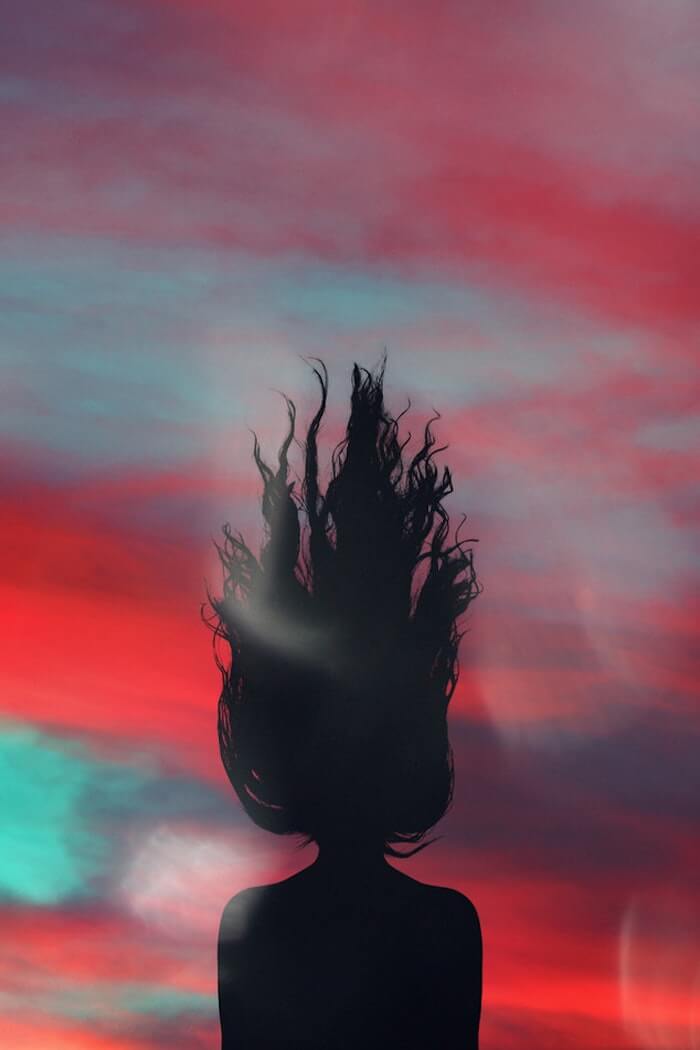 New Moon :: April 15 2018 :: 9:57pm EST :: 26 degrees Aries
You stand on the edge of a diving board. In the action of jumping, two things happen: you leave behind the position that you knew, and you start developing a new arc.
Before you jump it helps to know your intention and direction. Where do you want to go? How do you want to act? Who are you becoming?
Aries is the first sign of the zodiac. This is the birth, the awakening. The sparked match that starts a bonfire. Warm yourself in the toasty flames of your brilliant visions.
The past weeks have been combative. Can you orient yourself toward inspiration instead? Plant seeds around the actions you'll take, the creations you'll make, and the new ways that you'll put yourself out there. Conceive your new beginnings. 
At the time of this New Moon, Mercury stations direct. Let your jump unfold slowly. There will be action, but it needs to uncoil from within you. It can't be forced or rushed. Feel into the energy of the leap.
The chart of this New Moon has no air and very little water. It's a dry burn of earth and fire. Balance it through conversation, learning new things, journalling, and letting your feelings flow. Get your ideas and emotions moving. Take care to set intentions that are aligned with your soul and make room for surprises.
When you jump off the diving board, you are leaving solid ground behind. With this Moon squaring Pluto, you're being asked to let old ways of being fall away. By trusting in the energy of regeneration, you will create more spaciousness and ease for yourself. If you notice yourself getting grippy or controlling, step back slowly. Turn toward enthusiasm and spontaneity instead.
As the Sun and Moon in Aries meet the Great Awakener, Uranus, you will shake things up. You will break free of old patterns. There will be innovation. Changes are triggered on all levels. Be alert to what is being jostled inside of you.
You're getting ready to leap. And if you open yourself up to a new way of doing things, the jump might be fun … 
>>>
New Moon conjunct Uranus
A Unicorn's horn.
Maybe the horn points to something you need to see. Raise your gaze, lift up your heart and mind. With an attitude of hope and inspiration, you can shake something off this week. It might be something that's been hindering you for a long time.
Reevaluate your relationship with change. What's the cost of keeping things the same? And alternatively, how are you benefitting by keeping things the same? Answering questions like these will raise your awareness about why you've been stuck. Now you're ready to break into a higher level of consciousness and open up to a new way that may have once seemed like a fairy tale.
>>>
New Moon square Pluto
The jungle swallows up an abandoned shopping mall.
Trust in the next stage of the process. Let yourself go along with it. Once you turn your mind toward "allowing" the phase progresses and very soon, new information arrives. Allowing does not mean inaction. It means accepting what is so that you can gather better information about how to direct your life force. Watch, learn, allow, release, and tone yourself for aligned action.
Want more wisdom? Check out Sandy's 6-week SATURN RETURN WORKSHOP and book a 1-2-1 reading with her here.
>>>
The study questions below are to help you get deeper into what the 2018 Aries New Moon means for you. Use them as journal prompts. For the most accurate reading, look to which house holds 26 degrees Aries in your chart and use the question for that house.
New to your birth chart? Calculate your chart for free HERE
Aries or New Moon in the 1st house
How will you ignite your confidence?
Taurus or New Moon in the 12th house
What needs to be resolved?
Gemini or New Moon in the 11th house
How can you reconnect with your friends?
Cancer or New Moon in the 10th house
When you will you believe that you are successful?
Leo or New Moon in the 9th house
How can you feel more free right now?
Virgo or New Moon in the 8th house
What do you need to see that you're not seeing?
Libra or New Moon in the 7th house
When will you stand up for your need for balance?
Scorpio or New Moon in the 6th house
What is your body trying to tell you?
Sagittarius or New Moon in the 5th house
How do you prioritize fun?
Capricorn or New Moon in the 4th house
How can you take care of your inner child today?
Aquarius or New Moon in the 3rd house
What are you most curious about now?
Pisces or New Moon in the 2nd house
What intentions will you craft regarding your relationship to money?
Want more wisdom? Check out Sandy's 6-week SATURN RETURN WORKSHOP and book a 1-2-1 reading with her here.