The 2018 Aquarius New Moon Solar Eclipse asks us to pause, inhale, and get ready for spectacularly surprising change, says Sandra Sitron …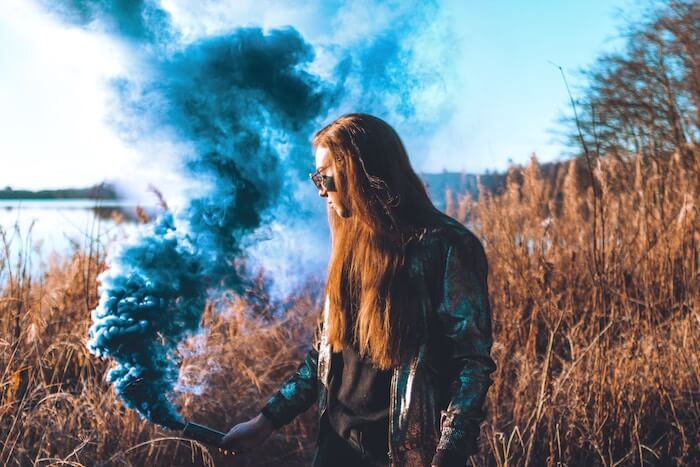 New Moon :: February 15 2017 :: 4:06 pm EST :: 27 degrees Aquarius
This Moon is like an inhale. It says breathe in deep. Hold your breath. And wait .. 
Aquarius is the innovator. The awakener. Aquarius helps us break down conventions and traditions so that we can find a better way of being. This energy is erratic and spectacular, like a breath of fresh air and a dazzling surprise. There is a pause that happens in the moment of surprise. A sharp inhale followed by speechlessness.
Eclipse energy is like that pause. At this New Moon Solar Eclipse, the Sun's constant light is blocked. It's like the engine cuts out for a moment before it must be restarted. When you restart the engine, you have to wait to let it rev up.
With this Moon conjunct Mercury, the pause brings clarity and you could stumble upon a brilliant idea for a new direction. The clarity might take a couple of days to fully form, but the seed is planted.
It can be very uncomfortable to wait. Use this moment of pause to circle back and remember the issues that came up August 21 2017, at the Leo Solar Eclipse. Ca you see a link to your current situation? Don't fight it. Allow it. Let yourself be exactly where you are. Two forces are colliding here. The force of change and the force of patience. Let this shift bloom within you without needing it to be more defined than it is.
Use this time to explore your relationship to change. As the Moon locks into an aspect of creative tension with optimistic Jupiter, ask yourself: how would you like to feel instead? If you can get one step ahead of yourself and visualize a new way of life, your chance of catching that lucky high Jupiter vibration is magnified.
And then lean into the unknown. Lean into the darkness. A brilliant seed of an idea might just be there hoping to meet you.
Wait inside the inhale. The exhale is coming … 
Want rituals + guidance + spiritual teachings to help you sync with the new lunar cycle? Check out our 16-page Moon Magazine: A Monthly Ritual Guide HERE!
>>>
New Moon sextile Uranus
Bird of paradise flower.
Life can take surprising forms. How can you unfold into a more creative and innovative version of yourself? Free yourself from convention and become vibrant. This aspect reminds us that change is supported. Innovative ideas may come barreling through at this time. Your desire for true freedom may be higher. Love yourself for your uniqueness. Commune with a group of like-minded people who can help you feel like your true self. Looking for a new community? Our Moon Club group could be for you!
>>>
New Moon conjunct Mercury
Bowling a strike.
Clarity is coming. Your priority at this time is to lean toward logic. Make decisions that are objective if possible. See the situation for what it actually is. Cut through to the truth.
There is a lot to learn at this time. Embrace your curiosity. You must continue to develop your mind, breaking down old beliefs and embracing new ones.
>>>
New Moon square Jupiter
Chewing gum and blowing a bubble.
There is room for expansion here. The key is to not let the bubble break. With erratic energy coming through right now, the tendency is to be impatient. That's the moment that the bubble pops. If you choose to go this route by making the snap decision, it will probably all work out fine in the end.
But there is another option which involves more patience. See if you can lean into the expansion without blowing it all up. Savor the moment of intensity while you gather more information about the situation. You can always make your decisions later.
>>>
The study questions below are to help you get deeper into what the 2018 Aquarius New Moon Solar Eclipse means for you. Use them as journal prompts. For the most accurate reading, look to which house holds 27 degrees Aquarius in your chart and use the question for that house.
New to your birth chart? Calculate your chart for free HERE.
Aries or Solar Eclipse in the 11th house
How can you reach more people with your message?
Taurus or Solar Eclipse in the 10th house
What are your most ambitious career goals? What do you want to be famous for?
Gemini or Solar Eclipse in the 9th house 
What teachers inspire you? How can you learn even more from their wisdom?
Cancer or Solar Eclipse in the 8th house
Who are you ready to "get into bed with"—figuratively and literally?
Leo or Solar Eclipse in the 7th house
How can you make more room for partnership? What are you ready to share?
Virgo or Solar Eclipse in the 6th house 
What healthy habits to you intend to begin? How will this support your mission?
Libra or Solar Eclipse in the 5th house 
What is your plan for having more fun? What does fun even look like to you?
Scorpio or Solar Eclipse in the 4th house
How can you be more vulnerable and open with family and loved ones?
Sagittarius or Solar Eclipse in the 3rd house 
What are you being called to get curious about?
Capricorn or Solar Eclipse in the 2nd house 
Which of your talents is bringing the most abundance your way?
Aquarius or Solar Eclipse in the 1st house 
What lights you up from the inside out?
Pisces or Solar Eclipse in the 12th house 
How can you build up your energetic reserves?
Want more wisdom? Book a reading with Sandy here.