With the Sun in Virgo it's also the perfect time to shine a light on your Virgo moon sign, says Ash Baker. Image: Prince Lauder via Behance.net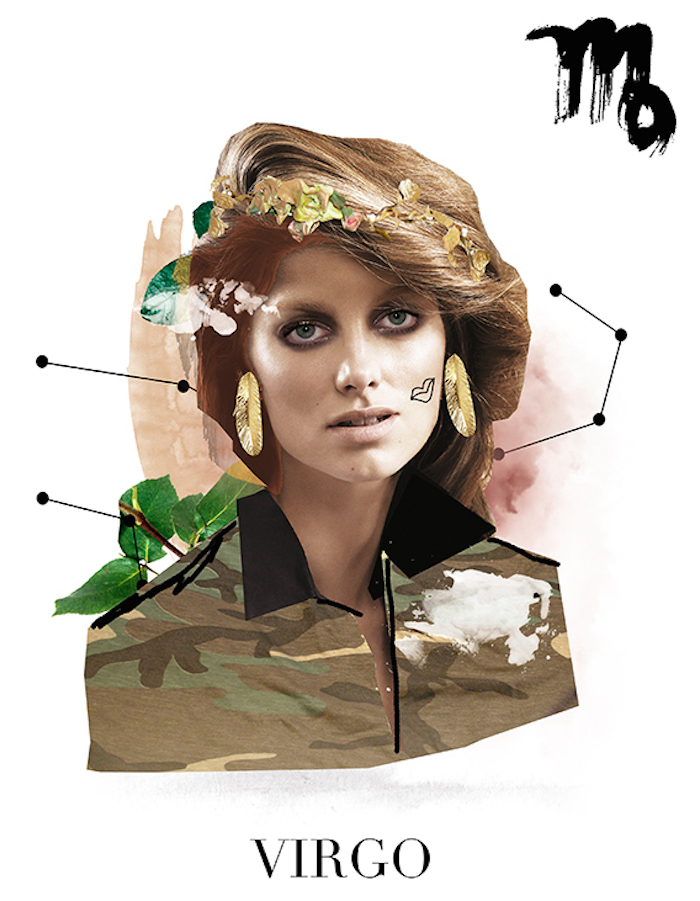 If your Sun sign describes your vitality and speaks to the way you operate day-to-day, your Moon sign is your reactionary pulse. Her phases push and pull at us like the ocean's tides. Your Moon represents how you vibe the most authentically in the world, without time to apply logical thought or judgement. If the Sun thinks about himself, and the Moon feels herself.
You can find out your Moon sign when you do your chart for free here. And do one for your friends' while you're there!
So now let's discuss what what form the Virgo moon sign takes in its fullest expression.
Being proactive is the gold standard for this spirit. People with the Sun in Virgo tend to be very organized, but with a Virgo Moon sign, being able to control (to a reasonable degree) the external chaos is key to your health and wellbeing. If your internal desire to control a particular area of your life (that area all depends on which house your Virgo Moon sign falls in) is thwarted, you will literally feel as if your whole world is out of balance.
The Virgo Moon sign is a humble creature. She wants to be seen as skilled and gifted and has a strong, deeply rooted desire to help others. Virgo is the sign of the craftsman, so to have your Moon here means you have an emotional pull towards the kind of perfectionism that is built on day-by-day effort. I always picture the worker bee when I think of the Virgo Moon sign. With each passing day she is crafting something amazing that can be of service to the world, no matter how small that contribution may actually be. Goal-oriented repetition resulting in measurable success makes your soul sign.
Virgo is ruled by logic and analytical thought. Yet the Moon is all about feeling, so bridging the gap between the heart and mind is something the Virgo Moon sign will always be working on. They will want help the ones they love tackle their problems in a practical way. Remember, this Moon nurtures by helping others heal through logic.
Hyper aware of their own flaws, they sometimes project that critical tone onto others through a simple desire to help. This may not be the best approach, so remember that constantly critiquing yourself and the people around you isn't exactly healthy. There is a time for discernment, and there is a time for pure acceptance.
The Virgo Moon sign feels their best around authentic people who accept their flaws, because underneath they are hugely self-critical too. Their Moon cracks the whip to keep improving daily. Not only are they a worker bee for others, but that drive gets reflected a la luna back onto themselves – the feeling that they must always be working on the best version of themselves.
This can make a Virgo Moon sign your own worst enemy. Use your natural gift of hyper-awareness to improve, but don't let it run your life to the point of feeling stifled. Your Moon has very specific gifts to offer the world when you allow intuition to get a look in!
Some ideas to put into action to assist your Virgo Moon sign tendencies.
WRITE. Making lists is an easy way to feel like you're in control of your life. That creeping fear you may forget something and, heaven forbid, look like you made a mistake will be put to rest. Your Moon can relax while still feeling on top of her game. Also, when feeling cranky just write it all out. Virgo is ruled by Mercury, the sign of communication, and is symbolized by our hands. So when emotions are overflowing, get out your pen and paper to purge what's assailing your heart.
CREATE. Use your hands, and take a class in something that will require lots of skill. Your Moon will be put at ease by having a detailed task to perform. Your natural perfectionist tendencies will love to learn an instrument, or create photo-real pieces of art. Having a creative outlet that gives you the opportunity for others to praise you will also make your spirit sing. Cooking could be another option, because you get to work at it till it's just right while also bringing happiness to others. Providing a delicious meal for the people you love is a win-win.
GET PHYSICAL. Virgo sign rules physical health and wellbeing, so your Moon needs to feel healthy to be happy. Whether it's lifting weights, seeking zen through yoga or hiking out in nature, you will be more balanced once you some regular exercise to your routine. Speaking of routines, that need to control the chaos will also balanced by exercise. The Virgo Sun likes to think, the Virgo Moon wants to feel, and movement is super helpful to address this duality. Getting out of your head and into your body gives you the opportunity to just feel.
In summary, Virgo Moons make for great listeners, loyal friends and practical partners. Just keep the critical self-talk and need for control in check and all will be copacetic.
How have you learned to work with your Virgo Moon sign? Connect with us and share on Instagram, Facebook and Twitter!