Forget the battery operated vibrator, and pick up a high-vibe, soul-opening crystal sex toy from Chakrubs. Founder Vanessa Cuccia shares her story with Gabriela Herstik.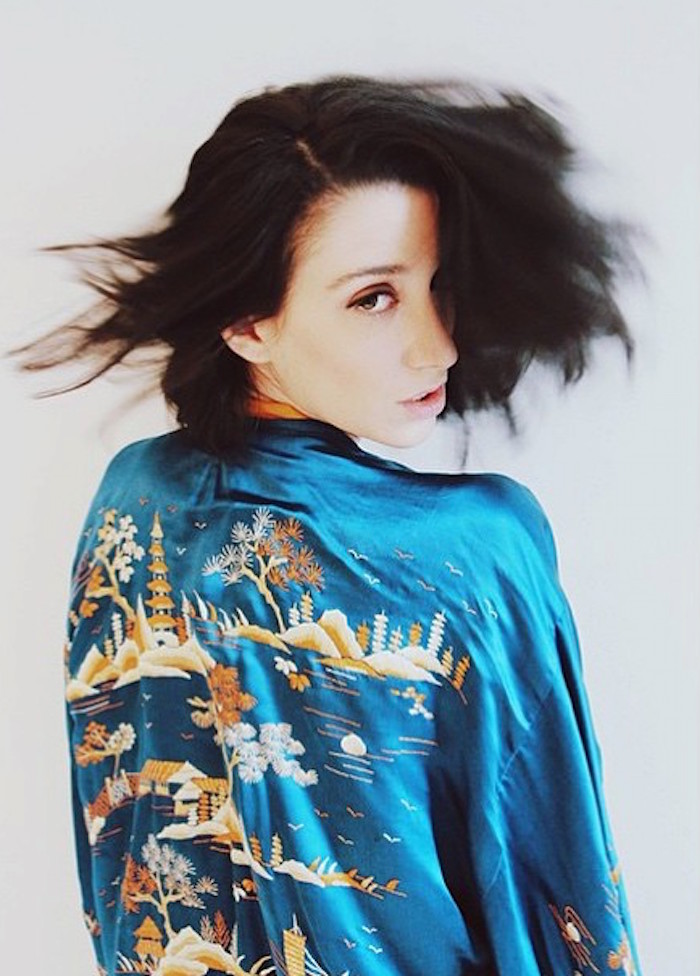 Yes, Chakrubs are exactly what they sound like, and these high vibe crystal sex dildos are here to shake things up! Vanessa Cuccia, the #girlboss behind Chakrubs, is on a mission to promote self-love, acceptance and a whole lot of awareness with some super sensual playtime. And with a background in sex toys and holistic medicine, Cuccia is the natural choice in enlightening the world, one crystal dildo at a time. By combining the healing properties of crystals with sexual energy, and then pairing that with some sexy intention setting, Chakrubs allow you to really root into your pleasure. So whether you're an amethyst kinda gal or you're more into onyx, you can get your sexy on while giving yourself some extra TLC – Numinous style.
The Numinous: The crystal dildo – something we would never have thought of but…are totally into. How did you some up with this concept? Why crystals?
Vanessa Cuccia: Really, the idea was the result of a culmination of experiences and desires I had experienced since a young age. About age four when my mother had a paranormal experience that opened up many conversations about energy, God, conspiracy, and spirits in my household. My father is also a doctor of the spine, an inventor of a non-surgical medical device called Extentrac to help heal and alleviate back pain, so I also had influence in the importance of homeopathic health.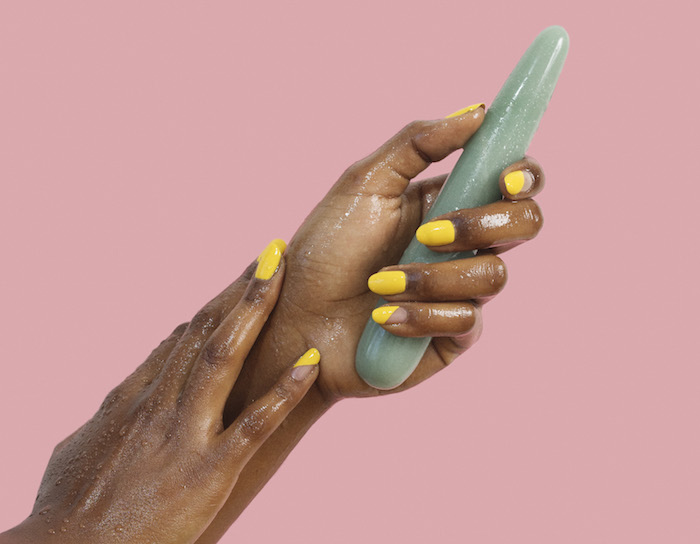 My views on sexuality also played a major role in coming up with the concept. I had held my virginity in high regard, but when I had sex for the first time, I wasn't ready. For many years, I struggled with feeling pleasure with another person. No sex toy on the market appealed to me, and yet I had a desire to explore my sexuality and remove shame around it. Crystals seemed like a natural and therapeutic option. Once I came up with the name and started telling people my idea, it was clear that this was something that was needed in the lives of many people, and the sex toy industry as a whole. The philosophy behind it being just as important as the product itself: self-love, self-awareness, and self-acceptance.
TN: How do the different stones used in each toy impact the experience?
VC: Different stones have been used for thousands of years for their various metaphysical properties, since each stone vibrates at a different frequency. One may be best for opening the heart chakra for love, one may be best to open the throat chakra for communication and creativity. We suggest to our customers setting an intention with whichever Chakrub they choose. This way, each time they have a "session" with one, they are reminded of the growth they wish to achieve, the pain the wish to release, or the things they wish to manifest.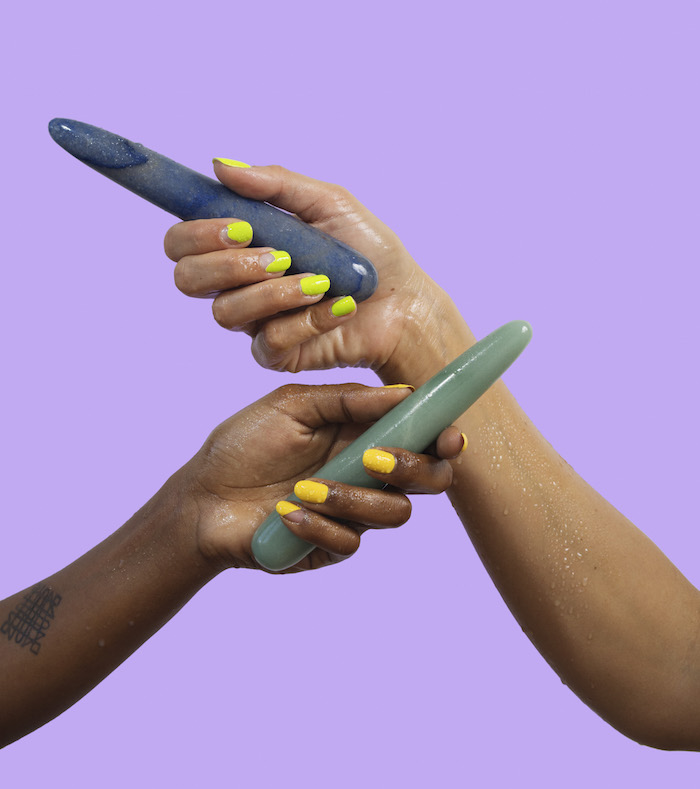 TN: Chakrubs merge two really beautiful energies: raw stones and sexual energy. How do they aid one another?
VC: Crystals have perfect molecular structures, providing a therapeutic vibration that we may benefit from just by being near them. Some of us are very sensitive to crystal energy. Some of us – not so much. For those who aren't so sensitive, they may first become acquainted with this energy by first feeling their own sexual energy – since arousal is an easy signal to us that energy is flowing. This can lead to the realization that energy is all around us, and helping us flow in whatever circumstance we are in – in turn, helping us navigate all areas of our lives. The energy of a crystal dildo will simply amplify sexual energy, and sexual energy will amplify crystal energy. This works through focused attention and awareness.
TN: Also, total fans of the wordplay in "Chakrubs." How does sacred playtime, with the aid of toys, help to balance the energy of the chakras?
VC: When we are truly rooted in our pleasure, comfortable and excited, our minds go into a state of meditation. It's a place free of anxiety. This allows for a clean and unblocked flow of energy, and that flow can become more intense when our intention is also to allow this to happen. The combination of sexual energy, intention and the energy from the Chakrub is powerful medicine for our chakra, endocrine, and nervous system.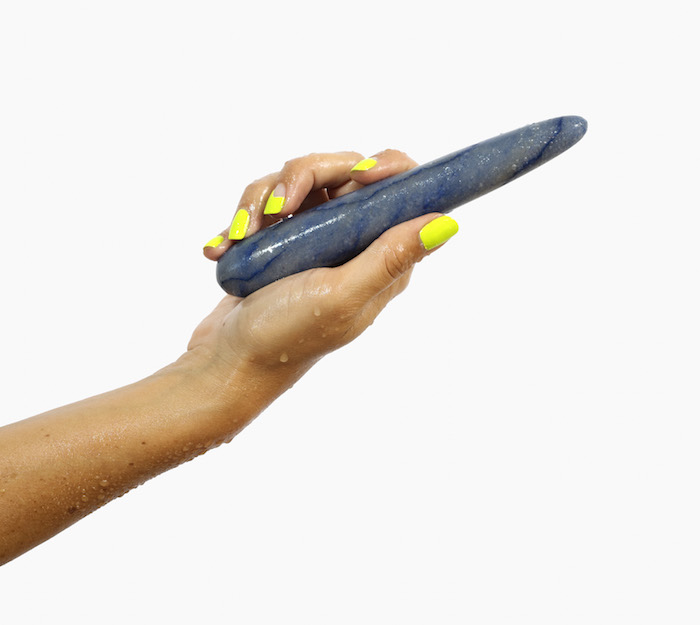 TN: One of the most beautiful parts of your mission is to encourage love, especially self-love and acceptance. How does using a crystal dildo facilitate more love, acceptance and awareness?
VC: The philosophy behind Chakrubs is self-love, self-awareness, and acceptance. As such, this mission is instilled in each of the products, and there to be connected with each time a person uses a Chakrub, and sexual arousal with the use of Chakrubs becomes a signal to remember and tap into the ideas of self-love, spiritual growth, and awareness.
TN: How do you think being aware and vocal about your needs, sexually and emotionally, can help spiritual growth?
VC: Spiritual growth IS self-awareness. It is understanding that everything that happens is happening as it needs to in order to facilitate growth. Removing fear and shame (or rather, not holding on to these feelings) from the part of ourselves that is meant to receive and give pleasure is a potent place to start on a spiritual path.
TN: What's your advice for someone who is hesitant to experiment and use a sex toy? What's the one thing you wish someone had told you?
VC: If someone is hesitant to use a sex toy, don't use a sex toy! However, if someone is hesitant to use a sex toy but still desires to use a sex toy – figure out what's scaring you, do your research, and explore! Work towards understanding who you are, and what you need to feel pleasure. This is really about learning to understand and speak of your flaws as points of empowerment. To honor your whole self and your desires.
Discover more at Chakrubs.com