Understand your Taurus Moon sign and maximize your self-care practice to be the best YOU, says Ash Bonelli. Artwork: Prince Lauder via Behance.net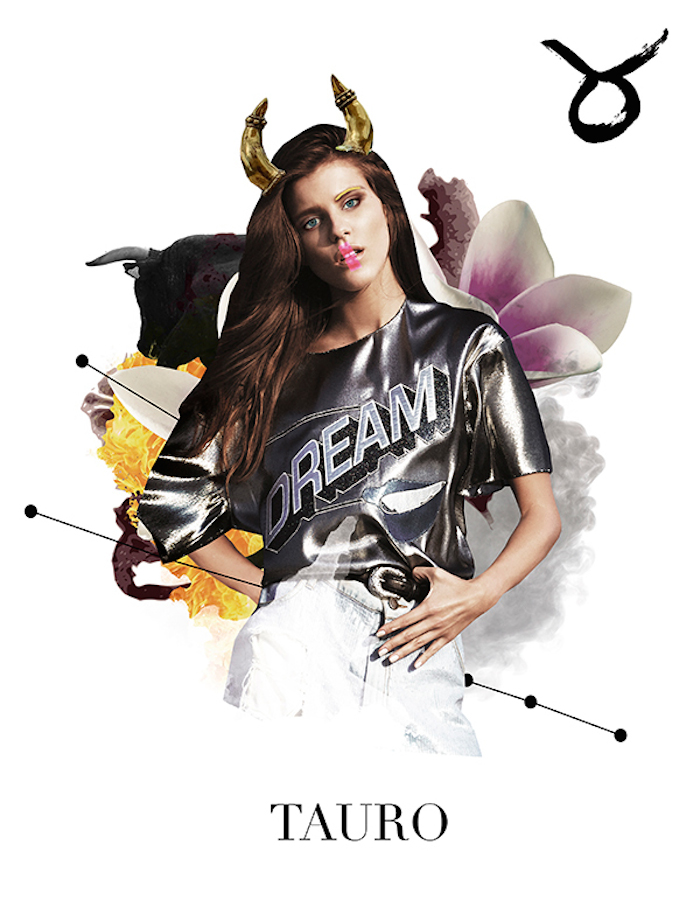 The Taurus Moon sign is the symbol of sensuality. The full embrace of our five senses. Our moon sign symbolizes our heart, our deepest needs, our ideal environment, as well as the things in life that make us feel secure, safe and loved. We feed our moon and our moon feeds us. Understanding this side of yourself can help you feel more balanced, stable and centered.
The moon is considered to be exalted in Taurus—meaning the moon loves this sign and can operate quite well here. She gets to express her desire for security through earthy realms that satisfy our more human needs. As such, if you have a Taurus Moon sign, you like to stop and smell the roses and have the ability to feel comforted by the simple joys of life.
Work out your moon sign, when you do you chart for free here.
The Taurus Moon sign also needs and seeks out stability in all areas of life. It can be quite unnerving to you if you find yourself in a whirlpool of whipping emotions. Even if it doesn't have to do with you in particular, just being around energy like that can take you off-kilter. You like to operate in a way that feels safe and comfortable.
You usually don't rush into emotional situations without careful thought or even planning. The Taurus Moon sign likes to see what organically develops and prefers to allow time and space for trust to blossom. If you find yourself being forced into a situation that you feel you are not ready for, then those around you should get ready for some serious stubborn responses. This moon will emotionally resist just to prove a point because moving too quickly can threaten the sensitive heart of a Taurus Moon sign.
This moon can also be prone to overindulgence for pleasure's sake or external soothing—such as emotional eating. A real love of healing touch, delicious tastes, and lovely landscapes are most certainly not a bad thing. It only gets unhealthy when you begin to use sensual pleasure as a band-aid. The Taurus Moon sign is stellar at finding pleasure in simply being human, but the real beauty is to enjoy it without getting totally lost in it.
:: CREATE INNER STABILITY ::
Accountability. Sudden change can be psychically toxic to this moon, so making your own plans and sticking to them helps keep your core more centered. Often not so simple in our fast-paced, always shifting world. Work on creating some habitual patterns with intent. For example, head to the market every Sunday to buy yourself fresh flowers for the week. You get the dependability of your routine and the sensual pleasure of the flowers themselves. Start an exercise regime that feels good to your body and stick to the goals you set. The more you can rely on yourself, the more your emotional body will open up to the vacillating currents of life.
:: CALM BEFORE THE STORM ::
Try this mini meditation when life does throw you some curveballs. The Taurus Moon sign doesn't enjoy change, since they work hard to develop stable systems that work for them. Yet we all know that life moves to its own beat. When you find yourself freaking out, take the time to stop and do some deep breathing. Then really ask yourself, "Is my immediate reaction equal to the outcome of the change in front of me?"
We live in such a high-stress society that our nervous systems are always in "go" mode, making us more susceptible to react rather than respond. And for the sweet and stable lunar Taurus it can be even more difficult. We first breathe to balance the body, and then we create open space to allow the inner dialogue to occur.
:: MANTRA ::
"I am collected regardless of external uncertainty."
:: SENSUAL BALANCE :: 
Seek out the pleasures in life without totally leaning on them for emotional stability. Ice-cream will eventually let you down. Sad, but true. Especially if you're one those people that beats yourself up after eating a whole tub. Our bodies are amazing machines, and deserve to be taken care of. If you find yourself returning too often to something that's not the most healthy option, take time to consider why. What are you trying to avoid, hide or ignore?
If you can't dig deep enough to scoop up the root consider exploring this with a therapist.  I've seen many clients with this moon placement who use food in particular as a form of comfort, yet secretly hate this about themselves. I've even seen the opposite occur, where the denial of pleasure becomes a form of stability. Either way, these are vicious cycles that are usually signals that some psyche work needs addressing. It's nothing to be ashamed of—everybody is going through something, and we are on this earth to help each other through it.
:: EARTHLY DELIGHTS :: 
This is a creative moon that needs to feel connected to its earthy roots. Think gardening, getting your hands dirty, and really feeling the earth. As well as working with pottery, clay, sculpture, mixed media, paper mache, etc, it's about creating something that feels good in your hands and takes time to master. Go for long walks outdoors, collect beautiful flowers that you can press later for safe keeping, or go to artistic events that inspire you.
:: MOVEMENT :: 
The Taurus Moon sign is what's called in astro language "fixed," which can be embodied by traits such as being stubborn, lethargic or possibly lazy. Keep in mind that Venus rules Taurus, and she really does enjoy lying about being fed grapes from time to time. With that said, the body needs a fair amount of movement. Try vinyasa yoga, ashtanga yoga or a barre class, all practices that work through repetitive motions, allowing for heat and stability to build. A double whammy for you too, because you get the consistency of a set routine while allowing for more expansion in your head and your heart.