Want to take self-love to the next level? Find out how to marry yourself with poet and activist Lisa Luxx's guide to pledging your solo spiritual commitment …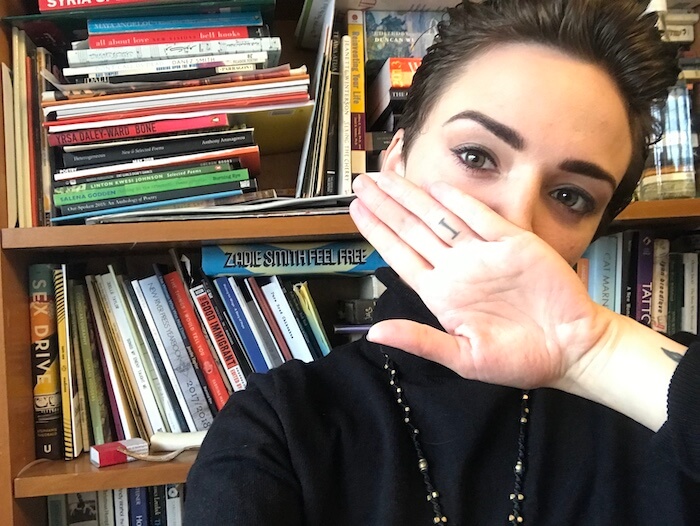 In 2016, I married myself. Legally taking the name of my higher self, I became Lisa Luxx, had the initial of selfhood tattooed on to my ring finger, 'I', and vowed to always come home to me.
It's been two years since then, a period of time that has burgeoned with political chaos, which continually leads us back to ourselves to question our position within the greater whole. So in 2018, I decided it was time to re-meet my commitment in ceremony, an act that I intend to re-visit every couple of years to steer the course of my affections for both myself and the wider world.
Here are my top tips on how you can hold your own marriage to your self, because 2019 just might be the year for that … 
///
1// Pick a date that's meaningful
When I initially planned to renew my vows it was due to be on the 7th of December. But I hadn't had my eyebrows done in time and I figured if I'm not going to start turning up for myself now, what chance does this marriage stand? It wound up being on the 21st, which has been my favourite number since I was a young child. An auspicious one, at that. Actually 7 is a number I always associate with my ex; now I'm sure my lazy beauty routine was actually divinity intervening.
///
2// Choose your witness/es
The idea to renew my vows in a ceremony came up during a therapy session. My therapist/life-facilitator is one of the few people who really speaks my language, so I asked her to be my sole human witness. However, I also had the four elements present to witness. I filled a very small corked jar with soil from my parents garden, placed two green candles on my Tata's old gold candlestick holders, took a homemade smudge stick to bring forth the air and lashing of local Yorkshire water. I sat the elements on a mirror in front of me as I read my vows.
///
3// Get yourself sexy
On the morning of my ceremony, I soaked myself in a rose water, almond oil, lavender, and sandalwood bath. Rubbed coconut oil into my warm skin. Danced with myself naked in front of the mirror before spritzing my fave Diptique perfume and slipping into my Dalmatian suit. Serve the best of yourself to you. Your beauty is for your pleasure first and foremost.
///
4// Write your vows in the mirror
My vows were a mix of everyday bona fide daily lifestyle choices, such as always putting my actual body before my mind's desires; 'I will not finish catching up with Whatsapp's or reading to the end of my page when the rumble comes, when the thirst coarsely reminds me of my physical needs.' And commitments for how I'll manage to make myself a better person in community; 'I'll actively practice unpicking and dissipating insecurities, as my duty to our world. So that I can see the world as it is, not as it could hurt me. So I don't hurt myself through my fear of being hurt. So I don't hurt others through fear of pain.'
While rehearsing my vows, I caught my reflection, laughed and said "hey, you're not supposed to be hearing these yet" – getting so used to spending time with my reflection until I reached a point of comfort where I could have fun with it was a melting point.
///
5// Say the vows in the mirror until it sinks in
Loving yourself in front of a witness won't always come easy. It will feel awkward at times and you'll be in head mode rather than heart mode. That is to say if you're like me you'll be feeling so self-conscious at times, you'll notice you're not embodying your words. To counter this I repeated a vow numerous times, looking directly into my own eyes in a mirror, until I felt what I was saying sink in. Take your time, speaking your promises to you until they become a physical sensation. The unexpected outcome of this is that now, whenever I'm feeling low or anxious, if I can find my reflection I can bring myself back to a place of loving comfort.
///
6// Find a charitable cause to support
I requested wedding gifts from friends and family in the form of donations to The Syria Campaign, an organisation that means a lot to me. Marrying yourself is not an insular act, it's about mobilizing yourself to be a better link in the chain of 'we.' A very overt way of setting that in motion from the get go is to encourage your friends and family to support your love for you and your simultaneous commitment to them all by making a donation to an NGO, delivering bags of shopping to a food bank, or volunteering at a local grassroots initiative for a day.
///
7// Prepare for pain
I'd love to say that since the ceremony I've been doing exactly as I promised in my vows and 'never forgetting how much I love to dance with you [me].' But no, it has been uncomfortable. I cast my mind back to that day and sometimes feel an urge to delete it all from my therapist's memory and mine; I feel shame, I feel pain. No good rebirth comes without a death. Let yourself feel that, let it exist within that day as much as the joy will.
In becoming the best of you, you are becoming a human complete; this is about owning your responsibility to the world through commitment to self-observation. See yourself without interfering. Don't cling on to the parts that are breaking off.
///
8// Consummate the ting
I have a practice that I like to call 'astro-masturbation,' whereby I make love to apparitions of myself. It can be me as I am, me with a better haircut, me in my trans dreams, but it's always me. Sometimes there's two of me, sometimes there's three, four, five of me, but they're all visions of me making love to me. I get to switch between giving and receiving endlessly and equally, and they're the best orgasms I've ever had.
Lay down your favorite blankets, light that incense, and make sweet love to yourself while listening to Banks sing 'I fuck with myself more than anybody else.' My vows promised, 'I will make love to you not because I want to use you as a tool of pleasure but because I love you, because you turn me on, because your body, my body, is my favorite body of all the bodies on earth.'
If you feel moved, Lisa asks for wedding gift donations to The White Helmets, unarmed volunteer rescue workers operating in Syria's most dangerous zones, risking their lives daily to save the lives of others.