Forget your middle-school collection of holograms. Body Vibes are grown-up, Now Age magic stickers designed to change your frequency for optimal health …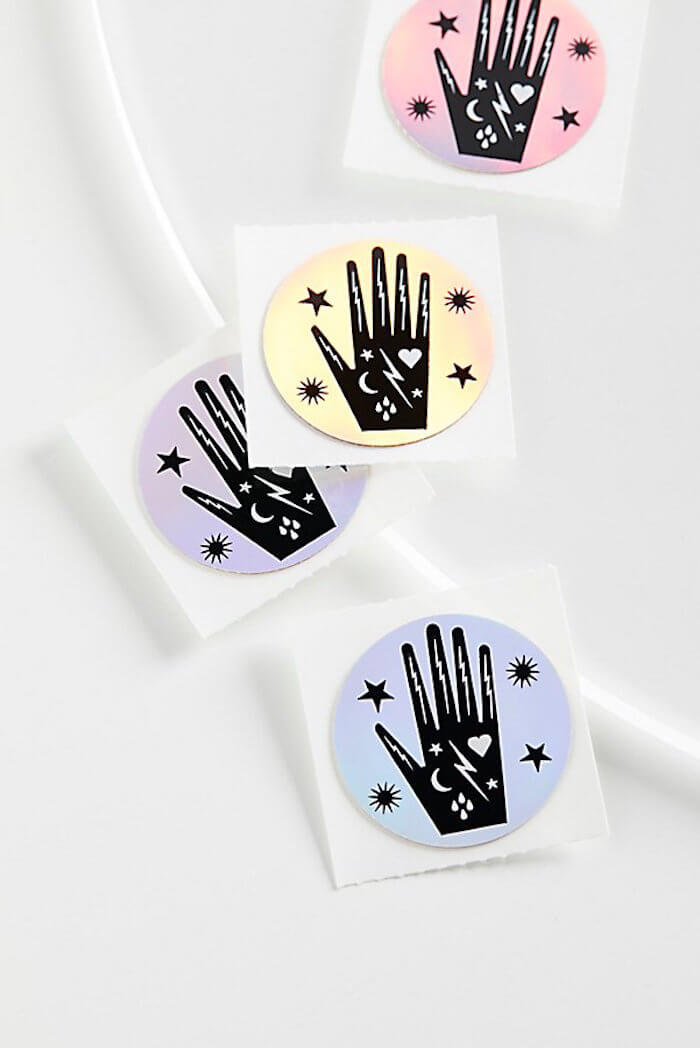 What if you could tap into the mind/body connection with just one touch? 
When we first heard about the new sticker collection from Body Vibes, we could not have been more intrigued. The stickers have been designed to invite more self-love, soothe anxiety, or up your creative game. All you need to do is apply one of their super sexy stickers, emblazoned with unicorns, mermaids, third eyes, and more.
And then just let the sub-harmonic signals do the rest …
Wait … WTF?! 
Uh yeah, we needed to get the full low down on how these babies work, too! So here's what we learned when we sat down to chat with the babes behind Body Vibes …
>>>
Science meets magic: Because you're electric, baby 
Just like all of nature, every part of our bodies exists in a state of vibration. When we're healthy, the body broadcasts overall harmonic health. But when an unhealthy frequency sets up shop in our body, it creates a disharmony we call "disease."
Similar to crystal healing and Reiki, Body Vibes "Sacred Six" Smart Stickers are designed to bring us back into optimal frequency, based on the basic belief that we are electrical and energetic beings, and that it's possible to move blocked energy.
How? The stickers have been programmed by scientists with actual frequency signatures taken from organic and living botanicals in a form that our body's own electricity can read and mimic.
>>>
The actual science part
Bio engineers capture frequencies found in nature. These are then condensed into the same unit of frequency found in the human body, and imprinted into special Mylar material that can hold an energetic flux for two years.
Each sticker is then embedded with up to 33 distinctive vibration patterns, including one of the "Solfeggio" frequencies. With roots in the Gregorian chants of the early Middle Ages, Solfeggio frequencies come from the pure tonal notes that made up the ancient musical scale, and are said to have harmonizing effects on the body as they unite us with Divine.
Oh yeah … science + magic= energetic nutrition for your cells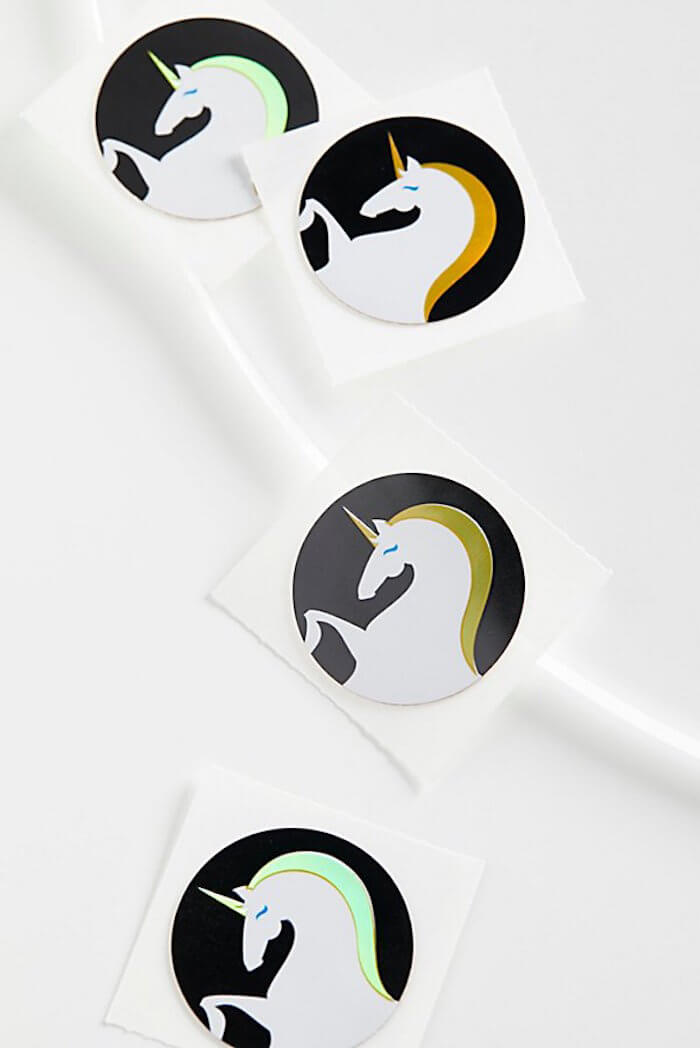 >>>
The back story
Body Vibes founder Leslie Kritzer was first introduced to the technology when her husband's naturopathic doctor gave him a bio-energy disc to help manage his arthritic pain. After his pain was dramatically reduced with no apparent side effects, she immediately started to utilize them to manage her own chronic anxiety.
After a month, she became aware of the little things—less road rage, more patience, more relaxation and ease. The big "aha" moment came when she decided to quit for a few days. By day 3 of sticker-free life, she was feeling much more anxious again and able to identify her "OCD" thinking in a brand new way.
>>>
How do I tell if they're working for me? 
Since all of our bodies are different, the technology can affect everyone differently. For example, the more energizing blends may leave you feeling immediately stimulated, while others may not notice the change until after they remove their sticker and realize how productive and energetic they felt. The same goes for the calming frequencies—the effect for most people is immediate and for others, becomes apparent after the sticker has been removed.
*Read Numinous Founder Ruby's Body Vibes verdict at the end of the post!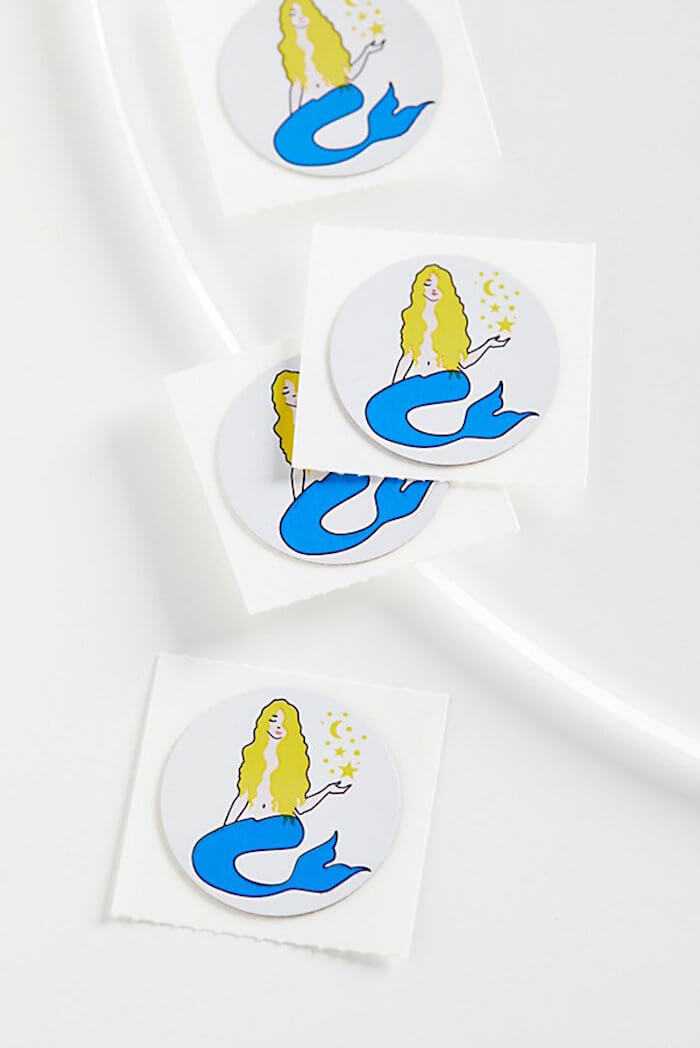 >>>
The Sacred Six: Stick to how you want to feel  
Leslie and her partner Madison DeClercq (who also own hip LA skincare line Skin Worship) designed the different Body Vibes stickers based on the chakra system.
Each of our chakras vibrates at a different frequency—from the lowest, deepest, slowest at the root to the highest and fastest at the crown.
So, how do you want to feel? Pick it and stick it! 
Less Anxious (Root Chakra): Stick this lightening-bolt-emblazoned Anti-Anxiety hummingbird on to liberate guilt and fear, and reduce feelings of nervousness.
Empowered (Sacral Chakra): Create lasting change with the endurance and empowerment of the open-palmed Energy sticker
Loved (Solar Plexus Chakra): Transform your self-care practice and summon miracles with this gilded heart Self-Love sticker.
Connected to others (Heart Chakra): Heal conflict and harmonize relationships with a lounging mermaid At the Beach blend.
Focused (Throat Chakra): A golden pyramid and third eye imprint on the Focus sticker increase productivity, and enhances expression, creativity, and problem-solving.
Gorgeous (Third Eye): Unicorn power restores spiritual order, and reflects light, beauty, peace, and strength in the Beauty sticker.
>>>
MY WEEK GETTING HIGH ON (BODY) VIBES by Ruby Warrington
Obviously, we had to put Body Vibes stickers to the test—and so I decided to wear a different one for each day this week. Read on for the verdict!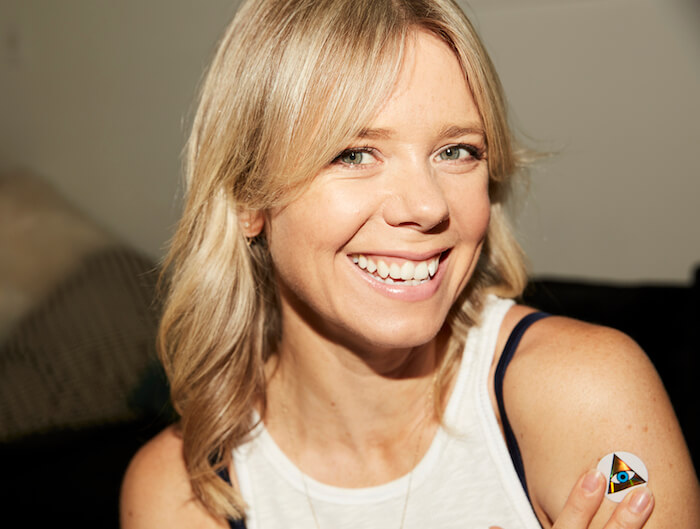 MONDAY
Mondays have been coming around WAY too fast lately (anybody??) and I kind of wanna carry on the weekend vibes, so I go straight for the new Flower Power stickers—designed to promote "relaxation, coping skills, and muscle relaxation" (and emblazoned with a cannabis leaf). My afternoon is pretty chill, and that evening I find myself giggling all the way thought Mindhunter. Huh? I also have to eat an extra piece of avo toast before bed. #Munchies?!
TUESDAY
A busy day of meetings means time to up the ante with the Energy sticker. Notably, my usual afternoon dip doesn't happen and I'm able to stay super chatty and … energized … for two back-to-back podcast interviews. That night I wake at 4.30am and can't go back to sleep, and find myself peeling the sticker off in an attempt to stop my mind whirring with tomorrow's to-do list.
WEDNESDAY
A bad night's sleep is not gonna help me ace the first promo push for our New Year, Nu You retreat, followed by a 2-hour in-depth business call, another podcast interview, and cooking dinner for a friend this eve. What I need is some Focus! I slap the sticker featuring a pyramid with an evil eye right above my heart. WOW. Not only do I power through all the above, I also create a super-detailed 20-story IG promo for the retreat, and manage to fit in a yoga session before dinner. That night … I wake up, mind racing, at 3.30am! I feel like I spent the day downing espresso.
THURSDAY
Chatting with Numinous assistant editor Bess about our Body Vibes post, she tells me that the "strong coffee" effect is apparently a common way some of the stickers are described—and on the pack, "sensitive types" ARE advised to wear the stickers further away from the heart. That must be me. Feeling exhausted from two nights with no sleep, I opt for the Anti-Anxiety sticker today. Perfect for back-to-back meetings with three of my favorite women. I find myself focusing 100% on enjoying the moment with them, and barely thinking about the emails I know are stacking up in my inbox.
FRIDAY
I still didn't sleep great last night, and woke up with a stiff neck—so it's back to Flower Power for me (which I place on my left shoulder right where it hurts). It is Friday, after all!
THE VERDICT
Some of it could be psychosomatic, sure, but I have definitely noticed subtle shifts in my energy using the stickers this week. And that word is always key when it comes to energy work: subtle. We live in a world of such sensory overload, it can be hard to hear the gentle messages we're receiving from our energetic body day-in-day-out, and it's like wearing these stickers helped remind me to tune in. Plus the energy surge I felt using the Focus was undeniable! I'll definitely be using them again …
Discover more about Body Vibes stickers and shop the collection at Shopbodyvibes.com
>>>
***How to stick 'em 
Place the stickers on the left side of your chest, close to your heart—or on the left side of your arm, back, or shoulder. For those who are more sensitive to changes in their homeostasis, place on the lower inner arm above the wrist, or on the right side
And for magic multiplied, you can also create your own "cocktail" with more than just one. The Third Eye and Solar Plexus stickers are particularly good for adding an additional positive well-being frequency to any other vibe.
*Please be advised that once the sticker is removed, it loses its adhesive property and a new one will need to be used.