Embrace your shadow and be led into the light, says Jennifer Racioppi in her reading for the Scorpio waning quarter moon…Artwork: Bethany Harper-Walsh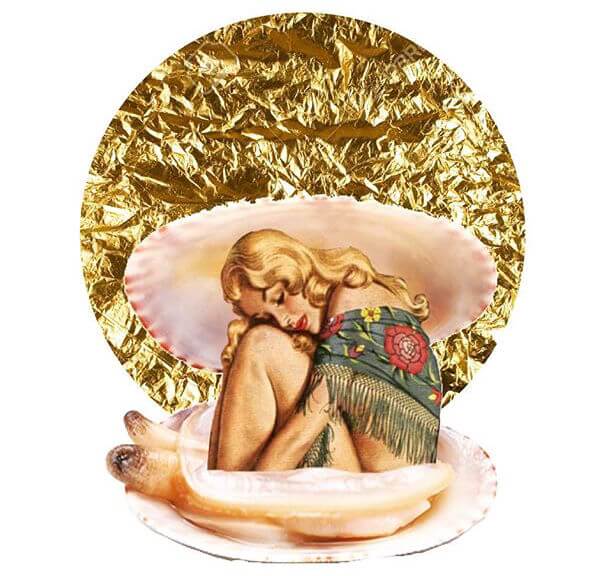 Waning Quarter Moon :: January 19, 2017 :: 5.13pm EST :: 0 degrees Scorpio
As the moon sheds her light, she invites us to shed barriers to our truth. Waning moon cycles help us connect deeply with our intuition so we can eliminate what's not working within and access our marching orders before the next New Moon. This particular waning moon phase feels extra potent—as Mercury clears his shadow it represents a rare time in the sky when there are NO planets in retrograde. Things may happen fast. Embrace change, and allow the process of dissemination to bring you closer to your truth as we prepare for the upcoming new moon in Aquarius.
***
:: THE SUN::
The sun in community driven, alternative-minded Aquarius, asks us to transcend the boundaries of our limited thinking and embrace new ways and new beginnings. As we enter the post-Capricorn phase of 2017 (Capricorn represents our drive and determination to be our absolute best) the sun in Aquarius ushers us into our internal revolution. Aquarius represents rebellion and revolution—so no wonder we no longer feel driven by the discipline of the Capricorn sun. If you feel keen to shaking things up, explore it! The Aquarian influence might just lead you to something better. Embrace your friends, have fun, and don't shy away from technology while the sun travels through Aquarius until Feb 18th.
:: THE MOON::
In astrology, the moon represents our subconscious and our feminine side. With the moon moving through the fixed water sign of Scorpio, our attention drifts inward. Psychological truths and secrets pull us into our emotional depths. It behooves us to allow our emotions to rise to the surface. Bust out your journal and get your secrets off your chest. Embrace your shadow side! Indulge your sexuality while embracing intimacy, and exploring the shadows of your mind.
:: THE SQUARE::
With the sun in the fixed air sign of Aquarius squaring the waning Scorpio Moon, we can expect to feel a bit at odds with ourselves. On the one hand, we have the Aquarius sun asking us to embrace our community, and to push forward with agendas for change. Yet the moon in Scorpio drives us deep within ourselves. While the Aquarian influence wants us on social media connecting with our tribe via technology, the Scorpio moon prefers a journal, and perhaps a cathartic conversation with a close friend who guards secrets like a rabid watchdog. It's up to us to reconcile our need for privacy and intimacy while staying connected to our tribe this quarter moon.
:: THE MESSAGE::
It's by investigating our shadow that we find our light. With one week before the Aquarius New Moon, and all the planets direct, this waning moon phase provides us a precious opportunity to look within and clean out any resistance before we embrace the first New Moon of the new year. The moon in Scorpio urges us to pull back and look within—as uncomfortable as this may feel. Remember, the moon moves fast and soon she'll be in upbeat Sagittarius, making a great and resourceful sextile. Until then, she travels through Scorpio, a place she goes to deep to excavate an essential truth. Don't resist the darkness this Scorpio waning quarter moon—it's leading you precisely where you need to go.
For more Moon wisdom or to book a coaching session with from Jennifer visit Jenniferracioppi.com