Tips and practices to help understand and work with your Gemini Moon sign from Ash Bonelli. Artwork: Prince Lauder via Behance.net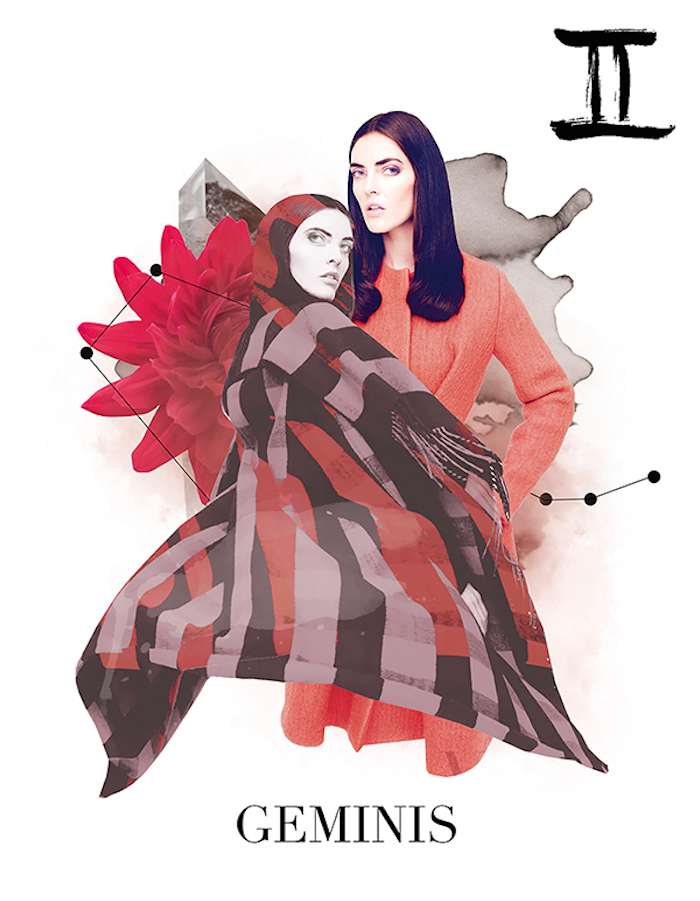 The Moon represents what we need in life to feel safe, secure, and how we need to be nurtured, and understanding your Moon's requirements can help you connect deeper to your more private self. When you have a bad day or are just feeling "off" you want to tap into your Moon. She is the cosmic mother and learning more about the sign where she sits in your birth chart, can reveal so much about your internal landscape.
Work out your Moon sign, when you do you chart for free here.
The Gemini Moon sign is forever curious. She wants to learn about anything and everything. This Moon loves to engage and communicate, since Gemini is a mutable air sign that needs mental stimulation and variety. When things become stagnant the restless demons set in—and so keeping things moving in life is key.
Depending on the rest of your chart, these behaviors/tendencies may express in a need to always have light and breezy conversations. You enjoy gathering data, processing it and then moving on to the next interesting person, subject or experience. This flitting about keeps things upbeat and interesting yet can have a downside.
The Gemini Moon sign is learning to also go deep. It's about finding some balance between superficial experiences and really getting to know yourself and others on a more intimate level. Because of this Moon's voracious appetite for new information, you can come across fickle or insincere if this expression is out of balance.
This analytical moon usually symbolizes a gifted speaker, writer or teacher. Since you are always gathering information you put it to good use by sharing it with others, and this exchange of thoughts, ideas and insights can be quite soothing for you. The give and take is the thrill that propels you forward to find more.
This is a delightful quality that makes you fun to chat with, as well as being able to turn a negative emotional situation into a happier one. The Gemini Moon sign is clever and witty, so having an innate emotional tie to these abilities can bring true fulfillment through expression.
Just make sure to keep the input and output in check or you will never be able to get to your deeper self. There can be an avoidance of darker undercurrents if you don't allow yourself time to really feel your feelings, which may mean missing out on the beauty of vulnerability.
Below are some suggestions to bring some balance back to your energetic moon as well as ways to emphasize it. These are meant to empower and bolster your emotional wellbeing to be at your best!
:: FOCUS ::
Zero in on a project that you have to stay committed to—anything that will require you to stick to it long enough to actually become proficient at it. Since Gemini is placed in the linguistic camp you could learn a new language. Mercury being Gemini's ruler is associated with dexterity so you could learn to play an instrument. The other benefit of this for you emotionally, is that once you've mastered this new interest you then get to share it, creates a beautiful cyclical effect for your heart, and your Gemini Moon sign.
:: BREATHWORK ::
Learning to control your responses in more hectic situations could be very healing—and one way is with the simple art of breathing. Try practicing the 2:1 ratio breath, in which increasing the length of your exhalation helps to relax your parasympathetic nervous system. Start by breathing through the nose in your natural way without counting. Then after a few rounds begin to breath in for a count of two, and exhaling for four. Work your way up to deeper breaths from there, and try doing 10 rounds the next time you begin feeling the frazzled.
:: MINDFULNESS ::
In the simplest terms, this simply means being aware and in the present moment without judgement—actually quite hard, since the Gemini Moon sign is often stuck between wondering what the future holds and dwelling on the past. Finding a meditation practice that works for you is key, and if sitting still is just too much for you try doing a walking meditation, which will burn up any restlessness through mindful movement. You could also try Qi Gong—which covers practices from the gentle Tai Chi to the more fierce option, Kung Fu. Potentially a healing double whammy, helping you to focus and be more in the moment while still satisfying the need to learn and grow.