Fed up with the beauty industry's impossible standards, Giselle La Pompe-Moore set out to heal her relationship with her skin at soul level. She explains why skincare is a spiritual practice …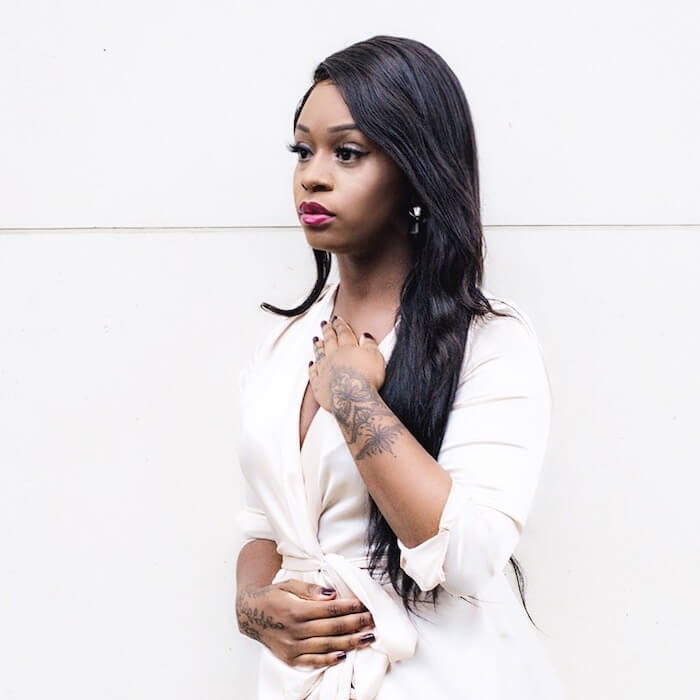 Have you ever thought about your skin beyond aesthetics?
We can spend hours in front of the mirror analyzing every pore and perceived flaw, but we rarely see beyond this. But on a deeper level, our skin is a barrier between our internal and external worlds. Something both public and deeply personal at once.
This skin allows us to experience the universe around us, to touch and be touched in return. This is why skincare is a spiritual practice.
The color of my skin was different from most of the people I grew up with, and from the women I saw in the media. I loved my skin, but as a black woman I always felt like an "other." Was always comparing my skin to that of somebody else. The black women I DID see on TV and in magazines seemed hyper-real, with flawless, perfect skin. In an attempt to replicate this for myself, I pursued a career as a beauty editor, drowning myself in products.
Over the years, I began to notice that while creams and treatments can heal the skin externally, they do nothing to address feelings of not being good enough, of shame, and of endless comparison.
And so I took a step back to shift my focus from how skin looks on the outside to what it reflects about our inner life. To investigate the impact of spiritual tools, such as reiki, meditation and tarot, on our relationships with the skin we are in.
Now working as a healer specializing in skincare, I've seen how acne, psoriasis, dermatitis, and eczema have impacted the way my clients move through the world. I've listened to stories about what they'll do once their skin is "healed, better, or different," while denying themselves of the life they could be living right now. I've also learned that our skin is the physical embodiment of our innate self-worth.
Whether you're working through a skin condition, are struggling to accept your physical appearance, or want to add some spirit to your skincare, here are the tools that I've used on myself and my clients to help shift our skincare mindset …
///
1// Give yourself a crystal facial massage
Crystals can work wonders helping to set intentions around your skin—and one way is with a crystal facial massage. Here's how to do it:
Choose a crystal that symbolizes your skin intention. Pink Transparent Calcite (for non-judgment and comparison), Apatite (willpower for shifting your skin mindset) and Malachite (forgiveness, committing to this journey) are some of the crystals I've prescribed to clients.
Get comfortable, cleanse your space, and connect to the crystal. Hold it in your hand and feel its energy. As you hold it, visualize your intention. If it's to help you to forgive yourself for the unkind words you've said about your skin in the past, imagine this forgiving energy passing through your body. Then ask the crystal to offer you support and guidance in achieving this.
With the crystal in front of you, start to massage all around your face in upward and outward strokes using a face oil. With each movement, feel your intention sinking into your skin at the same time.
///
2// Journal to go beneath the surface
A lot of our limiting beliefs about our appearance reside deep below the surface. Use journaling to investigate your relationship with your skin and unearth subconscious beliefs.
Here are a few questions to start with:

-How would you describe your skin? Think about the language you use, is it positive or negative?
-What does the word 'comparison' bring up for you, in relation to your skin?
-What memories do you have where someone made a comment about your skin or appearance and how has this had an impact on you?
-What has your inner critic said to you today? Do you believe what it told you? How do you usually talk to yourself when you're in front of the mirror?
Through journaling, I realized that I used only negative words to describe my skin and would skip past the features I liked. So I decided to start accentuating the parts of my face that I did love, like my lips. See what comes up for you and what tools you can use to release and heal these limiting beliefs. I've used tapping (Emotional Freedom Technique), binaural beats and visualization in response to what I uncovered in my journal, and written letters to my skin.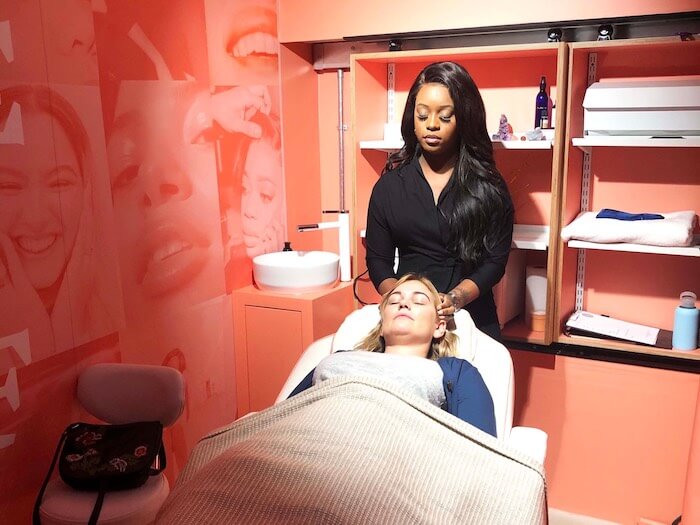 ///
3// Synch your skincare with the Moon
The phases of the Moon phases can provide a mirror to examine our self-image triggers, and a framework for charting our inner work and emotional landscape over a period of time. Here's how to incorporate each phase into your skincare routine …
New Moon. Use this time of new beginnings to set an intention for your skin. It could be to reconnect with your skin. Start with self-massage, simply feeling the skin beneath your fingertips. This is also the time to add any new products in to your beauty routine.
Waxing Moon. Check in with the intentions you set at the New Moon, examining how you're feeling about your appearance now, and thinking about how you can move closer to growing your intentions and reconnecting with your skin. Your skin is also the most absorbent and receptive to nutrients now, so add in a serum with hydrating properties or a nourishing face mask.
Full Moon. Take a moment to celebrate yourself, thanking yourself for all of the work you've been doing to shift your skin mindset. There can be heightened emotions and energy at this time, so make sure you're filling your cup back up with restorative baths or an Ayurvedic abhyanga massage.
Waning Moon. Use this phase for journaling and exploring the limiting beliefs that might have come up for you over this cycle, reflecting on what you need to release in order to grow. To support this internal cleansing and shedding, use an exfoliating body scrub, try body brushing, or add in a detoxifying charcoal soap to draw out impurities and toxins.
Dark Moon. Give yourself a break! It's easy to end up with spiritual overload, I've been there many times – digging into shadow work, past life astrology, and the deepest crevices of my psyche all before lunch ain't easy! Allow yourself this time to restore, heal, imagine, and to press pause.
///
4// Use the tarot to talk to your skin 
The tarot is a powerful tool for working on your mindset and self-worth, and I use it daily for both myself and in my rediscovery: skin sessions. You can start with a single card pull, asking the deck to show you how you can work on your self-image. Use the cards to start a conversation with your skin and listen to what it needs.
Example:
In the Rider-Waite-Smith deck, the Two of Swords depicts a blindfolded woman with two swords crossed over her. The moon is above her and a body of water lies behind her. This card is all about taking the time and space to be still and look inwards. To embody this card, think about how you can create a boundary that allows you to dive into your own self-care. Allow this stillness to offer you intuitive guidance as to where you're in need of healing and any areas of low self-worth. Use this as an invitation to see through your third eye rather than your physical eyes.
///
5// Meditate for both mind and skin
Meditation is a powerful tool for shifting our skin mindset, and for relieving the stress that can trigger or aggravate neuro-inflammatory conditions such as acne.
In sessions, I guide my clients through a skin-focused meditation, which fosters gratitude, forgiveness, acceptance, and kindness, and includes a simultaneous facial self-message that creates physical connection with the skin.
*You can download a version of this meditation HERE. You'll need cleansed skin, a comfortable space, and a facial oil in easy reach, then plug in and tune out.
///
Giselle La Pompe-Moore offers one-to-one rediscovery: skin sessions that guide you to shift your skin mindset to a path of acceptance and gratitude. Her rediscovery: soul sessions incorporate reiki, tarot, and meditation. Both are held either virtually or in-person in London. She also hosts monthly Mirrorscope skin healing circles.