Learn how to use a Rose Quartz ritual as a tool for self-love and beautification. By Laurey Simmons of The Colourful Dot.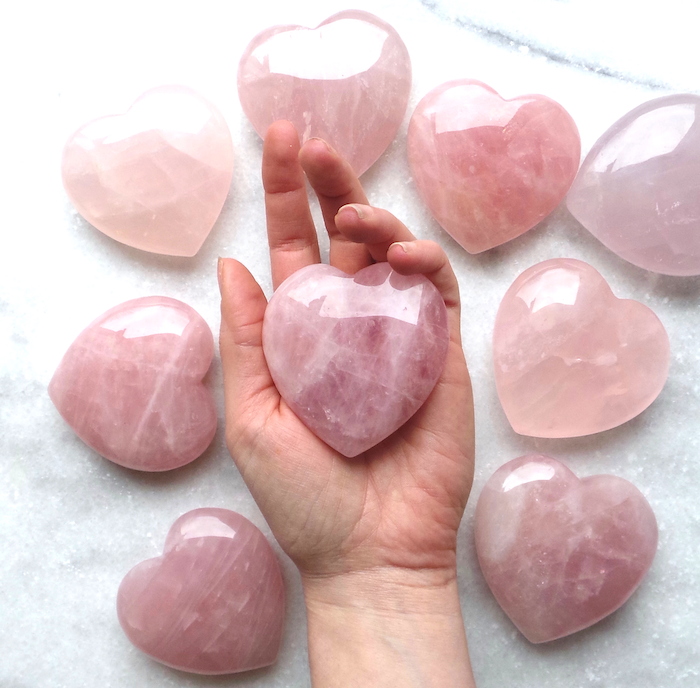 What is it about children and their innate attraction to sparkly and beautiful things? I remember so clearly walking along the beach as a child, looking for the prettiest pebbles, just feeling so full of LOVE, even at this young age, for the beauty of Mother Earth and her magical powers.
This kind of instinctual love can become more difficult to access as we get older and our hearts carry more scars. And with Valentine's Day approaching, this is a sacred moment for us to remember our innate sense of LOVE ENERGY – which Mother Earth can effortlessly remind us of, if we are open to receive.
Crystals are my direct path back to that instinctive childlike enchantment, and as a make-up artist and spiritual adventurer I have found magical ways of using them to help my clients embody inner and outer beauty. After all, nurturing our innate beauty is not an exercise in vanity, but actually a practice in bringing us closer to the divine.
For me, unconditional self-love is an essential ingredient of inner beauty. And one of my favourite tools to activate this aspect of our self is a Rose Quartz ritual. This gemstone works with the energies of the heart, gently nurturing compassion for self and other.
So how can you use a Rose Quartz ritual to awaken your inner goddess? A simple but very nurturing ritual I love weaves Rose Quartz into a bathing experience. Here's how:
I always begin with spiritual cleansing of myself, my space and my crystals. I love to use the smoke of burning Palo Santo, a 'holy wood' from South America that was used in ancient ritual and ceremony to ward off bad energy.  It's really important to make sure you open a window while cleansing, so that any energy you are wanting to be rid of can leave. Trailing the burning wood around myself and the Rose Quartz, I watch as the smoke travels and fades mystically, as if in a sacred dance. I instantly feel lighter. As I breathe in this rich, heavenly scent, I visualize the smoke spirits soaking up any negative energies, and kindly transporting these energies away.
Placing some flowers or a plant at the end of the bath will also allow you to drop deeply into the present moment. I often just gaze at the flowers, absorbed intimately with Mother Earth and all her natural beauty. I have this beautiful quote about flowers as a reminder:
"When you take a flower in your hand and really look at it, it's your world for the moment." – Georgia O'Keeffe.
To elevate your sense of smell, have a relaxing oil burning. I like to use Rose and Geranium oil with this specific ritual. As the aroma fills the air, I enter deeper into a meditative state, visualizing the molecules of scent travelling up through my nose, down my chest and into my heart centre. Here the scent is absorbed by a delicate pink rose, slowly opening its petals to reveal a white healing light.
With this image firmly rooted in my heart, I mindfully place the Rose Quartz pieces around the bath. I will usually have a blessing which I will speak when placing each stone. A great blessing for this ritual is: '"May I be bathed in the light of unconditional love." I will also add some Rose Quartz tumble stones (small polished stones) to the water, so that when bathing, I'm fully immersed in the absolute and unconditional love of Mother Earth. Once in the bath, I then imagine the crystals surrounding me linking with each other in a loving, active embrace.
When your bathing ritual is over, it is important to ground yourself. I like to visualize tree-like roots anchoring me down to the core of Mother Earth as I dry myself.
Beyond bathing, I also recommend adding some magic to your morning beauty routine. Did you know you can use a Rose Quartz massage stone to apply moisturizer? In ancient times, Egyptian women added powdered Rose Quartz to their beauty potions to prevent wrinkles and to restore a glowing complexion. So, with gratitude and respect for the ancient beauty wisdom of our sister goddesses, I will apply the cream with my stone and visualize my face glowing with a white nourishing light, restoring my inner and outer beauty. An extra little tip to give you Rose Quartz energy on-the-go is to add one or two small Rose Quartz tumble stones into the cream itself, making sure you have cleansed and blessed the stones beforehand.
I hope this Rose Quartz ritual brings you the space to relight the flame of self-love and inner beauty. Here is one of my favorite passages on inner beauty to send you on your way:
"Beauty is life when life unveils her holy face.
But you are life and you are the veil.
Beauty is eternity gazing at itself in a mirror.
But you are eternity and you are the mirror."
– Kahlil Gibran, excerpted from The Prophet (A Borzoi Book)