Dive into this month's medicine for your sign with our Numinous Tarotscopes May 2018, cast by Melinda Lee Holm using the Starchild Tarot …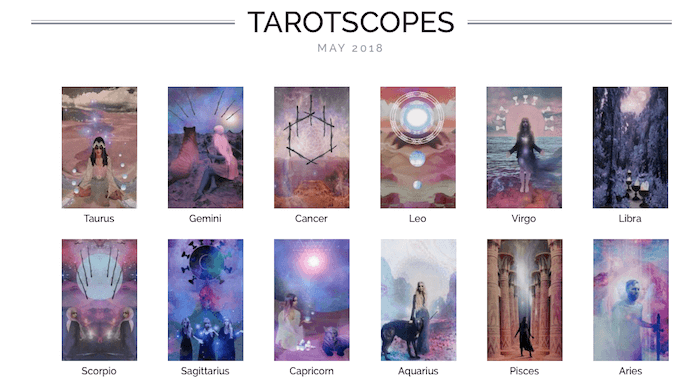 TAURUS // TAURUS RISING
Seven of Crystals
Happy Solar Return, dear Taurus! There is a deepening of the lessons of April in store for you this month. The Sevens bring us opportunities to overcome doubts, and in the realm of Earth that generally equates to confronting ways in which we doubt the ability of our work to bring our desired results. While last month was more around trusting timing, this month is about finding ways you can more deeply trust in yourself and your abilities. The element of Earth is your safe place, so digging deeply into finding your true power within it is essential to living a truly fulfilled life. This means trusting not only in your ability to form the world you live in, but also that you have a place in it and are a worthy and necessary part of it.
How are you holding yourself back by doubting your own Earthly abilities? Are there things you are hesitant to even try to achieve because you have failed to see the results you desired in the past? Are you pushing yourself to keep refining your skill and methodology during the time spent waiting for work completed to ripen and blossom? This month, work on being your own biggest fan. Dare to believe in yourself like you never have before. Keep moving forward with the knowledge that the work you have completed was perfect and that it is ok to move forward and keep building upon it. Every day brings a new chance to create and grow.
Your stone for May: Red Jasper
>>>
GEMINI // GEMINI RISING
Seven of Wands
How you holding up, Gemini? I'm guessing if you were to use the vernacular of my home state of MN your answer would simply be "uff da." Last month was A LOT. Needed, transformative, world-shifting, but probably a tad exhausting. This month is going to bring a gentler breeze to your airy shores as you dive into the task of overcoming ways in which you doubt your intuition. Elemental Fire has a strong duality in action and intuition, but based on the energy you've been presented with these past couple months, my hunch is that the intuitive aspect is going to be more strongly spotlighted in May. Here's the thing – when you've had the rug pulled out from under you, even if it served to bring you to a better place, it can be very hard to trust what you feel in your gut is true.
This month, all month, every chance you get, allow yourself to trust your intuition in small ways. Reach out to that friend that keeps popping into your head, take the route that avoids an intersection you are inexplicably leery of, throw those leftovers out that may or may not have sat out a little too long. Build your relationship with your inner voice back up in small ways and work your way up to higher stakes stuff. Just as with relationships with others, there is no shortcut to earning trust. Sink in and do the work. You have enough trouble with decisions as it is, dear Twin Stars. You cannot afford to have your direct line to your Higher Self down for repairs for long.
Your stone for May: Lapis Lazuli
>>>
CANCER // CANCER RISING
Nine of Wands
There is so much work to be done this month, Cancer! And you are well positioned and supported to complete it all. You were gifted this same energy in March and then went into a major shift and expansion in April. Now the Nine of Wands is back to show you how far you've come and present you with an opportunity to prove to yourself how much more you can accomplish. Think back to projects or ideas that surfaced in March. Now is the time to again push forward to see where you can take them. Whatever your work, whatever your goals, this month is your chance to double your productivity and clear out all the lingering chores taking up precious space in your brain and energetic field.
A major part of you getting all you can out of this energy is going to rest on your ability to not take things personally. As the cardinal water sign, you feel things more strongly than most and have a tendency to let your emotions lead the way when it comes to decision making. Not this month. When you feel that familiar rush of Water heightening your emotional reactions, let the Fire of the Nine of Wands turn it to steam and watch it float away – or even better, harness that Air energy to make practical assesments of the situation! Our reactions are not our reality, they are simply a way for us to cope and navigate through life. Take the reins and lead with your gut.
Your stone for May: Citrine
>>>
LEO // LEO RISING 
Two of Crystals
Dearest Leo, you are getting back to basics this month in the realm of Earth. The Twos bring us the wisdom of their suit, the promise of the possibilites held in their Element. You are being offered an invitation to reconsider what you see as possible in the material world around you, to perhaps see a new landscape unfold with the proverbial sound of two nickels rubbing together. It is time to dig down to the root and foundation of your financial plan, your physical Earth-bound framework for your life, and see whether there are places that are in need of an update or a change in direction.
I keep getting an image of a plant that is not doing as well as it seems it should be, hands digging in the dirt to uncover the roots and finding a manufactured object blocking the natural growth of the root and consequently stunting the growth of the whole plant. What unnatural barrier is interfering with the natural growth of your material abundance? Is it a physical thing, the choice of a type of bank account or corporate structure, a poorly planned work space, a simple accounting oversight? Or is it more emotional, ethereal, energetic? Is it an issue of perceived worthiness, leftover debts from past lives, or misplaced anxiety? Whatever it is, this month it is your duty to dig in to the dirt and find it. Take nothing for granted. Be ready to examine all aspects of your Earthly life to see how they support the expanive possibilites of the Two of Crystals.
Your stone for May: Quartz Crystal
>>>
VIRGO // VIRGO RISING 
Nine of Cups
Ooo la la, Virgo! It's been a fairly work-focused year so far in pretty much every aspect of your life and now it is time for you sit back and drink in all of the lovely emotional support you've built up by being a wondeful friend, collaborator, co-worker, and individual (working on yourself always benefits everyone around you, after all). This month I want you to spend as much time as possible with those people that make you feel loved, secure, and seen. They are your mirrors. When you look at them and marvel at how wonderful they are, how smart and funny and talented, what incredible capacity for emotional understanding and supprt they offer, know that that is a direct releflection of you as well. Water finds its own level and this is especially true in the spiritual/energetic realm!
Your driven nature may make this actually feel like a frustrating task, to focus on emotional connection and reflection as opposed to "real" work in the areas of Earth or Air or even Fire. If that resistence comes up for you, remind yourself that this IS real work and that the element of Water is integral to the successful presentation of all of the other elements. Our emotional bodies need this attention and care to support us through the tough times and buoy our productivity. Doesn't it always make it easier to push yourself in any type of work when you know people you respect and love care about the outcome and about your personal accomplishments?
Your stone for May: Pink Tourmaline
>>>
LIBRA // LIBRA RISING
Five of Cups
I am going to ask you to be very kind to yourself this month, Libra. Allow plenty of time to rest, to be alone, be sure to feed yourself healthy, nousirhsing food, drink plenty of water, and get some exercise. May is bringing you a lesson in mourning. Mourning is often seen as a synonym for being sad following a loss, but that doesn't really cover it. To mourn is to activley participate in the emotional processing of events that may cause sadness, it is an active verb, not a passive feeling. It's time to face your feelings and to bravely step forward into the place where you can examine them, understand their origins and utility, and gather the lessons they hold to move forward.
Lean into the wisdom of the King of Cups that visited you last month. Integrating that ability to ride out rough seas of emotion will serve you well now. You don't have to suffer. There are no extra points for unnecessary trauma or drama. This is simply a lesson in engaging with emotional rough spots in real time to fully experience life and grow and evolve with the passing of time instead of hiding from the hard parts in an effort to appear strong to yourself and others. I speak often of the profound strength inherent in vulnerability and I reiterate that for you now. Opening up to the unpleasant, the difficult, the challenging of the emotional spectrum is just as important as opening up to the positive. You've got this, Libra. Be kind.
Your stone for May: Chrysoprase
>>>
SCORPIO // SCORPIO RISING
Six of Wands
May is bringing you a taste of victory, Scorpio! The sixes all indicate an achievement of some sort in their Element and this achievement in the realm of Fire should prove to feel very satisfying. Given your deeply intuitive emotional nature, it is likely that this will come in the form of a confirmation that your intuition about a person or situation was spot on. But why limit yourself to just one victory? Be on the lookout all month long for confirmations and celebrations great and small of your acute intuitive abilities and the fruits of your decisive actions. Let this victory inspire you to push even further and show you areas that are particularly rich for you to pursue greatness.
Seeing as this energy is coming to you hot on the heels of that Divine gift of the Ace last month, there is a great chance that some of your celebration will be around affirmation that you have used that gift wisely. Pay special attention to any messages around what you started forming last month. The places where you do not receive affirmation are just as important to note as those where you do. To NOTE. Take it as information, not judgment. Not every idea lands. Be careful not to get bogged down by despair or disappointment over a lack of energy around ideas or projects you considered your favorites. Keep the energy flowing to where it is most useful and keep your eyes on the prizes that manifest with the most grace and ease.
Your stone for May: Pyrite
>>>
SAGITTARIUS // SAGITTARIUS RISING 
Ten of Cups
Oh you are on quite an enviable roll, Sagittarius! You've had some major blessings in energetic/spiritual expansion the past couple months and now you are able to ground all of that personal growth and Divine connection into your daily emotional life. By now you should be pretty open to trusting in the Universe and now you can trust in your fellow humans. Look to those closest to you to show you how grand true love can be. I am not just talking about romantic love, though that is a good possibility. I am talking about a depth of mutual admiration and adoration that lifts everyone up together, people inspiring each other to be greater together than they could be alone. Love of family, community, in the full expansive definition of both of those words.
The Ten is the inhale to the Ace's exhale. When we are graced with the broad support of the Ten, it becomes our duty to look ahead and begin to prepare to do our part to pay it forward by pushing that energy back out as a gift to others in collaboration with the Divine. So as you drink in this beautiful emotional fulfillment, be on the lookout for ways that you can inspire others to recognize and accept the pure gift of Water the Universe provides. Practice random acts of kindness. Be a leader in love and radical acceptance. This would be an excellent time to volunteer your time to help someone in need, whether caring for a family member, mentoring a child, or cooking at a shelter.
Your stone for May: Emerald
>>>
CAPRICORN // CAPRICORN RISING
Queen of Crystals
Ok, Capricorn, the riches of big archetypal feminine energy that has been flowing your way all year honestly has me a bit envious. Between The Moon, The High Priestess, and now your second Queen in two months, I daresay you may be on your way to becoming a bonefide master of the vast power of receptivity. And now this month brings that energy to you in your home element of Earth. Queens represent the Water of their suit, they have a gravity and a determination to them, and in the realm of Earth they have a profound ability to inspire dedication to creative projects. What is the Water of Earth, after all, but the clay we were all formed from according to folklore from cultures and religions all over the world?
What will you form this month, Capricorn? What will you give shape to with your bare hands and build lovingly from the ground up? I bet you could find some clues in all that communicating you did last month. These energies follow one another for a reason. What we build almost always takes form first in our thoughts and then our words as we turn them over and hold them in our mouths to see how they feel. You now have beutiful support to bring those thoughts and words down into the physical world. Of course, this doesn't mean you'll necessarily be building a physical object. Bulding a business or reforming how your home is organized would be in line with this energy as well. Find what is in alignment with you and set aside the time needed to do it right.
Your stone for May: Garnet
>>>
AQUARIUS // AQUARIUS RISING
Queen of Wands
This month will show you just how much you learned from watching all that chaos unfold last month, Aquarius. And in case there was any confusion in the matter, it was A LOT as evidenced by your jump from the five to the Queen in the suit of Wands. Your intuition is sharp now as is your ability to act when action is called for and opportunities to use both will be in abundance all month long. You are naturally a dreamer, happy thinking through fantasy scenarios over and over until you fall into a decision, but now you will effortlessly intuit the answers and choices that will best serve your Highest Good and find yourself ready to execute on them immediately.
Since this is somewhat foreign territory for you, be sure to give yourself the best possible base to work from. Get enough sleep, make a schedule and stick to it, keep your home and workspace clear of clutter – everything you can do to remove distractions that could keep you from tapping into the inner voice yearning to guide you. Take time to reflect on chaotic events and situations April presented to you and how they looked and felt before, during and after they occurred. You can use that information to tune your intuition in to the signals you need to pick up.
Your stone for May: Sodalite
>>>
PISCES // PISCES RISING 
Transformation (Death)
Ooo, Pisces, you're not done with April's lesson of release quite yet! Last month was just a warmup for the main event. A much-needed warmup. Now that you've had some experience in purposeful, directed, mindful release of things that no longer work for you, it's time to dig deeper. Way deeper. Ever thought about having a past life regression? This would be a great time for that. That's how deep I'm talking – across time and space deep. This isn't how I usually frame the energy of the Death card, but this isn't a usual situation! When cards come in a certain order there is often a very clear shift or amplification in the energy. And then on top of it, you are the sign I can most count on to be VERY cozy way out in esoteric waters.
What are some other ways you can dig in to this expansive clearing? If you are unable (or unwilling, which is totally fair) to go in for past life regression or head out to a ten day silent vipassana retreat, you can still get the full benefit of this energy by staying alert to it and calling it in. Light a black clearing candle on the Full Moon, cook with sesame oil, spend more time than you normally would alone in reflection, and always always ALWAYS be taking note of what is enhancing your life and what is not. Be brutally honest with yourself. The likelihood that the things you need to release are originating from within is high.
Your stone for May: Charoite
>>>
ARIES // ARIES RISING 
King of Swords
Your Cardinal Fire directness will get a boost this month, Aries, with powerful Air energy lighting up your ability to think and communicate quickly and easily. Kings represent the Air of their suit, so we get a double dose of it here in the suit of Swords. If there's a problem you've been trying to solve or an issue you've been struggling to communicate, you can clear it up this month. Your ability to sharpen your thoughts and articulate them outwardly will be enviable, just be careful that sharpness doesn't extend to your tongue. Sometimes this energy can manifest in a directness that can be off-putting for some and get in the way of your true message. Consider the situation, modify language and delivery to the needs of the recipent, and reasses frequently. You'll be able to do this at lightning speed, so don't worry you'll slow yourself down in the process.
I highly encourage you to do a LOT of journaling this month. When you have this level of Air energy on your side, you want to take full advantage. There may be things you need to communicate to yourself that you won't have time to reflect on until later, so get everything out and down on paper that you possibly can. With your Solar Return still looming large in the rearview mirror and a fresh take on what's most important on your hands, this is a wonderful opportunity to download information from your Highest Self that can help you set the agenda for the entire year to come.
Your stone for May: Fluorite