Check out the books for modern mystics that get Emma Mildon's soul star seal of approval – and she's got something for every type of soul searcher out there…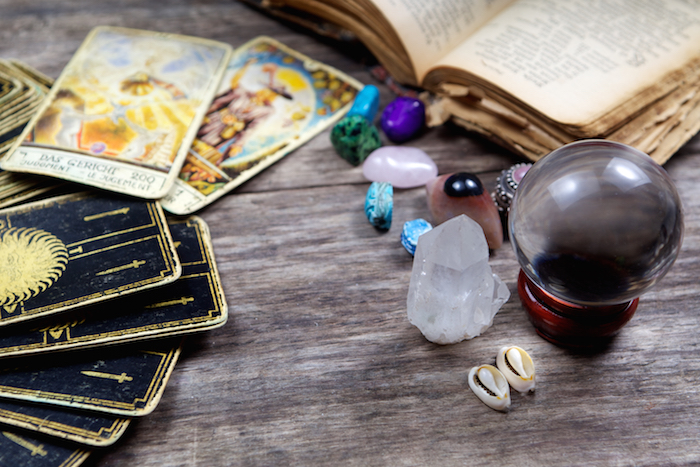 Wiccapedia: A Modern-Day White Witch's Guide
, by Shawn Robbins & Leanna Greenaway
For when you want to get your vodoo, love potion, good witch vibe on. Ideal for those summon-your-inner-witch-super-power-crisis moments. Now in a new, hipper, edgier format, Wiccapedia provides a fresh, innovative, and thoroughly up-to-date look at witchcraft—and gives readers a prescription for happiness. "Spiritual life coaches" and celebrity witches Shawn Robbins and Leanna Greenaway unlock the secrets of the Wicca universe, explaining what it means to become a "simply fabulous" twenty-first century witch. Newfound witches—and even more experienced ones—will learn how to tap into magic, re-empower themselves, and realize their dreams through a little witchy know-how.
Women Who Run with the Wolves
, by Clarissa Pinkola Estes
For when you feel like stripping off and running wild and free through a nearby park. (Keeping in mind you could end up in handcuffs, and not in a hot Shades of Grey way.) Dr. Estés unfolds rich intercultural myths, fairy tales, and stories, many from her own family, in order to help women reconnect with the fierce, healthy, visionary attributes of this instinctual nature. Through the stories and commentaries in this remarkable book, we retrieve, examine, love, and understand the Wild Woman and hold her against our deep psyches as one who is both magic and medicine.
Moon Spells: How to Use the Phases of the Moon to Get What You Want
, by Diane Ahlquist
For when you howl at the Full Moon, and tend to go a little cray cray during lunar cycles. Magickal practitioner Diane Ahlquist guides you on a journey to attuning your spirit with the moon. You'll be amazed at how much more you can achieve in life when you synchronize your activities with the moon's phases. With the proper use of candles, gemstones, and incense, spells can be conducted at exactly the right lunar moment to enhance the flow of power and make your wishes come true.
Anatomy of the Spirit: The Seven Stages of Power and Healing
, by Caroline Myss
For when you need some energy and healing, or are feel depleted, disengaged, or disconnected. Caoline Myss , PH.D. is internationally acclaimed in the field of energy medicine. This book builds on wisdom from Hindu, Christian, and Kaballah traditions, and acts as a comprehensive guide to energy healing to help you to reveal the hidden stresses, beliefs, and attitudes that cause illness. Tap into the intuitive link behind your attitude and your illnesses.
The Crystal Bible
, by Judy Hall
For when your religion is gemstones, crystals, and all things quartz. The Crystal Bible offers a comprehensive guide to crystals, their shapes, colors and applications. With informative descriptions and an easy-to-use format, it is an indispensable practical handbook for crystal lovers and users everywhere – both beginner and expert alike. For anyone drawn to crystal and gemstones, this will become your new go-to for all things quartz to amethyst.
Adventures for Your Soul: 21 Ways to Transform Your Habits and Reach Your Full Potential
, by Shannon Kaiser
For an itchy root chakra that's keen to embark on a spiritual adventure of some way, shape, or form. Sometimes the one thing you need to make a change is to see things from a fresh perspective. Discover twenty-one innovative emotional explorations to boldly confront the habits that are holding you back in this breakthrough guide that provides the tools you need to fearlessly embrace your innermost desires.
Big Magic: Creative Living Beyond Fear
, by Elizabeth Gilbert
For when your creative talents are sitting dormant, suppressed, or bunked down by our fear or negative self-talk. From the author we all fell in love with thanks to Eat, Pray, Love (#soulsiter), now Elizabeth Gilbert brings us a personal and inspiring book that will help you both channel and create your soul's purpose. A must read if your soul needs an injection of inspiration, motivation and a catalyst for action.
May Cause Miracles: A 40-Day Guidebook of Subtle Shifts for Radical Change and Unlimited Happiness
, by Gabrielle Bernstein
For when you want need to kick start some radical spiritual shifts in your life and have hit a happiness road block. From the author behind the Spirit Junkie movement, Gabby's interactive guidebook will help nourish and guide your soul towards a more spiritual and fulfilling life. Ditch fear, sign up for gratitude, let your life flow, and begin to learn how to welcome in miracles as you transform your life into a constant stream of appreciation, acceptance, and abundance. A life coach for your soul.
Wild Feminine: Finding Power, Spirit & Joy in the Female Body
, by Tami Lynn Kent
For when you need some soul sister, goddess goodness, and fiery, feminine self love. Wild Feminine invites every woman to journey deep into the heart of her female body, to her root place, and the center of all womanhood. Through stories, visualizations, and creative exercises, the wisdom arising from the female body has been distilled as never before into this guide to nurturing, healing, and exploring the nature of the Divine Feminine.
Lastly, Emma's own book is The Soul Searcher's Handbook: A Modern Girl's Guide to the New Age World
.
For when you want a quick download on all things woo-woo and new age. A fun and informative read, this interactive handbook works as a go-to guide to help you decode your dreams, find out the meaning of your favourite crystals, count your numerology, learn your astrology, blend new aromatherapy mixes, explore different styles of yoga or meditation. A new age bible to living well – loaded with spiritual life hacks and practical tips.