Eclipses are a time to surrender control. Get the scoop on the upcoming eclipse season, as Danielle Paige dives into their affect on your psyche. Artwork: Heather Heininge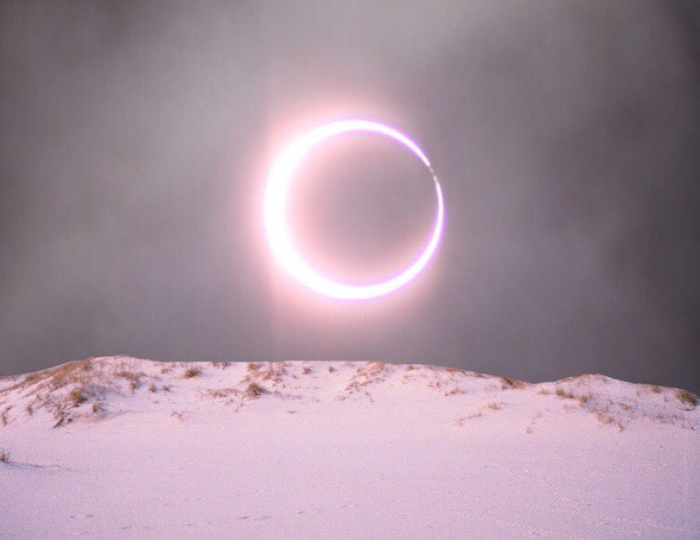 The confusion, the pain, the sadness, the changes. The DIZZINESS. Welcome to Eclipse Season! The current cosmic energy is huge, and as a sensitive, energetic being it's no surprise you're feeling everything so deeply. But remember, this is just one way the Universe gets you to open up to a new way of life and a higher vibration – one you are being asked to rise to in order to be more in tune with your higher self and your soul's purpose.
Eclipse Season occurs approximately twice a year, and has the potential to seriously ruffle some feathers. As a result, March is a huge month of change, as the Universe welcomes the new you to step forward. Your task, if you choose to accept it, is to let go of your ego control and breathe through the storm. Because you're being called.
First, allow me to explain a little about the patterns and cycles in the sky and how they relate to us here on Earth.
It's likely you've been feeling extra emotional since the end of February. February 22, 2016 to be exact. In so then good news, you're right on track. The February 22 Virgo Full Moon was significant, because it was the closing act to the cosmic journey we've been on the past six months.
You see, approximately every six months we are subjected to a series of vibrational upgrades. We enter a new chapter of our soul's story, this last one ushered in by the last Eclipse Season – in September 2015. The energy of each Eclipse Season spans this same six month period, leading us into the next chapter of our life – hence the energy of March 2016. A.k.a. the beginning of the NEXT chapter.
So if the Virgo Full Moon felt extra strong, it's because it absolutely was! It was the last full moon of our previous collective chapter, and a finale to the energy of the September Eclipse Season. Look back over the past few months. How have you grown, what's changed, and what lessons have you learned? Some will have been fun, others not so much. And now the Universe is about to push the reset button.
:: MARCH 8 SOLAR ECLIPSE ::
So, it's March 2016 and we've officially entered a new eclipse season which starts off with a solar eclipse on March 8 at 18 degrees of Pisces. This energy is important for everyone even if you aren't a Pisces sun sign because you all have Pisces in your birth chart and may have a planet at or around that degree.
A solar eclipse occurs when the Moon comes between the Earth and the Sun temporarily blocking the Sun's light from reaching Earth. Because, in astrology, the Sun represents your conscious unfolding self, when it's temporarily blocked we get a fresh start, often because something in your life changes – is "eclipsed." You will all feel an eclipse; however, the strength of it always goes back to the activity in your personal birth chart.
When an eclipse activates a planet in your birth chart it means it's time to use the energy of that planet in a new way. The thing with eclipse energy is the change is not always rational and logical. Most often it's in a way that forces change in your life, as it's here to push you to adjust to a new way of living.
It's important to note that not all change is negative – but it is all necessary! Amazing events can happen during eclipses. I know a girl who is releasing her new book, another that won an award, and people can get engaged and married around eclipses because all these events are pushing you to the next chapter of your life.
The March 8 solar eclipse ushers in a new celestial chapter for everyone. Whatever happened the last six months is behind you now-  and as we draw nearer, a new story is about to unfold.
This is where the magic begins, and which will then bleed into the coming months…
Eclipse energy is most active 7-10 days before and/or after the eclipse date and can start about a month before as well. But remember, don't look for something to happen exactly on March 8. It can, however, events usually occur as we're approaching the exact eclipse date.
In summary, this solar eclipse is the birth of something new. What will it bring in for you? Well that depends on your soul contract and how it's activating your chart, however, the reset button will be pressed for everyone.
***
:: MARCH 23 LUNAR ECLIPSE ::
A solar eclipse is always followed two weeks later by a Lunar Eclipse. During a Lunar Eclipse, the Earth comes between the Sun and the Moon blocking the Sun's light from reflecting on the Moon.
This can be a very emotional time. The moon rules our emotions, so when she's eclipsed she temporarily has no mirror to reflect the Sun's light and as energetic beings we are also synchronistically cut off from our "power supply" and reintroduced to our shadow side.
This is a time when your unconscious takes center stage, and you can tap into a side of yourself that you've pushed down for some time. As a highly sensitive person, you can feel this shift in energy with every ounce of your being, as if you're being asked to find your way in the "dark."
Those suppressed emotions, the crap you thought you got rid of long ago – nope, still there! Deep fears, deep pain, deep wounds…this is heavy Scorpio territory – all things hidden that must be transformed for your evolution. But don't worry – what's happening is you're clearing your emotional body of toxic emotions a.k.a. cleaning house! (Yes, once again…I know!)
As you can see, the energy of a lunar eclipse can stir an internal crisis (which is also often caused by external sources, especially relationships, which act as a mirror); and this often brings confusion, doubt, and panic to a head. All of this is designed to spur a conclusion, culmination, ending, or decision of something in your life.
Where and how this plays out will be different for everyone as it depends, again, on where the eclipse point is activated in your birth chart. If you don't know, no need to worry, simply listen to your intuition and trust that you're exactly where you're supposed to be.
This season's lunar eclipse occurs on March 23 at 3 degrees of Libra. Note: The Lunar Eclipse on September 27 2015 was at 4 degrees of Aries which is the opposite sign of Libra. This means that themes could repeat themselves; however, the energy is new and will manifest differently. Less anger (Aries) and more cooperation (Libra).
***
:: MOVING FORWARD ::
In between these two fated celestial events (solar and lunar eclipse) is a magic window of change. Just as the ground shifts during an earthquake so too does the energy in your life. During the process it's not uncommon for things to get messy. Give it time as you are breaking out of old patterns and new energy is coming in.
The energy of this eclipse season will continue to unfold until September 2016, as you continue to evolve as well, and at which time we will enter the NEXT round of eclipses. Or, as I like to call them, upgrades from the Universe.
Remember, there's nothing to fear or anticipate. One of the main spiritual lessons of eclipse season is to surrender control – because truthfully, none of us have control over life events, only how we choose to react to them.
This article should only be used as a guide to help you understand the larger cosmic forces at work. The universe is not out to get you, it's simply connecting the dots and speeding up events on your evolving soul journey based on your karmic contract and your free will. All eclipse related activity is destined and connected to your spiritual growth and higher purpose.
So breathe deeply. You're not going crazy, you're not losing your mind. Yes, you may be extra emotional right now and throughout the month of March, however, your true soul desires are being answered even if it doesn't always look like it from your human perspective. Though if you look up and within you'll see the patterns in the sky connecting to the patterns in your heart.
Many blessings to you, sweet child. You're surrounded by angels, please call upon them for assistance if need be. The Universe is conspiring in your favor.