Finally! After the relentless work of retrograde season, the Leo Waxing Quarter Moon brings some positive mojo. Step up and step out dressed in pure joy and abundance, says Jennifer Racioppi. Artwork: Seana Gavin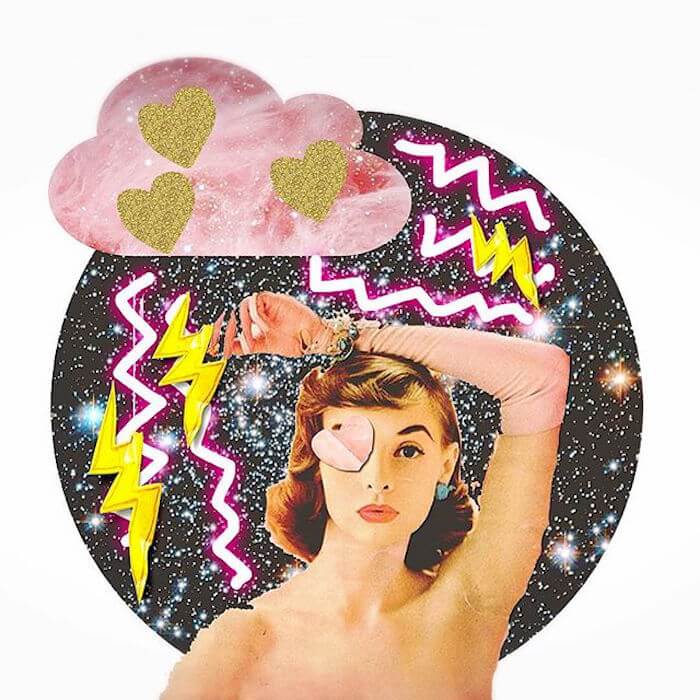 Waxing Quarter Moon :: May 2 2017 :: 10:46pm EST :: 12 Degrees Leo 
On the heels of Beltane, a pagan holiday celebrating the earth's fertility, the Leo Waxing Quarter Moon arrives to bring some serious positive mojo back to our game …
Finally … it's time to conjure abundance! 
Loaded with retrograde activity, 2017 has brought massive reconfigurations of life. The year opened on Mercury retrograde. February ushered us into eclipse season– an intense time of change. And then just as we digested the eclipses, Venus stationed retrograde on March 4th (only recently turning direct on April 15th). On April 9th, Mercury stationed retrograde too (it will station direct on May 3rd, just following the Quarter Moon).
After all the hard work we've done this year, the Leo Waxing Quarter Moon signals a time when we can start to consider what's next. We are spiritually ready to make good on what we've unearthed from within. And, fortunately, the time has come to execute!
Hell YES! 
>>>
:: The Sun ::  
Midway through steady, stable Taurus, the Sun sextiles Neptune in Pisces. A sextile suggests resources that are available to us, and this particular combo combines earth and water elements to deliver soothing healing qualities. Think of a luscious detoxifying mud bath that leaves your skin feeling soft and smooth. Allow yourself to sink deep into your skin and relish in feelings of spiritually aligned embodiment.
(Hint: Cosmically supported, feel-good vibes abound!)
:: The Moon :: 
The Moon in playful Leo signals a time to step up and step out in joy and abundance. Immediately after the Sun and Moon square, the Moon begins to move into an applying trine with Saturn and Uranus, creating a legendary grand trine in fire. And all of this is happening between a fertile New Moon (which happened on April 26th in Taurus), and May 10th's Full Moon in Scorpio. This bewitching combo signals power, strength, and favorable blessings!
:: The Square :: 
Waxing Quarter Moons urge us to course correct, handle curve balls, and eloquently redirect our focus as needed. The Sun in Taurus squaring the Moon in Leo asks us to look at any friction between our desires for practicality and our needs for fun. This Waxing Quarter Moon also refers us back to intentions set on August 2, 2016, when the New Moon occurred at 10 degrees of Leo. We should see things sprouting now that are related to plans made and desires stated then. Keep on the lookout, and don't be afraid to pivot if necessary!
:: The Message :: 
Keep going! So far, we've worked hard in 2017 to come to a genuine place of truth within ourselves. Our egos have had to shed misaligned notions so we can step forward into a deeper resonance with our truth. Given that this Waxing Quarter Moon occurs one day before Mercury stations direct, this potent lunar moment offers a compelling opportunity.
Get ready to embrace the upcoming influx of abundance ahead of us.  With the Sun waxing towards the summer solstice here in the Northern Hemisphere, it's time to actively create, pursue our dreams, and conjure our desires.
For more Moon wisdom or to book a coaching session with Jennifer visit Jenniferracioppi.com. To learn more about how to work with each Moon phase, join our community of likeminded spiritual activists at Moon Club!