It's time to stop using spirituality as an escape—and embrace our humanity, says Alexandra Roxo…
In times likes these—where we have somehow managed to elect a president with terrifying beliefs and judgements, where Native people are still fighting to protect the Earth while most everyone else walks around trying to protect money—I feel like it's so obvious. As a culture and a people we need to get out of our heads and into our feet. Into our wombs, our pussies, and THE EARTH.
We've become so focused on "success," making money, how we climb and grow. All masculine principles. All in the mind. Goal oriented. We barely notice when animals become endangered. We forget to talk about climate change.
It's not our fault, it's what we were born into: a consumerist, capitalist culture. When I ask my clients about how much time they spend focusing on their sexual energy or creative energy or with their feet on the ground, it PALES in comparison to how much time is spent in the realm of the computer. Money. Capital. Thought. Even meditation. It's all up, up, up, into the Cloud.
But the way I see it, we need to go down, down, down! Get back into our bodies. And it turns out spirituality, just like work or booze, can become an escape from the pains and earthy work of being human.
Speaking as somebody who can be a spirituality abuser myself, I think it's time we stop using it as such. Let me tell you a story about why.
***
When I was 13 I had a bad year. 1: I got held down by a bunch of boys and sprayed with red super soaker guns in 30 degree weather while calling me names. I punched one of them and everyone hated me. 2: My bestie's parents called us out for being gay after she told them we had innocently experimented sexually together and forbade us to be friends anymore. I was DEVASTATED.
So what did I do? I went to church to get SAVED. This was my first bout of checking out of human life by saying: "God I can't take it down here! Beam me up!" I spoke in tongues, got saved like 100 times. And even wore Abercormbie. (No offense.) My New-Age-psychic-seeing-Angel-lovin-Enya-listening Mom got worried.
Eventually I went back to feeling like I could manage down here. I did theatre, volunteer work/built homes for homeless, wore 4-inch cork wedges to school, flirted with boys, and learned all the dance moves to "Bye Bye Bye." But my spirituality abuser didn't go away. I always found some new practice to dive into. Some psychic to look to for the answers.
By age 19 I found myself sitting on a spiritual pedestal feeling like I was "special" and that others "weren't awake." While doing an acting exercise in college my teacher called me out in front of the class: "You are using spirituality a mask. It's keeping you from feeling things and being here. Go back to your seat and come back when you want to be real." DAMN. I was crushed. But I took her words wisely and went home, cried for about three days, painted, wrote love letters, laughed with friends and gently got down off my spiritual high horse.
It happened again though. Only two years later, after a trauma abroad, I was ready to sign up to be a monastic in a commune in Italy where I had been meditating in caves, sitting on cold stone floors, and wearing communal Cosby sweaters. I renounced sex, alcohol, or anything "of the flesh!" Mom got worried again.
I found my way back to humanity again. But my spiritual extremist rears her head every so often. I see her spending more time reading horoscopes than DOING things that can help. Talking more to other realms than folks in Trader Joe's. Diving into days of plant medicine ceremonies and shamanic journeys. And avoiding the harsh pains of reality. Any of this sounding familiar?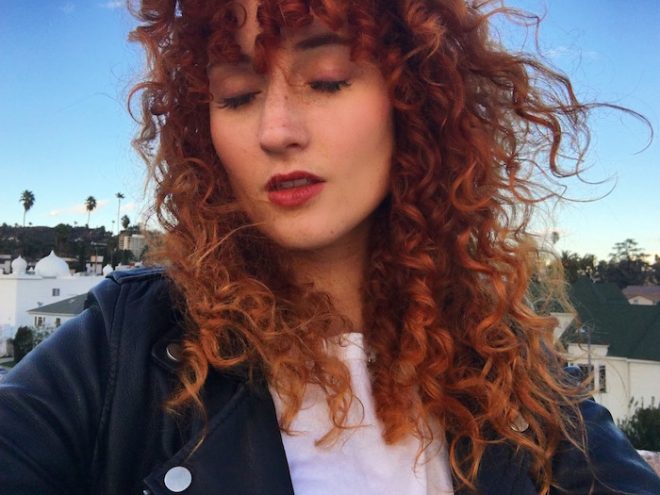 As wonderful as it it to wake at 6am and meditate every day, to read all the articles and check the horoscopes and pull a card from all the decks, I am trying to refrain. In the name of balance.
My aim is to cultivate as much of an EARTH practice as I have a SPIRITUAL one. Which means for every meditation or journey to the spirit realms, I better be doing something here here on Earth. CAUSE I WAS BORN A HUMAN. And the Earth needs me. Head out of phone. Feeling my toes in the dirt. Pussy alive with energy and life force. Does ALL LIFE originate in my brain? NAH, IT'S IN THE PUSS.
***
I don't think it's enough to just pray and send love and light to Trump, or anyone for that matter. Pray for peace, yes. For love, yes. But I think we also need to get dirt under our nails and be humble and immerse ourselves in what's happening out on the streets.
And so I urge you, like I urge ME, to embrace your humanity!
Get in the pub and talk to old Latino men and share food and drink with them.
Instead of reading another self-help book (like me!) go to the rally. Sign up to volunteer. Watch documentaries and educate yourself. Go to open mics and comedy clubs in areas that are new to you and mingle with people who aren't like you.
Let's look at how much we're spending on "spiritual" paraphernalia, and re-balance the books! How about a pole dancing class instead? Donations to planned parenthood? Community gardening?
Let's admit that we don't know the answers. It's not fair to all the other folks who have been working tirelessly for years if we pretend we know how to save the world with our ascension ideas. (I mean would you say that to an 85-year-old Native woman? Nah, probs not.)
And remember. If and when we need a strict practice to get us through a hard time, it will ALWAYS be there. You won't lose it. Because it's in you! "Spirit" won't get angry and turn its back on you. I promise.
But for now the world needs YOU and your humanity. Out there. Off the mountain and in the streets.
I love you.
Moon Club co-founder Alexandra Roxo is a filmmaker and intuitive coach living in LA. Read more about her work at www.alexandraroxo.com and follow her love and sex and life woes and victories on Instagram.