Understand your Aquarius moon sign and maximize your self-care practice to be the best YOU, says Ash Bonelli. Artwork: Prince Lauder via Behance.net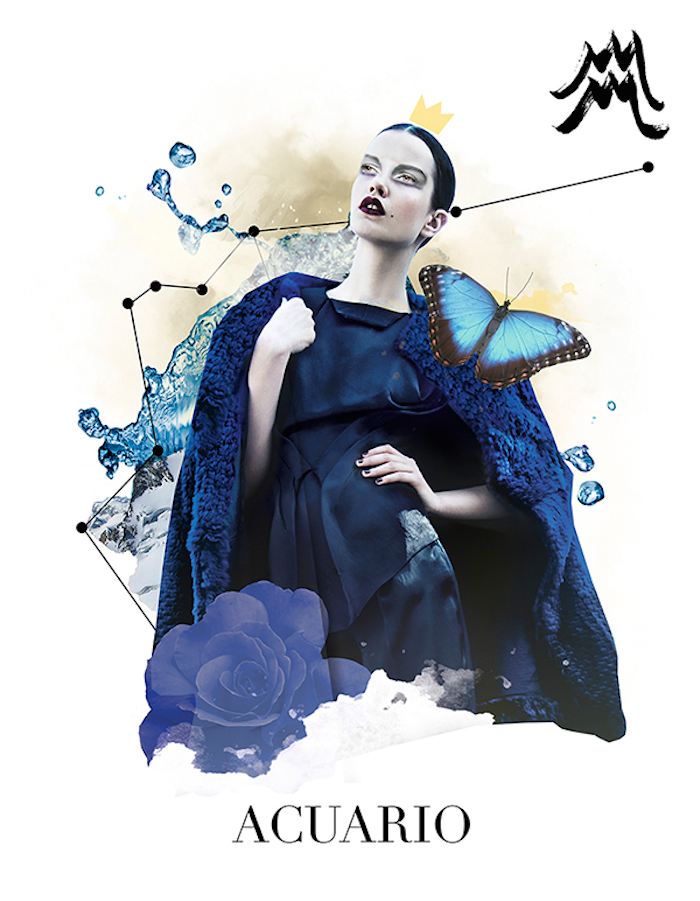 Let's dive deep into the unique and progressive energies of a soul born with an Aquarian moon sign. Our Moon is our HEART. Our emotional and physical support system. Our mama. Our deepest, hidden feelings, that only the ones we really trust get the privilege of knowing. We feed our Moon sign so we can go out and be our best selves, our Sun sign. And once you know how to care for your Moon, you can show others how to do the same.
Self-care is one of our allies to a better world. The Moon is also the source of our intuition, and the zodiac sign it falls in signifies the way we instinctively know things. So understanding your Moon sign can really bolster your relationship to your subconscious feelings in a healthy way.
Work out your moon sign, when you do you chart for free here.
So, what if you have an Aquarius Moon sign? This is the independent thinkers' Moon. Aquarius is an air sign, that uses its intellect to go about its daily tasks. This is also a fixed sign so once you set your mind on something it may prove difficult to persuade you otherwise. You may also have a tendency to think with your emotions versus feel them. This can actually be used as a superpower though, since this level of detachment can give you the upper hand at in life's more emotional situations. You most likely don't wallow in your emotions, and this allows you enough freedom and space to distance yourself and apply some of your unique logic to the given situation.
You probably require a lot of freedom in relationships in general, and need a home environment that lets you come and go as you please. Other people's expectations could feel like a tremendous amount of pressure – as if your true self is being stifled.  But you gladly offer this same freedom in return. Any sort of "boxing in" creates discord and dampens your ability to by authentically you. You need to be accepted for your original and possibly eccentric ideas, philosophies and ways of being. You may even rebel within your relationships just to prove the point that you won't conform to their ideas about you.
This is also the humanitarian sign. You care deeply about the collective and will rally for a cause you stand behind. It can make an Aquarius Moon sign sing to really support a charity/foundation, or even a circle of friends that has a progressive impact on society. I could see you as the friend people turn to for solid advice. You have the Moon sign of the wise owl that flies so high you see everyone's perspective with clear vision. You can be an emotional bolster for humanity without diluting yourself in an ocean of feelings.
Below are some wellness suggestions to express, soothe and connect to and from your Aquarius Moon sign. Your heart runs free and needs a whole cosmos of space to breathe. When you find yourself feeling caged in or overwhelmed, come back to some of these tools.
:: Have a writing practice ::
Aquarius Moon signs express their emotions through the use of their intellect. They use words versus demonstrative acts. Start journaling your thoughts, ideas, wishes and dreams. Try your hand at writing poetry. Use your non-dominant hand, just to get a new perspective. Write out the stories you hold dear. Write down what you are grateful for each day. Make a cookbook or keep a dream diary. Whatever is close to your inner sanctuary, take the time to write it out. Come back to it and reflect on your own spiritual/emotional growth.
:: Join a breathwork circle ::
That's right, air element Moon sign! Your heart has lungs of its own. Connecting to your life force will give you that much needed feeling of freedom, while at the same time allowing you to connect with yourself on a potent level. Plus you get to meet new people and find that sense of community you so thoroughly enjoy. You have a natural spiritual intuition that can grow and expand with grace via pranayama.
:: Find your cause ::
Get into charity work or assist with a non-profit so you can utilize your greatest emotional strength, your compassion for humanity. You can express this humanitarian pulse in the best way possible by supporting a cause that pulls at your heartstrings. Any type of goodwill is up for grabs and the work will add to your quality of life while making this world a little better than it was before. It's a win-win for the Aquarius Moon sign.
:: Guided meditation ::
Your heart is always in your head – and you need a break from that constant stream. This type of meditation would be good because it covers both bases for you. The spoken words help your mind follow a path. The path, however, leads to the detachment of thoughts. Giving your mind the space to be empty will in turn give your heart a deep rest.
:: Alternate Nostril Breathing (Nadi Shodhana) ::
Balance out both hemispheres of your mind to balance your heart.
Bring your first and middle finger down and in towards your palm. You will use your thumb and ring finger for this practice. The pinky can just hang out and rest where it's at. Press your thumb down on the right nostril and breathe out gently through the left nostril. Now breathe in from the left nostril and then press the left nostril gently with the ring finger. Removing the right thumb from the right nostril, breathe out from the right. Breathe in from the right nostril and exhale from the left. You have now completed one round of Nadi Shodhana pranayama. Continue inhaling and exhaling from alternate nostrils. 10 rounds please.
Keep space, move with grace & continue your healing work. From those places, your moon will feel content.